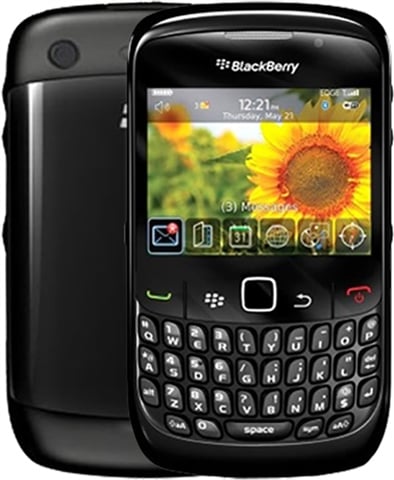 The BlackBerry CurveT 8520 smartphone neatly fits in your hand. A full QWERTY keyboard makes typing and sending messages easy, and comfortable. The bright screen displays over 65,000 colours, providing a great viewing experience. With the BlackBerry CurveT 8520 smartphone, you'll have all the tools you need to help make calls - and life - a whole lot easier. Have the features of a desktop phone with you when you're between appointments or running late.
Features:
Display Technology Color TFT LCD Smartphone Input Devices Supported Keypad, QWERTY Keyboard Phone Design Mobile
Family Line RIM BlackBerry
Band GSM 1800, GSM 1900, GSM 850, GSM 900
2.0 MP digital camera
Supports BlackBerry App WorldT
256 MB Flash memory
Wi-Fi enabled
---
Mobile Phone Grading guide
A - Mint: Working product in mint cosmetic condition with all accessories.
B - Good: Working product in good cosmetic condition with all essential accessories.
C - Working: Working product in poor cosmetic condition, with charger.
F - Non-working: Product must be intact. Phone passes IMEI check, no accessories required. Non-working examples: dead, cracked, water damage, broken/bleeding LCD (screen), not powering up, speaker/mic faults, broken aerial, etc.
Please note: All iPhones must have iCloud account deactivated. Everything CeX sells comes with a 24 month warranty.