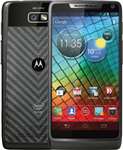 Motorola RAZR i XT890 8GB
Motorola RAZR i XT890 8GB
Mobile Phone Grading guide
Mint - Phone in as new/mint condition with charger, original box and all accessories.
Good - Working phone in good condition with slight cosmetic blemishes. Charger supplied. Missing one or two accessories or original box.
Working - Fully functioning phone, may be in poor cosmetic condition, but touch screen intact. Complete with battery and charger but maybe missing accessories and packaging. Not water damaged.
Non-Working - Phone intact, not crushed or snapped in half. Non-working examples: dead, cracked, broken/bleeding LCD (screen), not powering up, speaker/mic faults, broken aerial, etc. No accessories required.
Please note that when selling your phone to CeX, we will determine the condition of your phone after we have fully tested the item, and will value it accordingly.
1