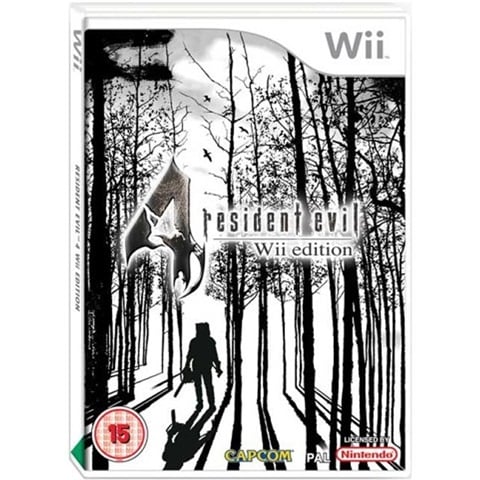 WeSell for
£3.00
WeBuy for cash

£0.70

WeBuy for voucher

£1.20

In stock online
Resident Evil 4 (15)
One of the most celebrated games of all time now comes to the Wii with added Wii Remote support, allowing players to aim, fire, slash, reload, crank and avoid oncoming adversaries with intuitive motions and movements. With new intuitive controls, RE4 Wii Edition is reborn as a whole new experience.
Leon S. Kennedy, formerly Raccoon City Police Department's idealistic rookie cop, is now a U.S. agent with a top-secret mission to rescue the President's daughter, who has been kidnapped by a mysterious organization. Leon must begin his investigation with a trip to an undisclosed Spanish-speaking village in Europe, where he encounters a horde of unruly villagers who pledge their lives to Los Illuminados, the cult that perpetrated Ashley's kidnapping. As Leon encounters unimaginable horrors, he must find out who -- or what -- is behind everything.
---
Notes About Additional Content
Our products may not include additional material like Digital Copies, Online Passes or promotional downloadable content (DLC).
Resident Evil 4 (15)
is rated out of
5
by
7
.
Rated

5

out of

5
by
Decoded
from
Oldie but a Goodie !!
Graphically this game shows its age and the controls seem a bit clunky compared to modern games but what you have here is a classic Resident Evil game with all the PS2 content. It might not look as good as you remembered all them years back but it's still fun to play and worth every penny.
Date published: 2016-01-11
Rated

5

out of

5
by
jamiecfc1
from
A reason to buy a Wii on its own!
This is a fantastic game and it's been well adapted for the Wii, quite possibly one of the best games I've ever played on any console. The bonus features unlocked when the main game is complete are excellent too.
Date published: 2015-01-02
Rated

5

out of

5
by
Natalie Gomez
from
OVERALL CLASSIC TO PLAY ON ANY CONSOLE!
I bought this game when it first came out of the PS2 and loved it, the controls were free and the story line was simple enough to complete, not forgetting this game was a massive step up from the originals on the PlayStation 1. I bought Resident Evil 4 for my Wii in 2011 and it's an all time classic. With the Wii being dominated by other consoles such as the Xbox and PS4, this doesn't stop me getting the Wii out every year to play this game (I've completed this game 25 times on the Wii). Even though this was a great classic on the PS2, I found the game just as entertaining on the Wii as the controls make the game more interactive. Some of the best features are the reloading, knife attack and all round aiming controls. Although some people found this game to be a little harsh with the controls, honestly, if you have a good aim you can beat the game over 2 days and you'll want to play it again. To say this is a Wii game, the graphics are brilliant and really complement the capability of the Wii system. This game is a must by. I still play this in 2016 as I enjoy it that much! It takes me back to my younger days playing this when my friends came around. In all honestly, I bought my Wii just to play this game and I'm glad I did. It's a must buy and i'd get it whilst it's cheap!
Date published: 2016-09-10
Rated

5

out of

5
by
Moxy
from
Fantastic game
Another excellent resident evil game Top draw and this edition is an early version of what is now none as the definitive edition, includes all the ps2 content and utilises the Wii controls excellently
Date published: 2015-09-05
Rated

5

out of

5
by
Fsharp3492
from
All time Classic!
What can be said about this game that hasn't been said already? The best of all the Resi games and the Wii port is perfect.
Date published: 2016-12-19
Rated

4

out of

5
by
cuttsy
from
classic game
Quick delivery by cex. The game is still a classic to play even with its age
Date published: 2015-05-12
Rated

5

out of

5
by
Net81
from
Great game
Very happy with my purchase, great content and characters!
Date published: 2017-04-10