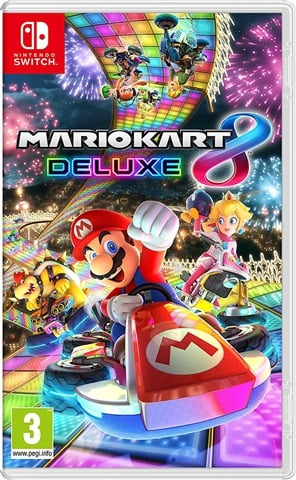 WeSell for
£52.00
WeBuy for cash

£24.00

WeBuy for voucher

£34.00

In stock online
Mario Kart 8 Deluxe
Hit the road with the definitive version of Mario Kart 8 and play anytime, anywhere! Race your friends or battle them in a revised battle mode on new and returning battle courses. Play locally in up to 4-player multiplayer in 1080p while playing in TV Mode. Plus, the Inklings appear as all-new guest characters, along with returning favorites, such as King Boo, Dry Bones, and Bowser Jr.!
Features:
Race your friends in the definitive version of Mario Kart 8, only on Nintendo Switch!
Pop some balloons in the revamped Battle mode, complete with Balloon Battle and Bob-omb Blast.
Battle on new courses, like Urchin Underpass and Battle Stadium, or returning ones, such as GCN Luigi's Mansion and SNES Battle Course 1.
Inkling Girl & Inkling Boy from Splatoon, King Boo, Dry Bones, and Bowser Jr. join the roster!
Players can choose a new Smart Steering feature which makes driving and staying on the track easy for novice players and kids even at 200cc.
Three new vehicles have been added, two are even inspired by Splatoon.
Carry two items at the same time.
Returning items include Boo, the item stealing ghost, and the Feather, which gives you a high jump in battle mode.
Play your friends in local wireless multiplayer with up to 8 players.
Drive through in 1080p HD quality in TV mode.
Play on the go with handheld mode and play anytime, anywhere.
---
Mario Kart 8 Deluxe
is rated out of
5
by
21
.
Rated

5

out of

5
by
Hobo Mario
from
Mario Kart 8 Delux - NINTENDO SWITCH
Should I buy this if I already own the Wii u version? The answer is YES. The new battle mode and playing the best Mario kart in portable mode make this a very worth purchase! Don't miss out on the best Mario kart yet!
Date published: 2017-05-25
Rated

5

out of

5
by
beefplay
from
Amazing company amazing games amazing deals amazin
I stared the guy in the eyes, he stared back, and we both knew.. I was getting an amazing Deal; the switch, mario kart 8 deluxe.. just amazing. I walked out of there feeling amazed, at how amazing the deal was. I traded a handful of old consoles and games in and didn't pay a penny. Will be using CEX again, and again, and again. Good folks in all honesty here, and I truly mean it when I say, the deal I got was amazing. Like, amazing.
Date published: 2017-09-07
Rated

5

out of

5
by
James456
from
Beautifully refined
I have played the previous 3 mariokart titles to completion, and for good reason! This entire franchise is such a joy to play, with or without friends, and I believe this game is the peak. Anyone who has played mariokart before can pick it up and understand, and the cars handle better than any other racing game I've played. Sometimes luck prevails over skill, but that's to be expected from a nintendo party game. I love it!
Date published: 2018-02-06
Rated

5

out of

5
by
Satsoc
from
Nintendo Switch Mario Kart
As any gamer knows Mario Kart is a classic. The Switch adds a new dimension. Playing multi player is fun and sitting in a coffee shop with the console on the table racing your pals just adds to the overall charm and fun of the game. Highly recommended, lots of fun! A pleasant change to Fifa, COD, Halo et al
Date published: 2017-05-22
Rated

5

out of

5
by
ALLconsoleGamer2018
from
mariokart switch
I love this game on wii-u and had to get it on switch, on switch it includes all dlc and everything is unlocked you only need coins for customising your kart which you collect in races, the online is very fun and worth buying the game as you can play two player online spit screen 10/10 enjoy this classic
Date published: 2018-01-27
Rated

4

out of

5
by
TardisBlue1992
from
Pleasantly Surprised
I bought this game mostly out of a sense of obligation and blind loyalty to the franchise, somewhat irritated by a "deluxe" expansion instead of a sequel, but it actually adds a lot to Mariokart 8, including a new battle mode and remakes of several classic maps from earlier versions.
Date published: 2017-07-30
Rated

5

out of

5
by
Mateusz Sidorowicz
from
Super Fun!
I brought this a month ago and its so addicting I think I will never stop playing this game its just that fun it doesn't feel ever repetitive its just that fun and you can play with your friends with just one joy con and its portable I think its worth it!
Date published: 2018-01-20
Rated

5

out of

5
by
Wolflink246
from
Best Current Gen Split Screen Game
So much fun on big screen and the portability of the small screen is just added value! I bought this to play with my girlfriend who normally isn't in to video games. She loves it so much I haven't been able to play on my Switch since!
Date published: 2018-01-19