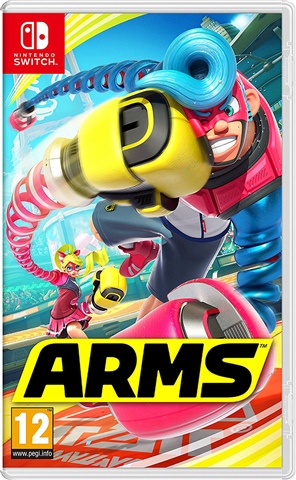 WeSell for
£32.00
WeBuy for cash

£15.00

WeBuy for voucher

£21.00

In stock online
ARMS
Stretch Your Arms And Grab Victory! An All-New Way To Fight
ARMS is a fighting game where you use stretchy weaponised arms to punch, thump and knock-out opponents. Get ready to put 'em up, do battle with a colourful range of characters and fight to claim the number one title!
Your fighter moves in line with your hands as you unleash a wide range of punches and other pugilistic moves.
Fighters
Each fighter in ARMS is brimming with personality and can be equipped with special ARMS that have their own unique attributes. By combining different fighters and ARMS, you can come up with a fighting style that suits you best.
Arms
Your choice of ARMS can greatly influence battles!
You can bring three different pairs of ARMS in each battle, and you can change your left and right ARM at the start of each round. Mix and match different combinations of ARMS to best suit your strategies
How to Fight:
Punch - Hold both Joy-Con in a thumbs-up position You can then move your left hand to deliver a left hook and follow up with a jab from the right. Twist the Joy-Con after a punch to curve your character's arm!
Move - Move your fighter by tilting the Joy-Con. By combining dashes and jumps using and R buttons, you can outfox your foe with some nifty footwork
Grab - Extend both of your arms at once to grab your opponent, drag them towards you and give'em a good wallop!
Guard - Tilt the Joy-Con inwards to protect yourself from your opponents' attacks. How you guard varies depending on the type of punch your opponent throws at you!
Rush Attack - When the rush guage is full, use either ZL or ZL Buttons to activate it and unleash some mighty moves. It's a great way to chain attacks into powerful combos!
Different Ways to Play
In addition to holding the Joy-Con in the Thumbs-up Grip, there are many different ways to control your fighter, so find the right style for you! (Pro-Controller sold separately)
Features:
Face foes on the big screen in TV mode!
Fight on the go in tabletop mode or handheld mode!
Go online and take on players from around the world!
Multiple modes
Single Player Grand Prix
Co-op Grand Prix
Multiple fighters to choose from
Multiple ARMS available - choose a combo that suits you!
Supports local and online multiplayer
---
ARMS
is rated out of
5
by
6
.
Rated

5

out of

5
by
Fsharp3492
from
Brilliant multiplayer game!
Much like with Splatoon on the Wii U, Nintendo has once again delivered a brand new IP in a genre they're not usually associated with and once again they've nailed it! This is a fantastic local and online multiplayer fighting game with simple to pick up controls and moves but with hidden depths of strategy and reading your opponents actions. A must for all Switch owners.
Date published: 2017-06-19
Rated

4

out of

5
by
superfluffy
from
Fun, fast paced game
I am very pleased with Arms. I find it fun and enjoyable. I love the characters, they are likeable. I love the motion controls, much better than I thought they'd be. A great game to play with friends. No two games are the same, which stops it getting boring. A must for all switchers.
Date published: 2017-08-26
Rated

3

out of

5
by
LukeT95
from
Difficult to master, fun to play.
Arms is one of those games where the controls REALLY take getting used to, but when you do you can quickly know exactly what you're doing. The game doesn't offer a whole lot in content but what's there is fun to play.
Date published: 2017-07-18
Rated

1

out of

5
by
mr k
from
didnt like it
very very boring and it just relies in multiplayer too much
Date published: 2017-08-18
Rated

4

out of

5
by
DemGames
from
Competitive Fun!
I bought this game not too long ago and me and my brother have been really enjoying fighting each other in it! Definitely great for sorting out arguments!
Date published: 2017-08-09
Rated

5

out of

5
by
TheZamby
from
Fun game
Bought this a few weeks ago its so fun made me realise how unfit i was
Date published: 2017-10-12