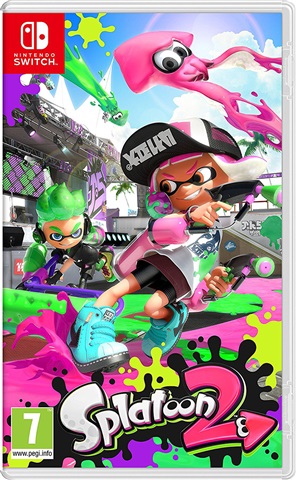 WeSell for
£52.00
WeBuy for cash

£24.00

WeBuy for voucher

£34.00

In stock online
Splatoon 2
Claim turf anytime, anywhere, with anyone in Splatoon 2. Traditional 4-on-4 turf battles return in this full sequel, along with returning modes, new stages, new fashions, new weapons and much more!
The aim is simple in Turf War: claim as much territory as possible by coating it in your team's colours. The team with the most turf wins! Transform into a squid to swiftly swim through your team's ink. Use these talents to scale walls coated in your colours to reach high-up vantage points, lie in wait for unsuspecting players, or cook up devious strategies.
New weapons
New dual-wielding Splat Dualies join the action, complete with a new Roll move that's great for dodging incoming attacks. Mainstays like the Splat Roller and Splat Charger have also been remixed and all feature brand-new Special weapons.
New mode: Salmon Run
Work with up to three other players to defeat waves of Salmonid and collect the treasured eggs they leave behind in this brand new mode.
Local and Online Multiplayer
In a first for the series, compete in local multiplayer Turf War battles, whether in TV mode or on-the-go in handheld or tabletop modes. Up to 10 docked Nintendo Switch consoles - eight players and two spectators - can connect via wired LAN, allowing players to create local Private Battle tournaments without the need for an internet connection. Online battles also make a return.
Single-player mode
One half of the famous Squid Sisters, Callie, has gone missing - and Marie has tasked you with finding her! Use different weapons, like the Splat Roller, Slosher, Splatling or the new Splat Dualies, to overcome obstacles, defeat enemies and take down towering bosses on your mission to reunite the Squid Sisters!
New ways to play
Play on the TV, in handheld mode or in tabletop mode using the Joy-Con or the Nintendo Switch Pro Controller (sold separately) and aim your ink using motion controls for accurate aiming!
New Trends
Some familiar characters return under different circumstances, and new characters are introduced as well.
New stages
Brand new stages like Humpback Pump Track and Musselforge Fitness enter the fray.
---
Splatoon 2
is rated out of
5
by
13
.
Rated

4

out of

5
by
VanguardFerret
from
Better than the first!
A fantastic game to jump in to if you have some spare time. Quick and fun multiplayer matches means you can pop open this game where ever, but they're also engaging enough for you to waste hours playing. Splatoon 2 really refines the mechanics of the first game, however it doesn't feel like a direct sequel, more like the definitive edition of Splatoon. The story mode leaves something to be desired but this isn't mandatory at all, you don't have to touch the story mode to enjoy multiplayer. Also the addition of Salmon Run brings an enjoyable co-operative element with many a tense moment.
Date published: 2018-01-29
Rated

5

out of

5
by
Chackle
from
Freshest console FPS I've played in years
Great for kids, but not just for kids. There's something here not only for the casual gamer (collect outfits, play with friends, compete against other players, single player mode), but also contains ranked modes, monthly events, balance patches and new content patches. I really recommend Splatoon 2 to anyone who enjoys shooters and bright colors.
Date published: 2018-02-01
Rated

4

out of

5
by
Duskiit
from
It betters what the first one did
this game was fun like the first one there will be things like some new stuff including the horde mode named "salmon run" that helps you make more money to buy the stuff you unlock access to at levels. the single player is fun and rewarding you to do the runs with one weapon and the multiplayer being the main selling point is enjoyable though personal opinion some maps arnt too fun
Date published: 2017-08-24
Rated

5

out of

5
by
Tenmul
from
Perfect
The game has so much to do in it......so if you get bored of campaign you can do multiplayer battles or salmon run -kind of like a zombie survival type thing with teammates. I thought I would finish the game quite quickly but I've realised there is loads to do. I would really recommend this to anyone.
Date published: 2018-01-22
Rated

5

out of

5
by
Jude the dude
from
Amazing
I really do like this game but it has a few faults it need really good and a strong internet connection and also gets a little boring after a while
Date published: 2018-01-22
Rated

5

out of

5
by
Alan Y
from
What a great fun game to play!
I bought this game for my son and we've both been playing it every day for a month. It's so addictive and fun to play. Highly recommended 5*
Date published: 2018-02-10
Rated

5

out of

5
by
Havharo
from
Great gameplay!
Awesome game, premium quality product from NIntendo. It's a shame there's no split screen but hey... you can't have everything.
Date published: 2017-08-16
Rated

5

out of

5
by
Lyndeslegends
from
Fantastic game
Brought this game for my two boys and they absolutely love it, great graphics and gameplay. Leaves two boys very happy
Date published: 2018-02-04