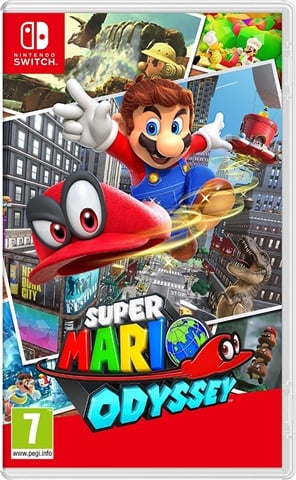 WeSell for
£48.00
WeBuy for cash

£27.00

WeBuy for voucher

£33.00

In stock online
Super Mario Odyssey
Explore incredible places far from the Mushroom Kingdom
Use amazing new abilities like the power to capture and control objects, animals, and enemies to collect Power Moons so you can power up the Odyssey airship and save Princess Peach from Bowser's wedding plans!
Thanks to heroic, hat-shaped Cappy, Mario's got new moves that'll make you rethink his traditional run-and-jump gameplay - like cap jump, cap throw, and capture. Use captured cohorts such as enemies, objects, and animals to progress through the game and uncover loads of hidden collectibles. And if you feel like playing with a friend, just pass them a Joy-Con controller! Player 1 controls Mario while Player 2 controls Cappy. This sandbox-style 3D Mario adventure - the first since 1996's beloved Super Mario 64 and 2002's classic Super Mario Sunshine - is packed with secrets and surprises, plus exciting new kingdoms to explore.
Features:
Explore astonishing new locales like skyscraper-packed New Donk City to your heart's content, and run into familiar friends and foes as you try to save Princess Peach from Bowser's dastardly wedding plans.
Find something interesting? Toss your cap at it and see what happens! There are lots of fun and surprising ways to interact with your surroundings.
Be sure to bring any coins you find to a Crazy Cap store, where you can exchange them for decorative souvenirs for the Odyssey and new outfits for Mario! Some destinations have very exclusive dress codes, after all…
Hand a Joy-Con controller to a friend to enjoy simultaneous multiplayer: Player 1 controls Mario while Player 2 controls Mario's new ally Cappy.
Use Snapshot Mode to freeze time while playing the game and take screenshots that you can customize using various options and filters.
---
Super Mario Odyssey
is rated out of
5
by
24
.
Rated

5

out of

5
by
OhKelly
from
possibly the best super mario yet
this game is fantastic for both beginners and novices. you can complete the main game in a couple of days and call it a day or you can continue to collect all of the moons and explore all that mario odyssey has to offer. with cex you will also be buying an as new product, you can't go wrong.
Date published: 2017-12-05
Rated

5

out of

5
by
Lib12
from
Great graphics
I love this game and play it all the time. The graphics are amazing on it too!! Would recommend highly
Date published: 2018-02-19
Rated

5

out of

5
by
Golar
from
Platforming perfection
You can't really go wrong buying a 3D Mario game. Whilst its other competitors (I'm thinking of a certain blue hedgehog) are mired in an endless identity crisis, Mario gets on with innovating upon the formula it nailed way back in Super Mario 64. Odyssey is the latest (and best, in my opinion) in the series. Its controls are fine-tuned to perfection, its visuals are glorious and the difficulty curve hits just the right notes at the right points. The Switch has two killer apps right now: Zelda and this. If you own it, don't miss out on both of these games.
Date published: 2018-01-20
Rated

5

out of

5
by
Anto89
from
Revelation!
An absolute blast to play. Classic Nintendo art design and flawless game-feel, it's so much fun even just to run in circles in this game! Hundreds and hundreds of moons to collect, and yet the game manages this with almost zero repetition.
Date published: 2017-11-16
Rated

5

out of

5
by
Peaches23
from
super mario odyssey
Bought this game for my son , as he has grown up watching his dad play Mario on the very first console . Mario never fails to give hours & hours of entertainment totally fantastic
Date published: 2017-11-19
Rated

5

out of

5
by
yklxmas
from
Awesome game!
Awesome game! Simple story line and cleverly designed stages and puzzles. Really takes me to the childhood when I played Mario for the first time. Highly recommended.
Date published: 2017-12-01
Rated

5

out of

5
by
Mike Brown
from
Mario stays fresh!
This next instalment in the Mario series manages to bring a bunch of new ideas to the table, whilst paying homage to the classics that defined the genre.
Date published: 2017-11-18
Rated

3

out of

5
by
Aliman
from
Best 3D mario game ever IMHO
I thought this game was going to be amazing but sadly didnt meet expectations, the amount of polish botw had i thought this would be flawless. Still a great game though and the 2 player co-op is a nice touch
Date published: 2017-11-28