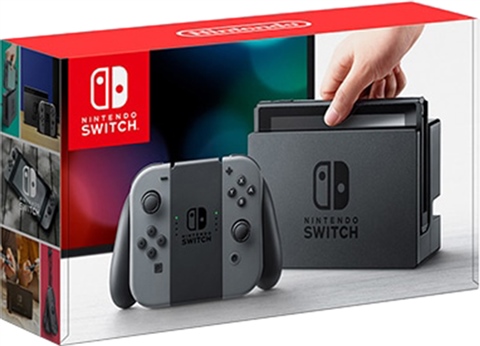 Nintendo Switch Console, 32GB

+ Grey Joy-Con, Boxed

WeSell for
£280.00
WeBuy for cash

£182.00

WeBuy for voucher

£210.00

In stock online
Nintendo Switch Console, 32GB + Grey Joy-Con, Boxed
Home console that you can play anywhere!
Nintendo Switch is a breakthrough home video game console. It not only connects to a TV at home, but it also instantly transforms into an on-the-go handheld using its 6.2-inch screen. For the first time, players can enjoy a full home-console experience anytime, anywhere.
Share the joy right out of the box!
Nintendo Switch makes it easy for players to stay connected. Up to 8 consoles can be connected for local wireless play. By placing the console upright using the built-in kickstand, players can independently use the left and right Joy-Con controllers to experience multiplayer fun anywhere.
Play in 3 modes!
The versatile Joy-Con offer multiple surprising new ways for players to have fun. Two Joy-Con can be used independently in each hand, or together as one game controller when attached to the Joy-Con grip. They can also attach to the main console for use in handheld mode, or be shared with friends to enjoy two-player action in supported games.
Experience HD rumble!
Both Joy-Con include advanced HD rumble, which can provide compatible games with subtle vibrations that are much more realistic than before. The effect is so detailed that a player could, for example, feel the vibration of individual ice cubes colliding inside a glass when shaking a Joy-Con. With HD rumble you can experience a level of realism not possible through sights and sounds alone.
More than meets the eye!
The left Joy-Con has a Capture Button that players can press to take instant screenshots of gameplay to share with friends on social media. The right Joy-Con includes an NFC touchpoint for interaction with amiibo figures, as well as an IR Motion Camera that can detect the distance, shape and motion of nearby objects in specially designed games! Each includes an accelerometer and gyroscope motion sensor, making independent left and right motion control possible.
Share the joy right out of the box!
Two Joy-Con controllers come with every Nintendo Switch, meaning you're set up for multiplayer out of the box! To re-charge simply attach them to the Nintendo Switch console or Charging Grip.
---
Nintendo Switch Console, 32GB + Grey Joy-Con, Boxed
is rated out of
5
by
8
.
Rated

5

out of

5
by
DJZahrim
from
Nintendo is Bringing games to the next level!
I got this on launch with the main game Zelda, along with 12 switch and Bomberman and the pro controller, possibly the most I've paid upfront in one go for a console on launch day, but I'm so glad I did, it's worth every penny! The tech in this console is groundbreaking, a home console... that you can pick up and carry about with you! worth it for the Zelda game alone, but the other games and indie games that have come out since do not disappoint. the games coming out over the next few months are seriously impressive and I cannot recommend the Switch enough. I've been on mine every day since it came out, the other consoles are seriously neglected right now!
Date published: 2017-04-07
Rated

2

out of

5
by
Melfice Vlog
from
Not a bad system
The console is a good piece of hardware although the only gripes are people with big hands may find the systems joy con a bit small. Only thing i find a little odd is why is the system £330 when it's only £280 in stores? I know profits and all but don't you think £330 is a bit too much? Only buy this if your a upgrade nut.
Date published: 2017-04-12
Rated

5

out of

5
by
THEJackBiggs
from
Had it for a short time, fantastic console!
The quick switch between handheld play and TV display really made it enjoyable - I played Breath of the Wild on the train, got to my girlfriends, took less than 5 mins to set up and connect to her TV. No complaints at all - couldn't recommend enough!
Date published: 2017-05-15
Rated

4

out of

5
by
KingPhillyUK
from
Great little device
So I picked this up as I had to play the new zelda title (breath of the wild) and the console itself is a great little machine. It's quick and easy to set up, takes around 3 hours to fully charge and feels great to play on. I can't say how long the battery lasts as I don't play it "on the go" I've only used it in its dock onto the TV.
Date published: 2017-07-02
Rated

5

out of

5
by
Lomadz
from
Great console for all ages
This console has really surprised me. Just brilliant! Kids love it and so do I. Zelda js a masterpiece and to play on TV or anywhere you like is great. This will be massive.
Date published: 2017-07-04
Rated

5

out of

5
by
H4YTH4M
from
Zelda BOTW here I come!
The console is very well made. Battery life isn't that bad. USB type C is a massive plus! This is probably not the answer to all your games console requirements, but it fits nicely next to a PS4 or Xbone.
Date published: 2017-04-23
Rated

5

out of

5
by
Boosee01
from
Great device and quick delivery
I ordered my switch and was very easy to order and is a very good console
Date published: 2017-05-29
Rated

5

out of

5
by
JenBen
from
Brilliant console
I bought this via cex as there was zero stock anywhere else, it was easy to order and arrived in good time. We love it! The kids play it mainly but me and my hubby are known to have a go when they go to bed! Easy to play, great to play on the go too!
Date published: 2017-09-02