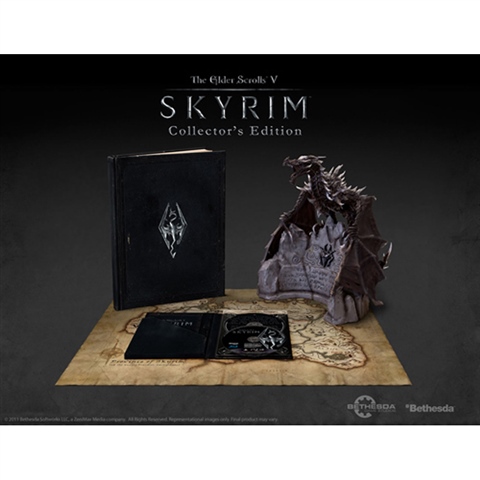 Elder Scrolls V: Skyrim CE W

Figure+Artbook+Map

WeSell for
£120.00
WeBuy for cash

£50.00

WeBuy for voucher

£72.00
Elder Scrolls V: Skyrim CE W Figure+Artbook+Map
The next installment in the critically acclaimed Elder Scrolls series is finally coming: The Elder Scrolls V: Skyrim.
Skyrim is the homeland of the Nords, a fierce and proud warrior people who are used to the bitter cold and mountanous terrain that mark the lands of Skyrim.
Wracked by civil war, and threatened by the return of the legendary dragons, Skyrim faces its darkest hour.
You must make sense of this maelstrom, explore the frozen tundra and bring hope to the people.
The Elder Scrolls V: Skyrim Collector's Edition on PS3 Includes:
Alduin Statue: Created in conjunction with the IP Factory, this collector's only statue stands 30.5cm tall and is made of high quality PVC. Modelled from actual in-game 3D digital files, it showcases Alduin, the World Eater. He stands perched atop one the game's many dragon walls that teach the player the lethal language of dragons.
'The Art of Skyrim' Official Art Bok:. Featuring over 200 pages of striking, full-colour illustrations, sketches and models, this stunning 23.8cm x 30.8cm coffee table book showcases the characters, creatures, environments and weaponry of Skyrim. With a foreword by game director Todd Howard and commentary from Bethesda Game Studios artists, readers will be guided through the game's iconic visual style.
'The Making of The Elder Scrolls V: Skyrim' DVD: This documentary DVD contains exclusive, behind-the-scenes footage, including interviews with the Bethesda Game Studios team as they take you from concept to creation and provide insights into the story, gameplay, setting, legacy of the Elder Scrolls franchise, and much more.
---
Notes About Additional Content
Our products may not include additional material like Digital Copies, Online Passes or promotional downloadable content (DLC).