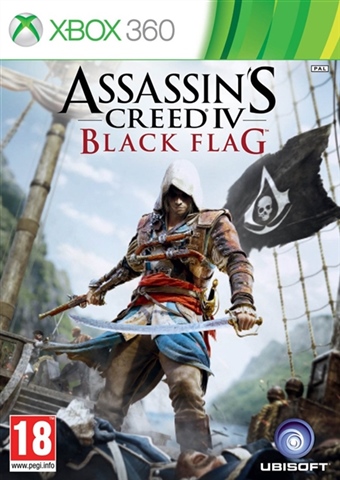 Assassin's Creed IV: Black

Flag *2 Disc*

WeSell for
£6.00
WeBuy for cash

£0.90

WeBuy for voucher

£1.90

In stock online
Assassin's Creed IV: Black Flag *2 Disc*
The year is 1715. Pirates rule the Caribbean and have established their own lawless Republic where corruption, greediness and cruelty are commonplace.
Among these outlaws is a brash young captain named Edward Kenway. His fight for glory has earned him the respect of legends like Blackbeard, but also drawn him into the ancient war between Assassins and Templars, a war that may destroy everything the pirates have built.
Welcome to the Golden Age of Piracy.
Features:
A BRASH REBEL ASSASSIN – Become Edward Kenway, a charismatic yet brutal pirate captain, trained by Assassins. Edward can effortlessly switch between the Hidden Blade of the Assassin's Order and all new weaponry including four flintlock pistols and dual cutlass swords.
EXPLORE AN OPEN WORLD FILLED WITH OPPORTUNITIES – Discover the largest and most diverse Assassin's Creed world ever created. From Kingston to Nassau, explore over 75 unique locations where you can live the life of a pirate
BECOME THE MOST FEARED PIRATE IN THE CARIBBEAN – Command your ship, the Jackdaw, and strike fear in all who see her. Plunder and pillage to upgrade the Jackdaw with ammunition and equipment needed to fight off enemy ships. The ship's improvements are critical to Edward's progression through the game. Attack and seamlessly board massive galleons, recruit sailors to join your crew and embark on an epic and infamous adventure.
EXPERIENCE THE GRITTY REALITY BEHIND THE PIRATE FANTASY – Stand amongst legendary names such as Blackbeard, Calico Jack and Benjamin Hornigold, as you establish a lawless Republic in the Bahamas and relive the truly explosive events that defined the Golden Age of Piracy.
THE BEST ASSASSIN'S CREED MULTIPLAYER EXPERIENCE TO DATE - Put your assassination skills to test and embark on an online journey throughout the Caribbean. Discover a brand new set of pirate characters, and explore exotic and colourful locations. Additionally, create your own game experience with the new Game Lab feature – craft your own multiplayer mode by choosing abilities, rules and bonuses. Play and share your newly created mode with your friends.
---
Notes About Additional Content
Our products may not include additional material like Digital Copies, Online Passes or promotional downloadable content (DLC).
Assassin's Creed IV: Black Flag *2 Disc*
is rated out of
5
by
22
.
Rated

5

out of

5
by
Omega914
from
One of the greats!
I bought this a couple of months after it came out in the january of '14 and I initially thought it wasn't that good. How wrong I was. Once I got of the beaten path (I had just followed the main story before that point) I discovered what a masterpiece it was. The level of freedom and scope this has compared to previous titles in the series. It was great in every department. Even though I played it on the ageing tech of the Xbox 360, it still looked absolutely stunning and played what seemed to be around 40fps throughout. It has now joined Assassins Creed 2 and The Elder Scrolls: Skyrim as one of my favourite games of all time. A must own.
Date published: 2015-04-19
Rated

5

out of

5
by
Petrichor
from
Great gameplay, fantastic story!
I bought this about a month ago now and I am very glad that I did. The game play and graphics are wonderful and the story and quests exceeded my expectations! I even persuaded my father and boyfriend to purchase the game and they both love it too!
Date published: 2015-01-04
Rated

5

out of

5
by
DormitaryBoss42
from
Excellent features and brilliant gaming
Great story and the graphics are amazing not impossible but an entertaining and challenging game roll on the next one !
Date published: 2015-01-01
Rated

5

out of

5
by
Bobinator
from
Mystery, Sailing and assassination
This game will reveal your inner pirate. Sail the Jackdaw around this immense map of islands and shipwrecks. Fight monstrous Battle Ships to gain the highest rewards. Lead Edward Kennway through this brilliant story, and find the Observatory...
Date published: 2015-07-13
Rated

5

out of

5
by
Nicko_Randall
from
Great game! :)
I bought this game about a month ago and it's a really great game to play. The effects and gameplay are stunning as well as realistic and the storyline is great too! Great buy, couldn't be happier!
Date published: 2015-07-07
Rated

5

out of

5
by
Rengar
from
Great game
love playing assassins creed never gets old and is fun to play
Date published: 2014-12-23
Rated

5

out of

5
by
omgitzhector
from
Great Gameplay!
After playing Assassins Creed IV, Black Flag, I thought that nothing would beat it. Then, I bought Assassins Creed II. This game is superb, the gameplay is really fun and is neither easy nor hard. I would recommend this game to anyone here as I have had a lot of fun playing it! Enjoy!
Date published: 2017-05-03
Rated

4

out of

5
by
Badvoc
from
Good but not great
Bought this online, shame the case was broken but at least the disc was okay. Took a couple of days to finish the game. The story is a lot better than AC3 and the character easier to 'like'. On the downside, the game felt a little rushed and left too many plot holes, the worst of it is that they have carried over the same combat system from AC3. My actual score is 3.5 out of 5. Assassins Creed 2 is by far the best game in this series but this is lots better than the abysmal Assassins Creed 3.
Date published: 2015-01-01