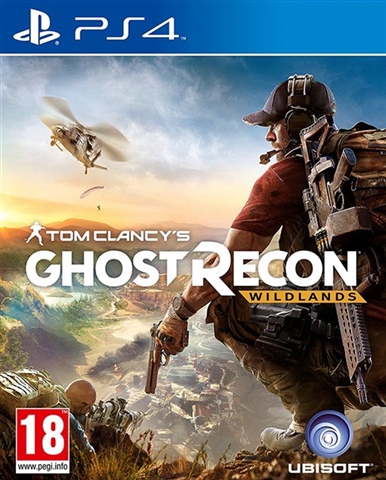 Ghost Recon: Wildlands (No

DLC)

WeSell for
£28.00
WeBuy for cash

£13.00

WeBuy for voucher

£18.00

In stock online
Ghost Recon: Wildlands (No DLC)
Bolivia, a few years from now this beautiful South American country has become the largest cocaine producer in the world. The influential and vicious Santa Blanca drug cartel has turned the country into a narco-state, leading to lawlessness, fear, injustice, and violence. The cartel is on track to becoming a major underworld power and global threat.
An all-out war is not the answer. A surgical, stealthy, lethal approach is the only way to stop the disease at its source. The Ghosts, an elite US Special Forces team, are sent behind enemy lines to wreak havoc, destabilize, and eventually break the alliance between the cartel and the corrupted government.
Facing an almighty enemy in a massive and hostile environment, the Ghosts will need to make critical moral choices and engage in tough battles to complete their mission – their grittiest and most dangerous operation to date.
Features:
BIENVENIDOS A BOLIVIA - From the infamous Death Road to the world's largest salt flat, journey through Ubisoft's largest open world action-adventure game to date. Discover massive regions inspired by Bolivia and South America, their stunning vistas and incredible diversity. Explore the hundreds of villages, landmarks, and legends populating this country in one of the many available vehicles, both on and off road, in the air, on land, and at sea. Immerse yourself in Bolivian culture as you cross paths with inhabitants reacting to their own agendas and to the game's day-night cycle and weather system.
BECOME A GHOST - Lead a team of four Ghosts, the absolute best of the US military. Play either solo or with up to three of your friends online in this gritty adventure as they seamlessly join you at any point in the game. Engage all your military missions in whatever order and manner suits you: stealth, distraction, and tactical or frontal assault always remain possible. Use the new iconic drones to recon the toughest terrains and to tag enemy outposts, or transform them into destructive weapons. Make difficult but critical choices: sabotage, interrogation, kidnapping, and assassination are but a few of the options available for you to reach your objectives. Upgrade and fully customise your Ghost with the experience and loot you gather on the battleground.
MANIPULATE AND FACE THE CONSEQUENCES - Interact with different factions in the game gather intel from the Santa Blanca cartel, bribe the aggressive Unidad military force, benefit from the local rebels' resources, or protect the native population. Start inter-faction battles to cause distractions and help you reach your objectives. The world will react differently to each of your choices: unexpected opportunities and threats could arise from any situation, turning into long-lasting and direconsequences. Manipulate the system. Manipulate the unexpected.
---
Notes About Additional Content
Our products may not include additional material like Digital Copies, Online Passes or promotional downloadable content (DLC).
Ghost Recon: Wildlands (No DLC)
is rated out of
5
by
38
.
Rated

3

out of

5
by
Neveryoumind411
from
1 of the best online multiplayer co-op games ever.
I have been playing wildlands for a about a month, and have enjoyed every moment. Besides the occasional glitch making it seem as though your companion is running beside your car instead of inside of it, and a few other very minor eyesores that tend to break the feeling of reality/realism, the game is very fluent and is absolutely amazing for the co-operative gameplay. The game can also be played solo with three AI controlled allies but doesn't feel as engaging as when playing it with friends. The map is huge which offers endless exploration, with no set path. this means you don't have to worry about playing with someone who has completed more or less of the story than you, as you can complete any part in any order.
Date published: 2017-04-04
Rated

5

out of

5
by
Cavaliertommy
from
What a game !!!!!
Had the game now for just over a month and I have to say that playing on my own, no online coop it is fantastic fun!!!! One of the best games ever in my opinion !!!
Date published: 2017-04-03
Rated

4

out of

5
by
The dude
from
Division - in the forest!
This game (for all the fun I make of it) is surprisingly good. As long as you have a set of friends to play the co-op feature with. Playing the campaign on your todd can get quite repetitive and daunting, but the fun factor is in the company you bust this game with! The game is HUGE! The map is based on an entire country, rather than a city or boxed in "open" environment which makes it the biggest map in any game to date. If you're looking to play with friends, or sink your teeth into an in depth open world collecting frenzy then this game is for you!
Date published: 2017-04-14
Rated

4

out of

5
by
Trouble
from
Really Good Game
I bought this game around a month and a half ago and it's one of the best games I've played in ages! It definitely gives you lots to do and takes a good week or 2 of continuous play to complete the story. Even after you finish the story you still have even more story missions that unlock after you beat the game. Very good gameplay and stealth mechanics with satisfying features. Driving could be improved but will probably be improved in a future update. I bought online and came within 2 days of purchase. Very pleased
Date published: 2017-05-18
Rated

4

out of

5
by
Caesar
from
Wetlands = skenglands skrt skrt gang
Overall game is good has soo much too do great weapons vehicles unlockables etc and massive!! Map. I traded 2 games and got 3 including this and was pleased with my trade. Recommend as I'm waiting for the new releases and need to bide my time. Make it happen!
Date published: 2017-04-22
Rated

3

out of

5
by
The reverend
from
Team playing game
Really need a few of your friends with you on this as better game playing with mates rather than single, game with good potential if played right!
Date published: 2017-04-24
Rated

5

out of

5
by
Jacko88
from
Good solid game lots to keep you going
Excellent tactical shooter sometimes repetitive but otherwise big map easy trophies awesome weapons and gadgets
Date published: 2017-03-28
Rated

5

out of

5
by
Atko466
from
Ghost recon wildlands
Brilliant game, got me hooked from day one, it's not just a shoot em up you have to think about how to do it
Date published: 2017-04-03