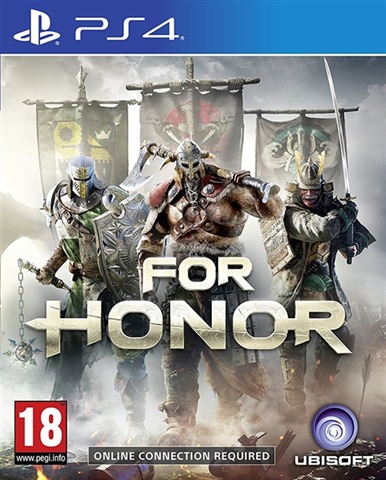 WeSell for
£15.00
WeBuy for cash

£7.00

WeBuy for voucher

£10.00

In stock online
For Honor (No DLC)
Live by the sword
Witness the bloody brutality of the battlefield as history's most iconic warriors come face to face. Choose between the agile Chosen, the brutal Warborn or the brave knights of The Legions and fight for land and glory.
Combine cunning, strategy and team play with brutal hand-to-hand melee combat to bring your enemies to their knees. The "Art of Battle", For Honor's innovative control system lets you wield the weight of your weapon and puts you in total control of every blow.
Customize your characters to create your own warrior image. Weapons and armour are fully customizable with almost limitless combinations.
The Art of Battle
Master a unique combat system designed to put you in full control of every, swing, block, jab and parry. For Honor's 'Art of Battle' system not only allows you to deal damage and dodge incoming blows, it also weights each individual action based on your footing, determining your ability to counter incoming attacks, exploit openings or sidestep an incoming blow.
Every face-off will be a test not just of raw strength, but of skill, attention and timing, making every move decisive.
---
Notes About Additional Content
Our products may not include additional material like Digital Copies, Online Passes or promotional downloadable content (DLC).
For Honor (No DLC)
is rated out of
5
by
12
.
Rated

5

out of

5
by
Jonzo
from
ADDICTIVE GAME!! I LOVE IT
This game is amazing, anyone who loves competitive games will love this. The beta just recently ended; I'm so annoyed as I am waiting for this game to drop!!;(
Date published: 2017-02-13
Rated

5

out of

5
by
d3r4
from
Played for so many hours!!
This game has so much to offer, the fighting mechanics great and the class selection is amazing, I've played the game for 4 days (in-game)and still enjoying it. I recommend this game to multiplayer fans because the singleplayer's good but the actual fights come out of multiplayer
Date published: 2017-03-20
Rated

1

out of

5
by
Shadana
from
Was ok for 1 day
Was ok for 1 day, . Equipment stats ruins the online PVP as at lower levels you will never win against level 108's, good customisation, but truly no longevity.
Date published: 2017-03-20
Rated

3

out of

5
by
Rob_Edwards
from
Great to start with, then meh
Got a month ago, was happy with it, but don't play it anymore
Date published: 2017-03-14
Rated

3

out of

5
by
Thomasafaulkner
from
Good game
I bought this game to play with my friends and it was good for a month, but then the game got repetitive and got boring
Date published: 2017-11-23
Rated

5

out of

5
by
MarekS
from
Stick with it.
Personally, I don't have any problem with disconnections. As everyone says it's not a button mash game.
Date published: 2017-04-09
Rated

4

out of

5
by
Gi_joe2004
from
good gameplay
it is a great game which i still play today but over all i think it is great to play with friends.
Date published: 2017-09-13
Rated

5

out of

5
by
Dylanstevo
from
Great game
I bought For Honor a month a go and it arrived after a few days, happy with it.
Date published: 2017-10-31