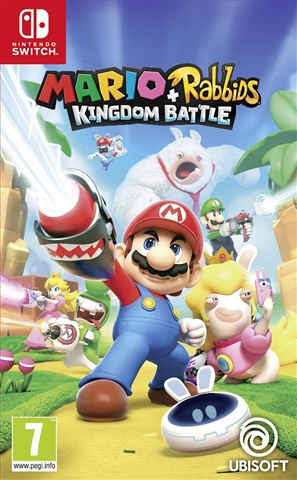 Mario + Rabbids Kingdom Battle

WeSell for
£40.00
WeBuy for cash

£18.00

WeBuy for voucher

£26.00

In stock online
Mario + Rabbids Kingdom Battle
Two worlds collide in Mario + Rabbids Kingdom Battle!
The Mushroom Kingdom has been torn apart by a mysterious vortex, transporting the chaotic Rabbids into this once-peaceful land. To restore order, Mario, Luigi, Princess Peach, and Yoshi must team up with a whole new crew: four Rabbids heroes! Together, they will battle with weapons through four worlds filled with combat, puzzles, and unpredictable enemies.
Mario + Rabbids Kingdom Battle is the best of the Mario and Rabbids franchises, combining all that you love about Mario's iconic universe with the side-splitting antics of the Rabbids.
Features:
Mario & Rabbids universes collide in this new adventure that combines the best of these two worlds!
Mario, Luigi, Princess Peach, and Yoshi join forces with four Rabbids heroes with their own unique personalities.
Easy to play, difficult to master. Solo and co-op turn-based combat is a fresh gameplay experience.
Battle with an arsenal of weapons through four new worlds filled with enemies, puzzles, and humorous fun!
---
Mario + Rabbids Kingdom Battle
is rated out of
5
by
14
.
Rated

3

out of

5
by
maniamario
from
MARIO & RABBIDS STRATEGY JUST FAILS
MARIO RABBIDS KINGDOM COULD HAVE BEEN SO EXCELLENT BUT IS JUST LET DOWN IN THE STRATEGY DEPARTMENT. THE GAME IS OK BUT DOES NOT DESERVE ALL THE HYPE THAT IT GOT & HYPE IS ALL THAT IT IS. IF YOU WANT REAL GOOD STRATEGY YOU WOULD BE MUCH BETTER OF WITH HALO WARS. THIS IS AN OK ADDITION TO THE ALREADY WEAK NINTENDO SWITCH LIBRARY AND WOULD HAVE BEEN BETTER AS A FPS SOOTER INSTEAD. I WOULD NOT RECOMMEND THIS GAME ESPECIALLY IF YOU WANT SOME ACTION AND FUN. CURRENTLY THE BEST 2 SWITCH TITLES WOULD BE ARMS AND OF COURSE BREATH OF THE WILD. COME ON NINTENDO AND BRING ON MARIO ODYSSEY & STOP GIVING US THESE HALF BACKED CROSS OVERS.HAPPY GAMING TO YOU ALL.
Date published: 2017-09-01
Rated

4

out of

5
by
Lemmings
from
Your first xcom like game
TLDR - turn based game, fun mechanics, little more adults, ok story, can be frustrating, great look and music. Mario + Rabbids Kingdom Battle is a turn-based action game that uses cover and movement mechanics to solve the levels. Story Unlike most Mario games this one is aimed at a little more of a grown up then a child. The language used doesn't use swear words but does use more adult words. I tried to give ideas but the review would let me say them. It does include guns in the game but no one dies in the game which it explains as part of the story. Each world is broken down into chapters which you can come back to. The story is not the best but enough to get what is happening Mechanics The first major one it will teach you is how cover is used. The large cover give both you and the enemy 100% cover and wont be able to get attacked unless flanked. Medium cover gives 50% chance of not getting hit and if you out in the open, good luck. Cover can be destroyed so even if you do shoot and miss you will force or be forced to move. Movement is split into many aspects in the game. You can slide tackle your enemies, bounce off your friends and run into warp pipes. These can be combined to both attack and flank. Battles and Between All the battles are broken down into small areas surrounded by flags. These battles have a handful of different ways to completed depending on the brief. Defeat all the targets, get to the end zone are a few as well as some boss battle that have inventive ways to win. In between the battle you follow a path to the next one with puzzles in between. Some of the puzzles cannot be completed until you have learnt an ability which comes at the end of a world. Overall I enjoyed my time with it and have gone through everything I could. I like to play this in sessions as it does get a little frustrating at times but I get like this with all tactics games. Ubisoft have done a really good job at the look and feel of a Mario game and the music is fantastic.
Date published: 2017-09-07
Rated

5

out of

5
by
Nathanmg
from
Fantastic mashup and example of the genre
To keep it relatively short and sweet, if you love Mario and are a fan of games such as X-Com, you can't go wrong here. The Rabbids add a level of humour that meshes well with the story (and tbh they're better than minions), the artwork and music is spot on and the gameplay is engaging with a nice level of difficulty. The only downside is that the game ends.
Date published: 2017-09-19
Rated

5

out of

5
by
Guardsman117
from
Required/Amazing turn based stratergy Switch title
The game has a deep level of actions to perform during the turn based combat. A huge variety of enemies that will keep you guessing. Alongside this many levels to explore alongaode each world and can easily get 70+ hours out of this even before the game eventual dlc drop... A must have switch vame
Date published: 2017-10-25
Rated

4

out of

5
by
ZachB
from
Excellent strategy game!
This game was not on my list, I dismissed it at E3 but actually playing it and realising how good it is, how deep the gameplay is, I am so glad I picked it up. Really surprised, runs well and took me about 30 hours.
Date published: 2017-12-23
Rated

5

out of

5
by
Ian B
from
Brilliant Crossover
Against the odds this is a fantastic pairing of Mario and the Rabbids. A really fun strategy game with gorgeous graphics and some really funny moments.
Date published: 2017-09-19
Rated

4

out of

5
by
NWplays
from
Fun Gameplay!
I bought this about a month after it's release and I'm glad I did, it's family friendly graphics and fun but challenging gameplay make it a great game
Date published: 2017-10-23
Rated

5

out of

5
by
Anto89
from
Surprisingly deep
Fantastic game. Far deeper than you'd expect, with quite a few challenging moments, plus it's frequently hilarious even with the rabbids involved!
Date published: 2017-09-16