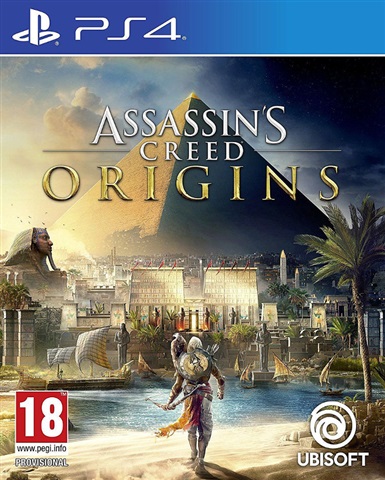 Assassin's Creed Origins (No

DLC)

WeSell for
£38.00
WeBuy for cash

£17.00

WeBuy for voucher

£25.00

In stock online
Assassin's Creed Origins (No DLC)
The critically-acclaimed Assassin's Creed franchise returns with new stories and quests, an exciting new world to explore and a completely redesigned combat system.
Explore the sand-swept kingdoms of ancient Egypt as the Assassin's Creed story winds back the clock thousands of years to the very birth of the Assassin's Brotherhood. Take on the role of master swordsman and trained killer Bayek in an open-world adventure filled with deep memorable quests and forgotten myths.
Challenge yourself and your foes with a refined, loot-driven system of progression that allows you collect new weapons and develop Bayek's lethal skills in line with your own particular playstyle.
From the lush agriculture of the Nile Delta to the searing isolation of the Siwa Oasis or the incredible pyramids of Giza and Memphis - the iconic world of ancient Egypt is yours to explore as you choose.
---
Notes About Additional Content
Our products may not include additional material like Digital Copies, Online Passes or promotional downloadable content (DLC).
Assassin's Creed Origins (No DLC)
is rated out of
5
by
18
.
Rated

4

out of

5
by
One_Winged_Angel
from
Definitely worth playing
I've played all of the main Assassins Creed games (excluding some DLC and the 2D games) and this is one of the stronger entries. Bayek is a very likeable protagonist, the story is okay and the addition of a wide range of upgradeable weapons with status effects, the change in eagle vision, the skill tree and daily challenges, including the trials of the gods are great. There are still a lot of collectibles, which are a bit tiresome to get if you want the platinum trophy but they're not as bad as some previous iterations of Assassins Creed. Overall, if you haven't played Assassins Creed for a while and found some of the later ones to be a disappointment, this is a good one to get back into it and sink a lot of your time into.
Date published: 2017-11-22
Rated

5

out of

5
by
Ali ali
from
WOW REally GOOD IF UR A NEW TO ASSASSIN 9.5/10
What a game worth the full price, Graphic is amazing the map is massive ale surw you do side and main mission one after another put it on easy mode not easy at all, if you are a new to assassin buy iti give this game of the year 2017.
Date published: 2017-11-20
Rated

5

out of

5
by
GGibson24
from
Great addition to the series
This game brings a breath of fresh air to the AC series with a new combat system and RPG based approach. The graphics are also incredible, highly recommended!
Date published: 2017-11-28
Rated

5

out of

5
by
mark0000
from
great game
i bought this in November, i have play it and what a game, ordered it online, fast shipping , great service
Date published: 2017-11-21
Rated

5

out of

5
by
bump
from
great game
controls gameplay and everything improved on one of the greatest game series ever
Date published: 2018-01-01
Rated

5

out of

5
by
crazysammons
from
Finally good again!!!
This game is great. Back the storytelling of the first 2 assassins creed games, which in my view are the best. Graphics are outstanding, gameplay is great and very little lagging. I have only experienced alight lag 2-3 times which resulted in me dying and having to start a mission again butone I said only 2-3 times and they were on side quests so not so bad. Would highly recommend this to anyone if your new to the franchise or have been playing for years.
Date published: 2017-11-18
Rated

5

out of

5
by
GorJam
from
Creed origins is amazing
Assassins Creed: Origins (PS.PRO) is one of the best games I've played in a long time. It's the biggest and most detailed game I've played....and I've played a lot. Worth every penny. Fast delivery from CEX too. Arrived day after launch, 2 days after I ordered it.
Date published: 2017-11-18
Rated

3

out of

5
by
longboy420
from
It's alright.
This game was fun for the first few hours and then I started getting really bored really quickly. The combat system was definitely overhyped as I found it to be slightly broken and clunky.
Date published: 2017-12-01