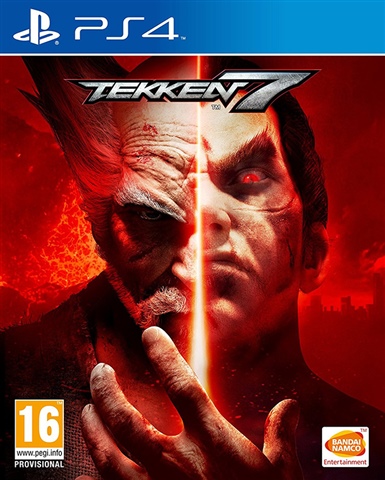 WeSell for
£35.00
WeBuy for cash

£16.00

WeBuy for voucher

£23.00

In stock online
Tekken 7 (No DLC)
Raise your fists and get ready for the ultimate battle on the next generation of home consoles. Powered by the Unreal Engine 4, the storied fighting franchise returns for another round in Tekken 7. With the faithful 3D battle system and gameplay intact, Tekken 7 takes the franchise to the next level with photo-realistic graphics and new and innovative features and fighting mechanics. Tekken 7 resurrects the attitude, competitiveness and showmanship rooted in its arcade DNA to provide the ultimate fighting game experience.
---
Notes About Additional Content
Our products may not include additional material like Digital Copies, Online Passes or promotional downloadable content (DLC).
Tekken 7 (No DLC)
is rated out of
5
by
11
.
Rated

5

out of

5
by
Broads
from
Great local multiplayer
Great nostalgic multiplayer fun. Where new gen consoles lack games to play with friends, Tekken gives you a reason to own a second controller
Date published: 2017-06-23
Rated

5

out of

5
by
Dd93
from
Great
I brought this game on a Friday came the following day, in really good condition, good game spent hours playing
Date published: 2017-11-18
Rated

5

out of

5
by
Notdead2014
from
Tekken 7
I got the game cex and I'm so happy about it I always like tekken so I was glad to get it
Date published: 2017-09-22
Rated

1

out of

5
by
Jinpachi
from
By favorite tekken 5
Tekken 7 ,absolutely shxt ,story mode is completely unrelatable,to the other stories,it should be rated 3 ,childish more henai ,than serious ,why is yoshimitsu a squid ,why is eddie dancing like a slag ,why is law and paul running away laughing ,look on utube for the stories ,game play is not all that ,I need tekken 1 to 5 on ps4 ,tekken 6 is rubbish aswell, Your Sincerely , JINPACHI MISHIMA
Date published: 2017-07-06
Rated

4

out of

5
by
BoogleGreen
from
Great game
Good game but it doesn't have the normal arcade mode I used to like in tekken 2 and 3. Instead you get a story mode which is quite interesting but gets incredibly hard at the end. And one fight stories for some characters which are a bit rubbish. I'm having fun with this game but it needs a tutorial of how to fight well. E.g. how to perform combos that juggle, how to block effectively, low parry and where to attack.
Date published: 2017-06-29
Rated

3

out of

5
by
CING86
from
Good but not the best
It's nice but it's plauged with too many online issues that should have been sorted before it even hit the shelves!
Date published: 2017-06-26
Rated

4

out of

5
by
Brain24
from
Great Delivery
Got the game 1 day after I was sent an email telling me it had been dispatched and would take 3-5 working days. I in fact actually got this item through the post on a Saturday after ordering it late Wednesday night.
Date published: 2017-12-16
Rated

4

out of

5
by
Ballzak99
from
The new entry Into the fighting game saga
The new tekken game by namco is just what the fans have been waiting for, it offers both nostalgic feel to the unique fighting mechanics as well as a fresh appearance on next gen consoles. As a child I played many of the tekken games and although I have never been that good at the game , I always find it to be a very thrilling experience upon playing. Tekken 7 is probably the most polished of the games in the series most likely due to performance of the Xbox one and PlayStation 4. The new story mode element is somewhat new to the tekken series with the timeline spanning across the Mishima families lives. Although the story is a new attempt at bringing more playability to the franchise, I can't help but see it as inferior to the new injustice and mortal combat games. Furthermore the online play upon release lacked finesse compared to injustices' fast paced and responsive controls In conclusion tekken 7 is by no means a masterpiece but it does show fans of the franchise that tekken is in fact not a dying breed of fighting games but in fact a force to be reckoned with. Review by Zak simkin
Date published: 2017-06-24