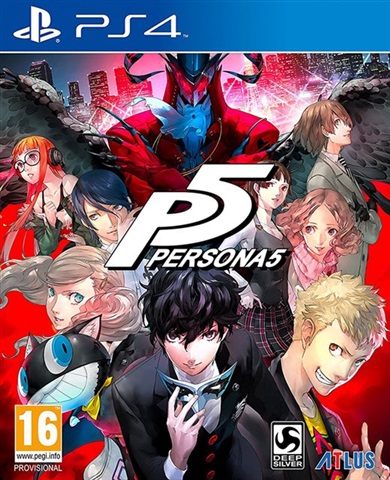 WeSell for
£35.00
WeBuy for cash

£16.00

WeBuy for voucher

£23.00

In stock online
Persona 5
Persona 5 is a game about the internal and external conflicts of a group of troubled high school students - the protagonist and a collection of compatriots he meets in the game's story - who live dual lives as Phantom Thieves. They have the typically ordinary day-to-day of a Tokyo high schooler - attending class, after school activities and part-time jobs. But they also undertake fantastical adventures by using otherworldly powers to enter the hearts of people. Their power comes from the Persona, the Jungian concept of the "self". The game's heroes realize that society forces people to wear masks to protect their inner vulnerabilities, and by literally ripping off their protective masks and confronting their inner selves do the heroes awaken their inner power, and use it to strive to help those in need. Ultimately, the group of Phantom Thieves seeks to change their day-to-day world to match their perception and see through the masks modern-day society wears.
---
Notes About Additional Content
Our products may not include additional material like Digital Copies, Online Passes or promotional downloadable content (DLC).
Persona 5
is rated out of
5
by
22
.
Rated

5

out of

5
by
Zandro
from
Persona 5 - What A Game!
I have been a fan of the Persona series for a while and the ammount of time I had to wait before Persona 5 came out (8 years) made me feel like we might have another Duke nukem on our hands e.g. waited so long it was bound to be a dissappointment. That wasnt the case I throughly enjoyed every single aspect of Persona 5 the story line was intense, replay value was high and it is just a superbly crafted and well polished game. Combat was easy to get to grips with and they added features in as you progressed so you never felt overwhelmed. All the characters were well thought out and had decent story arcs it was enjoyable from start to finish all 40+ hours of it.
Date published: 2017-07-20
Rated

5

out of

5
by
thatxxme
from
Best RPG in Years
Absolutely amazing game, an incredibly deep and interesting story with a diverse and hilarious cast of characters, with a variety of different locations and things to do. This is a must-buy for any fans of Persona or RPGs in general.
Date published: 2017-04-30
Rated

5

out of

5
by
ellisjc0
from
Exceptional experience.
I have now had this game for approaching a month and all I can say is "Go Buy this Game." It's exceptional. Even a vague interest in this game and you should go and buy it right now. The story is so well written. The games equivalent to dungeons, Palaces, are all unique and different creating an amazing gameplay experience. It's a well-polished product and I would recommend it to anyone.
Date published: 2017-05-06
Rated

5

out of

5
by
Adam_101
from
Stylish with great music and character development
Review of delivery and content: Sent in quick time with package in mint condition. Arrived with 2 days of ordering. Game: A very long (100+ hours) with extremely slick graphics, very cool funk/jazz soundtrack and traditional but fun battle mechanics, as well as loads and loads of character development and exploration through virtual "social links".
Date published: 2017-05-25
Rated

5

out of

5
by
Becsby
from
What a game! Personal 5!
So I don't play much Japanese RPG but saw this looked cool so thought why not. Wow glad I decided to pick this up, this game made me feel like a right badass! This game is great fun with a very deep meaning behind it. Along with some very funky personas and great characters to keep the story fun! Everyone buy this, it's AWESOME woooooo!
Date published: 2017-05-28
Rated

5

out of

5
by
Sadguyfaebrechin
from
Keeps hitting the high notes!
I didn't think persona 4 golden could be topped till this came out. Finally a proper release after the fighting and dancing games and it lives up to expectations. If you are a fan of the series buy it, it you are new to the series and want a wordy jrpg buy it. Essentially just buy it - you will not regret it.
Date published: 2017-05-20
Rated

5

out of

5
by
Mosouli
from
So Much Fun!
This is my first Persona game and I love it. There graphics are great, love the comic style and menus. This is a very big game with lots to do. The story is really engaging and of an adult theme. If you are an anime or JRPG fan them grab this game!
Date published: 2017-05-04
Rated

5

out of

5
by
camtech13
from
overal greatness
From the time I bought the game it arrived not only on time but in perfect condition and was fully playable as well and the game itself was and is excellent and a really good game for those new to the persona franchise.
Date published: 2017-04-30