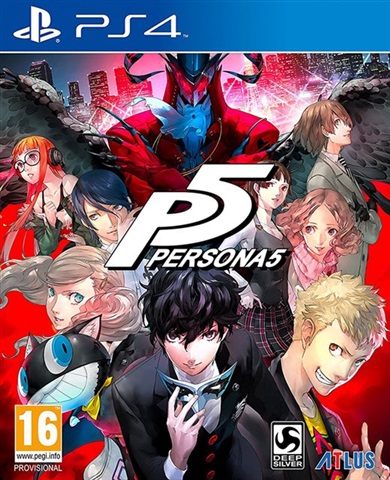 WeSell for
£55.00
WeBuy for cash

£35.00

WeBuy for voucher

£41.00

In stock online
Persona 5
Persona 5 is a game about the internal and external conflicts of a group of troubled high school students - the protagonist and a collection of compatriots he meets in the game's story - who live dual lives as Phantom Thieves. They have the typically ordinary day-to-day of a Tokyo high schooler - attending class, after school activities and part-time jobs. But they also undertake fantastical adventures by using otherworldly powers to enter the hearts of people. Their power comes from the Persona, the Jungian concept of the "self". The game's heroes realize that society forces people to wear masks to protect their inner vulnerabilities, and by literally ripping off their protective masks and confronting their inner selves do the heroes awaken their inner power, and use it to strive to help those in need. Ultimately, the group of Phantom Thieves seeks to change their day-to-day world to match their perception and see through the masks modern-day society wears.
---
Notes About Additional Content
Our products may not include additional material like Digital Copies, Online Passes or promotional downloadable content (DLC).
Persona 5
is rated out of
5
by
15
.
Rated

5

out of

5
by
thatxxme
from
Best RPG in Years
Absolutely amazing game, an incredibly deep and interesting story with a diverse and hilarious cast of characters, with a variety of different locations and things to do. This is a must-buy for any fans of Persona or RPGs in general.
Date published: 2017-04-30
Rated

5

out of

5
by
ellisjc0
from
Exceptional experience.
I have now had this game for approaching a month and all I can say is "Go Buy this Game." It's exceptional. Even a vague interest in this game and you should go and buy it right now. The story is so well written. The games equivalent to dungeons, Palaces, are all unique and different creating an amazing gameplay experience. It's a well-polished product and I would recommend it to anyone.
Date published: 2017-05-06
Rated

5

out of

5
by
Mosouli
from
So Much Fun!
This is my first Persona game and I love it. There graphics are great, love the comic style and menus. This is a very big game with lots to do. The story is really engaging and of an adult theme. If you are an anime or JRPG fan them grab this game!
Date published: 2017-05-04
Rated

5

out of

5
by
camtech13
from
overal greatness
From the time I bought the game it arrived not only on time but in perfect condition and was fully playable as well and the game itself was and is excellent and a really good game for those new to the persona franchise.
Date published: 2017-04-30
Rated

5

out of

5
by
Meniak89
from
Amazing game!
Persona 5 is the first Persona game that I have played and I am blown away! I would love to spend my day going to school and studying, but the pesky palaces keep getting in the way!
Date published: 2017-05-05
Rated

5

out of

5
by
htutin
from
Can't put it down!
Im new to the persona series, but you dont need to have played the previous 4 games to get into this one! Definetly interested in this series now and will try out persona 4!
Date published: 2017-05-10
Rated

5

out of

5
by
Bumbledragonb
from
Great game
Would recommend for fans of previous games in the series, not so much for new comers. The used copy was in great condition and fully playable.
Date published: 2017-05-09
Rated

5

out of

5
by
Chob
from
Persona 5
Item was delivered very quickly, and was well protected during shipping. Oh yeah, and the game was pretty good to, I guess.
Date published: 2017-05-10