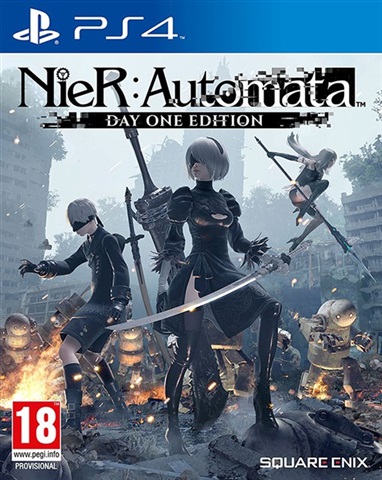 WeSell for
£30.00
WeBuy for cash

£14.00

WeBuy for voucher

£20.00

In stock online
Nier: Automata (No DLC)
Square Enix RPG meets PlatinumGames Action in blistering 60fps!
NieR: Automata is a revolutionary Action RPG set in a post-apocalyptic world overrun by machine lifeforms and abandoned by mankind. As part of an android army created by humans to reclaim the planet, players will fight their way through the mechanical horde using a collective of close-combat weapons and ranged attacks.
Developed in collaboration with celebrated action developer PlatinumGames, NieR: Automata gracefully blends incredibly tight controls, mesmerizing combat combos, customizable weapon loadouts, an elaborate skill system, branching questlines, and an immersive story with intriguing characters that will leave players in awe.
Glory to Mankind
Humanity has been driven from the Earth by mechanical beings from another world. In a final effort to take back the planet, the human resistance sends a force of android soldiers to destroy the invaders. Now, a war between machines and androids rages on... A war that could soon unveil a long forgotten truth of the world.
Action-Packed Battles
Switch between melee and ranged attacks to perform high-speed battle actions against hordes of enemies and challenging bosses.
Beautifully Desolate Open-World
Hauntingly beautiful vistas and open field maps are combined with a wealth of sub-events in a machine-driven dystopia.
Masterfully Crafted Story and Characters
NieR: Automata tells the story of androids 2B, 9S and A2 and their ferocious battle to reclaim Earth from powerful weapons known as machine lifeforms.
Elements of an RPG
Obtain a variety of weapon types, level up in battle, learn new combat skills, and customize a loadout that caters to your playstyle.
---
Notes About Additional Content
Our products may not include additional material like Digital Copies, Online Passes or promotional downloadable content (DLC).
Nier: Automata (No DLC)
is rated out of
5
by
15
.
Rated

5

out of

5
by
keyraz666
from
Automato?!
Brilliant game, great character development, great plot, definatley see all sides of the story. Played it twice and there's another storyline continuing after I thought the game finished. Haven't finished it yet but definatley a must buy!
Date published: 2017-04-22
Rated

5

out of

5
by
JamboJambo
from
One of the best games I have ever played.
It is best if you play this game with as little information as possible so you can fully experience that this game is; Just remember to play through the game at least three times(you'll see!).
Date published: 2017-04-03
Rated

5

out of

5
by
E10phoenix
from
Simply Amazing
I'm pleased to say that this new instalment to the Nier/Drakengard Franchise is the improvement the series needed!!! Amazing combat and action set pieces coupled with one of the greatest soundtracks you will ever listen to while playing an action game. Buy this now!
Date published: 2017-04-16
Rated

5

out of

5
by
Lunalumos97
from
Best game I've played in 2017
Took me and my boyfriend about two months worth of weekends to complete, we loved it! The story line was fantastic and had us totally immersed.
Date published: 2017-05-14
Rated

5

out of

5
by
Tomx
from
Nier automata
Brought this game online because the website is great and easy to use. I had read reviews on the game and they were all true the game is great
Date published: 2017-04-13
Rated

5

out of

5
by
Fab77
from
Great game and excellent service
I cannot be more happy, the game is beautiful and I got a NEW copy from Cex!!!!!
Date published: 2017-04-10
Rated

5

out of

5
by
MatteoC
from
Fun and many-hours long!
It's a pretty great game. I love this type of RPGs: you get a good selection of weapons and of 'abilities' which you can change and customise. The size of the 'world' you can explore is not too vast, and therefore it does not cause the same anxiety of having to explore every nook and cranny like Assassin's Creed of Skyrim do. The graphics is pretty good, but the real perk of the game is its 'length'. The main story itself is not particularly long, however once you finish the main one with your main character you can play it a few more times with different characters and you can unlock different endings. This way you also unlock new abilities and stronger stats for your 'pod' and weapons. Absolutely recommended, and for those who have the chance I would advise to try the previous Nier for PS3. Otherwise games that are reminiscent of this are the Kingdom Hearts saga.
Date published: 2017-06-15
Rated

5

out of

5
by
jt151
from
Fantastic existential adventure
The game starts as a fun simple fighting game but slowly unveils layers of complexity and becomes this dark deep story that absolutely had me hooked. The game has multiple endings which are absolutely worth playing through. The game took me around 40 hours to complete and I immediately started again, I'm really hoping for a sequel!
Date published: 2017-10-17