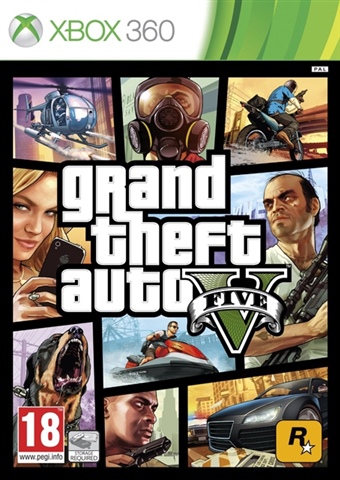 Grand Theft Auto V (5) *2

Disc*

WeSell for
£10.00
WeBuy for cash

£2.00

WeBuy for voucher

£4.00

In stock online
Grand Theft Auto V (5) *2 Disc*
Los Santos - a sprawling sun-soaked metropolis full of self-help gurus, starlets, and fading celebrities, once the envy of the Western world, now struggling to stay afloat in an era of economic uncertainty and cheap reality TV.
Amidst the turmoil, three very different criminals plot their own chances of survival and success: Franklin, a former street gangster, now looking for real opportunities and serious money; Michael, a professional ex-con whose retirement is a lot less rosy than he hoped it would be; and Trevor, a violent maniac driven by the next big score. Running out of options, the crew risks everything in a series of daring and dangerous heists that could set them up for life.
The biggest, most dynamic and most diverse open world ever created, Grand Theft Auto V blends storytelling and gameplay in new ways as players repeatedly jump in and out of the lives of the game's three lead characters, playing all sides of the game's interwoven story.
All the classic hallmarks of the groundbreaking series return, including incredible attention to detail and Grand Theft Auto's darkly humorous take on modern culture, alongside a brand new and ambitious approach to open world multiplayer.
---
Notes About Additional Content
Our products may not include additional material like Digital Copies, Online Passes or promotional downloadable content (DLC).
Grand Theft Auto V (5) *2 Disc*
is rated out of
5
by
87
.
Rated

5

out of

5
by
samuelefford
from
Hours of FUN!
So after waiting months and months, I finally decided to purchase this game. I had heard loads of amazing reviews from all of my friends and family about this new Rockstar edition, and I thought now is the time... Well I have to tell you, it has been my best Xbox 360 decision I have ever made! I have played this game for weeks and weeks, hours on end, and so this will continue. If you are interested in a game that allows you to be whoever you want, and do whatever you want, while also pleasuring you for hours, then buy this game today! With it's genius campaign mode and unique online experience, this game will be in the disc tray of my Xbox for years. Trust me, you won't regret it.
Date published: 2015-03-07
Rated

5

out of

5
by
DoxicPara
from
Great game!
The game is awesome! I have waited a long time to be able to buy this and trust me, it's worth the wait. Storyline is decent, but player interactivity and things like modes of transport in this game make it fun to play outside of the main mission. There's still so much you can do even if you're not doing the main storyline, including doing side missions. Each 3 characters are unique in both their backgrounds and there lifestyles, and the ability to switch between these 3 characters at any given time makes it that much more interactive.
Date published: 2015-08-30
Rated

5

out of

5
by
Oscar
from
Amazing!
I bought Grand Theft Auto about three weeks ago and I won't put it down. The graphics are phenomenal and the endless amount of activities is fabulous. The value at CeX for it is amazing aswell. By far the best game I've ever played. The online servers can be a bit dodgy sometimes, but it makes up for it completely by how fun the heists can be and how high the performance is. The missions on singleplayer are so fun, I don't even notice how much I'm making. This is the first review I've ever wrote for a video game but it deserves it. My favourite game.
Date published: 2015-10-16
Rated

5

out of

5
by
westay70
from
the only game i play
When this first came out i had to sell all my games just to buy this one game and i definately made the right choice sell all my games to get this. It felt amazing to start playing this and wait a while for it install but it makes you fell your the actual character. Theres nothing i would change with this game. 5/5 for me. I hope rockstar bring out new ones in a few years.
Date published: 2015-03-28
Rated

4

out of

5
by
rhyswilliams390
from
gta 5 xbox 360 disc
I bought this item about 3 weeks ago. Pleased with the quality of the product. Very good condition and looked like new. Dispatching times would help like dispatch before a certain time for same day dispatch. However postage was quick and arrived within 2 dags. GTA 5 is an amazing game and every console user should have it. Amazing optinisation for the ageing 360 but still holds great quality and a great stroyline. Very mission is great and enjoyable with a lot of different things to do. If you loved san andreas your love gta 5.
Date published: 2015-05-27
Rated

5

out of

5
by
Alexx
from
Incredible game
I bought this game and it truly is one of the best games of the generation - there is an excellent story and the online, although there were some hitches at the start, is now fully up and running and very fun especially with friends - I can't wait for heists!
Date published: 2015-01-24
Rated

5

out of

5
by
Trev122
from
Fantastic Gameplay!!!
I brought this game so I could have a variety of of games to play from but i wasn't expecting me to spend most of my time playing GTA 5. Before I had this game, I was trying to put playing video games around my work but now I now literally put my work around playing GTA 5. This is a really good buy and I hope you will enjoy it as much as I do.
Date published: 2015-03-03
Rated

5

out of

5
by
cooldude279
from
Excellent Game
I have recently bought GTA5 and I think the game is just amazing. The graphics are extraordinary. The amount of activities you can do is just mind blowing. The storyline of having three characters to play on is wicked. I would definitely recommend this game to anyone.
Date published: 2015-01-09