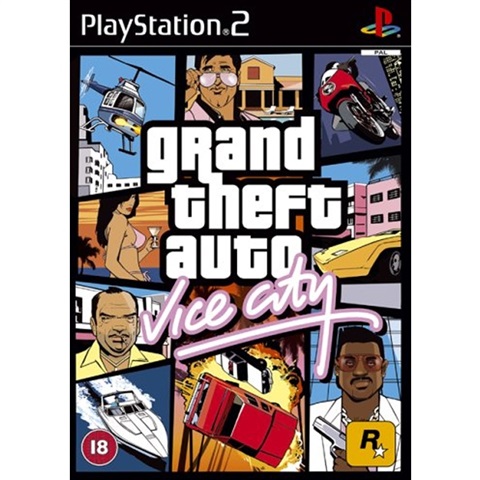 Grand Theft Auto Vice City

WeSell for
£3.00
WeBuy for cash

£0.60

WeBuy for voucher

£1.00

In stock online
Grand Theft Auto Vice City
Having just made it back onto the streets of Liberty City after a long stretch in maximum security, Tommy Vercetti is sent to Vice City by his old boss, Sonny Forelli. They were understandably nervous about his re-appearance in Liberty City, so a trip down south seemed like a good idea.But all does not go smoothly upon his arrival in the glamorous, hedonistic metropolis of Vice City. He's set up and is left with no money and no merchandise. Sonny wants his money back, but the biker gangs, Cuban gangsters, and corrupt politicians stand in his way. Most of Vice City seems to want Tommy dead. His only answer is to fight back and take over the city himself.
From the decade of big hair, excess and pastel suits comes a story of one man's rise to the top of the criminal pile. Vice City is a huge urban sprawl ranging from the beach to the swamps and the glitz to the ghetto, and is the most varied, complete and alive digital city ever created. Combining non-linear gameplay with a character driven narrative, you arrive in a town brimmingwith delights and degradation and are given the opportunity to take it over as you choose.
As a major gateway to South America and the Caribbean and attracting migrants, Vice City is brimming with diverse characters, so there's a friend for everyone. It is a sociable place and the new guy in town is sure to meet all manner of friendly people in the sunshine capital of America. Athletes, pop stars, real estate developers, politicians, trailer trash, everyone is moving to Vice City to find out what makes it the number one growth city in America. But, as Tommy quickly finds out, trust is still the rarest of commodities.
Vice City offers vehicular pleasures to suit every taste. For the speed enthusiast, there's high-performance cars and motorbikes. For the sportsman, a powerboat or a golf buggy lets you enjoy the great outdoors. For those that need that sense of freedom and escape, why not charter a helicopter and see the beauty of Vice City from the air?
As the party capital of America, you would expect your ears to be seduced by a host of sultry melodies and pumping beats, but the city is truly rocking. You'll be AMAZED as you sweep the through Vice City's FM dial. If you are feeling like trouble, you can tune into some driving rock, or some crucial electro, or maybe you want to slow down with some sweet soul, and there will always be some great romantic anthems if you want to really take your mind off things.
For the action man, or outdoors type, there's tons of fun things to do and adventures to be had… guaranteed. For the secretive or creepy type, Vice City is full of surprises, a place where you'll constantly be surprised by the vivacious, fun-loving types who live there and the things you can discover.
---
Notes About Additional Content
Our products may not include additional material like Digital Copies, Online Passes or promotional downloadable content (DLC).
Grand Theft Auto Vice City
is rated out of
5
by
6
.
Rated

5

out of

5
by
Sam 0654
from
Classic game , a great buy
If you want a good classic GTA this is the one I would recommend , it has a great storyline and even though some of the graphics are not as good as modern day games , they still do not let this game down . I really enjoyed it and when I bought the PS2 it was the first game I bought . The price is great and ideal and you can walk into CEX with a five pound note and come out with stacks of items ! The condition was excellent , no scratches on the disk whatsoever and no cracks in the box , the instruction booklet was in pristine condition , no tears , water damage... GTA vice city is by far one of the best classic GTA's around and for the money it is the best.
Date published: 2016-07-17
Rated

5

out of

5
by
rvp963
from
Best game ever
This is the best game I have ever played, SO PLEASE EVERYONE BUY IT!
Date published: 2015-08-01
Rated

5

out of

5
by
Jpats21
from
Classic
I bought the older GTA's for the ps2 all for around £10 instead of paying for the PlayStation stores £30 bundle . They all play perfectly, great fun!
Date published: 2016-09-13
Rated

4

out of

5
by
Rafa89
from
Gran theft auto vice city
I bought gta vice city last month ,i start play every day it amazing game everybody wants play ....i was excited when i bought i can't wait to play .thisgame is for everyone like gang city stories totally different to another's games
Date published: 2017-02-20
Rated

4

out of

5
by
jonnyfitz92
from
Fantastic game, once you readjust to the graphics!
Bought this again because it's one of my all time favourites. Still think it's got the best story and setting of any GTA title. The graphics are a little blurry but you don't notice once you get immersed in it. Having a fantastic time playing this gem again!
Date published: 2017-12-13
Rated

5

out of

5
by
Gamesnut
from
PlayStation 2
Great great game great value excellent the play can't keep my hands off it
Date published: 2017-08-10