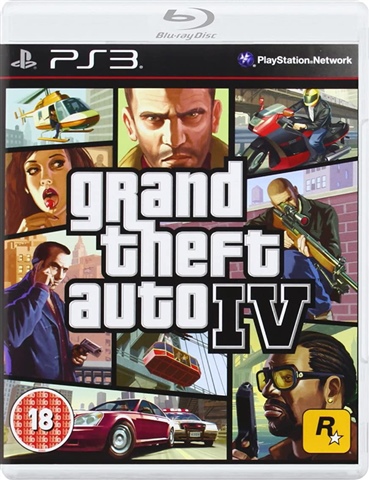 Grand Theft Auto 4 (GTA IV)

WeSell for
£3.50
WeBuy for cash

£0.90

WeBuy for voucher

£1.40

In stock online
Grand Theft Auto 4 (GTA IV)
The most anticipated game ever, Grand Theft Auto IV will revolutionize gaming. You play as Niko Bellic, an Eastern European immigrant to Liberty City with a murky, violent past. Hoping to start a new life in a new country, Niko arrives on the docks and is met by his cousin, Roman. Roman's promises of ready wealth and easy women turn out to be exaggerations and Niko must quickly adjust to a hard life. But this is America, and Niko wants his slice of the American dream. With perseverance and hard work, he just might grab it.
---
Notes About Additional Content
Our products may not include additional material like Digital Copies, Online Passes or promotional downloadable content (DLC).
Grand Theft Auto 4 (GTA IV)
is rated out of
5
by
7
.
Rated

5

out of

5
by
Shorty8907
from
Brilliant game and disc was perfect
No problems with disc and game works as it should and postage was quick
Date published: 2016-01-03
Rated

4

out of

5
by
widdy101
from
Brilliant storyline
Bought this after playing GTA V and it's still a great game despite poorer graphics
Date published: 2016-06-03
Rated

4

out of

5
by
UrAverageGamer
from
Enjoyable experience
Grand Theft Auto IV is an emorsive game with a fun story. However, if your have already played GTA V, I would not recommend this game as the driving macanics, dark colour scheme, and slow story can be off putting.
Date published: 2016-10-11
Rated

5

out of

5
by
Mariuss97
from
Worth my time!
I brought this game quite a while back and i am loving it. Amazing game. I might buy more like it.
Date published: 2017-06-10
Rated

3

out of

5
by
swarzzz
from
alrighhhtttttt------
i brought this about a few weeks ago and i acan say one trhingf for sure p24 is much better than ps3 and you will enjoy the content on ps4 more than the game play on ps3!!!!!!
Date published: 2015-03-04
Rated

5

out of

5
by
JoshBrownn15
from
Very fun game!
Bought merely because I wanted some throwbacks because this game is amazing, haven't stopped playing. Love it! Great condition.
Date published: 2017-08-03
Rated

5

out of

5
by
LuJ18
from
Great game
Great GTA title with a great price. Fun and keeps you gaming for hours
Date published: 2017-08-20