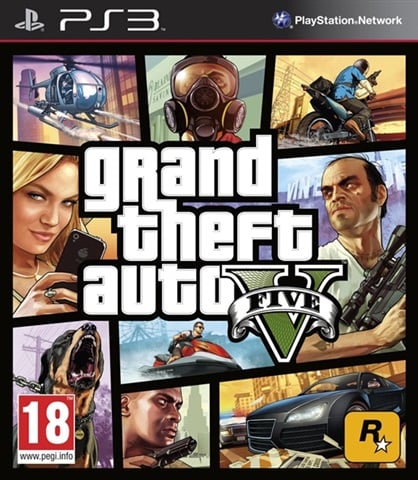 WeSell for
£10.00
WeBuy for cash

£4.00

WeBuy for voucher

£6.00

In stock online
Grand Theft Auto V (5)
Los Santos - a sprawling sun-soaked metropolis full of self-help gurus, starlets, and fading celebrities, once the envy of the Western world, now struggling to stay afloat in an era of economic uncertainty and cheap reality TV.
Amidst the turmoil, three very different criminals plot their own chances of survival and success: Franklin, a former street gangster, now looking for real opportunities and serious money; Michael, a professional ex-con whose retirement is a lot less rosy than he hoped it would be; and Trevor, a violent maniac driven by the next big score. Running out of options, the crew risks everything in a series of daring and dangerous heists that could set them up for life.
The biggest, most dynamic and most diverse open world ever created, Grand Theft Auto V blends storytelling and gameplay in new ways as players repeatedly jump in and out of the lives of the game's three lead characters, playing all sides of the game's interwoven story.
All the classic hallmarks of the groundbreaking series return, including incredible attention to detail and Grand Theft Auto's darkly humorous take on modern culture, alongside a brand new and ambitious approach to open world multiplayer.
---
Notes About Additional Content
Our products may not include additional material like Digital Copies, Online Passes or promotional downloadable content (DLC).
Grand Theft Auto V (5)
is rated out of
5
by
66
.
Rated

5

out of

5
by
david14
from
great game
Grand Theft Auto V is not only a preposterously enjoyable video game, but also an intelligent and sharp-tongued satire of contemporary America. It represents a refinement of everything that GTA IV brought to the table five years ago. It's technically more accomplished in every conceivable way, but it's also tremendously ambitious in its own right. No other world in video games comes close to this in size or scope, and there is sharp intelligence behind its sense of humour and gift for mayhem. It tells a compelling, unpredictable, and provocative story without ever letting it get in the way of your own self-directed adventures through San Andreas.
Date published: 2014-12-27
Rated

5

out of

5
by
Salamander
from
Amazing game
I bought the game 3 weeks ago and i finished the main story in 1 week because of i couldn't stop playing due to the greatness of this game. The game has an amazing plot and i really enjoy the character swap, i think it gives the game a modern and evolved view. Also i love the new features like parachutting, playing tennis and golf and iteracting with the civilians in free roam. No i have started playing the online version 3 days ago and i'm allready level 22, again because i play the game a lot and i hope the future rockstar games are ging to be as good as this one. In conclusion the game is awsome and i would and have recommended it to friends and aquaintaces.
Date published: 2015-07-24
Rated

5

out of

5
by
Pacmans assassinator
from
All round legendary game
I don't play games on my ps3 I just use it as a blu ray player & play TV but a friend lent me gta I was fixed for a fair few hours & have now bought it from cex & service was great & movies are so in readily cheap there too. Although everything seems to be butt cheap. Definitely a great game get online hours of fun add me GEE-K-ILLER :)
Date published: 2015-03-29
Rated

5

out of

5
by
Malcolmxking
from
Great Deal
I bought this game few weeks ago nd i got for a great price.i have enjoyed the story mode nd now moved on to the online mode enjoying it with my mate.
Date published: 2016-09-07
Rated

5

out of

5
by
Sullivan010
from
Great game.
This is a great game, have really enjoyed it, however it did require a lot of files to be downloaded before it can be played.
Date published: 2015-06-27
Rated

5

out of

5
by
Jwhites2k16
from
Great gameplay
I bought gta5 like a few weeks ago now and the game has so much to do in the game it feels endless the best gta ive played so far
Date published: 2016-01-31
Rated

5

out of

5
by
jamesal2020
from
Unmissable Shenanigans
Packed full of missions, personas and ridiculous surprises this Grand Theft Auto instalment will keep you playing for years. Never has there been this much value shoved into one bluray disc and to think it can be had for just £10 at CEX seems like something you'll be doing in the game quite a bit - committing a crime Now all the usual GTA stuff you would expect is there but there are so many additions; much better handling of vehicles, stronger AI to battle, missions that really make you think, characters that you can genuinely invest in, some stupid but loveable annoyances. This is a really, really polished experience and a game you will keep finding something new to do with The best tenner you will spend in entertainment, go get it!
Date published: 2016-07-09
Rated

5

out of

5
by
Louis
from
Brilliant
I bought the game for a sensational price of £20 plus £2.50 delivery which wasnt a problem. It took 4 days to come but one was a sunday which was brilliant as i was excited to play it. The game is amazing i have had it before but sold it for funds but i had the money so i bought it back which was a great decision.
Date published: 2015-01-03