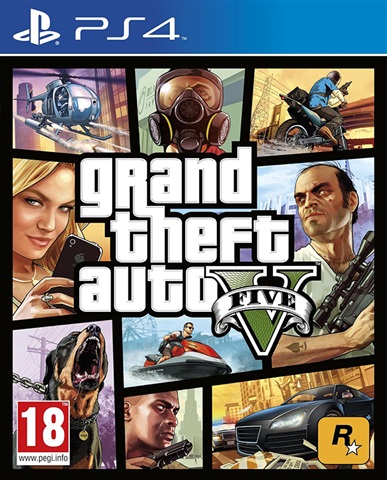 WeSell for
£32.00
WeBuy for cash

£8.00

WeBuy for voucher

£14.00

In stock online
Grand Theft Auto V (5)
Los Santos - a sprawling sun-soaked metropolis full of self-help gurus, starlets, and fading celebrities, once the envy of the Western world, now struggling to stay afloat in an era of economic uncertainty and cheap reality TV.
Amidst the turmoil, three very different criminals plot their own chances of survival and success: Franklin, a former street gangster, now looking for real opportunities and serious money; Michael, a professional ex-con whose retirement is a lot less rosy than he hoped it would be; and Trevor, a violent maniac driven by the next big score. Running out of options, the crew risks everything in a series of daring and dangerous heists that could set them up for life.
The biggest, most dynamic and most diverse open world ever created, Grand Theft Auto V blends storytelling and gameplay in new ways as players repeatedly jump in and out of the lives of the game's three lead characters, playing all sides of the game's interwoven story.
All the classic hallmarks of the groundbreaking series return, including incredible attention to detail and Grand Theft Auto's darkly humorous take on modern culture, alongside a brand new and ambitious approach to open world multiplayer.
---
Notes About Additional Content
Our products may not include additional material like Digital Copies, Online Passes or promotional downloadable content (DLC).
Grand Theft Auto V (5)
is rated out of
5
by
120
.
Rated

5

out of

5
by
Hawk
from
Grand Theft Auto V
I bought gtav when on day release for ps3 and it was amazing played it all year round with my friends it is just such a fun game (but does have its faults) so when I heard it was coming out for ps4 I knew I was getting it straight away so ordered it of cex web site on the 18th and got it the 19th and been playing it since the graphics and controls just feel so much better and I can't get out of first person mode on the game it just amazing and ill probably be playing it untill the next one I would definitely recommend the game to anyone and hope yous have as much fun as I did with it
Date published: 2014-12-23
Rated

5

out of

5
by
Chiggins94
from
Fantastic in every sense of the word!
I bought this game for the ps4 with extremely high expectations and I was not disappointed. The game itself looks amazing especially on the ps4 and the storyline is epic! The characters are so intricately produced and the decisions they make are even realistic! (Well, as realistic as you can get when trying to save someone from a yacht, on a motorway....). It's a gripping and unbelievable game and I really can't wait to find out what else it has in store for me.
Date published: 2015-03-03
Rated

5

out of

5
by
Sam111
from
Must buy
Fantastic game with hours of thrilling gameplay. With great improvements over the PS3 version, the PS4 version of GTAV is the definitive way to play this excellent game
Date published: 2015-03-27
Rated

5

out of

5
by
Navman99
from
GTA V PS4
This is such a brilliant and awesome game. Having owned it previously on the ps3 I was wanting to buy it on the next gen ps4 for a while and it still didn't dissapoint the graphics were mindblowing and the new first person mode, gives GTA a newfound look which hadn't been seen before.
Date published: 2015-05-01
Rated

5

out of

5
by
Annenberg123
from
Much better than PS3 version
This game adds so much to the ps3 version. The graphics are a hundred times better and the first person mode changes the whole way you play the game. Amazing gameplay and tonnes of little Easter eggs to find
Date published: 2015-03-26
Rated

3

out of

5
by
AaAAAA93939393
from
important
its a good game but i think yoU SHOULD lower the price
Date published: 2017-04-18
Rated

4

out of

5
by
Husky
from
Great game!
I bought the PS3 version when it came out, I got a PS4 a few months later. Then when the PS4 version was released I ordered it off the CEX website, good delivery. The graphics have vastly improved, even though I had already played the PS3 version, it was still worth it for the graphics etc. a very fun game to play online or on the story, a must buy .
Date published: 2015-01-19
Rated

5

out of

5
by
MRPC85
from
Fantastic Game!!
I brought this from Cex and I am so glad I did. Fast delivery and excellent customer service makes Cex the must have retailer for all gaming products. GTA5 for PS4 is amazing excellent graphics and first person makes the game completely different. Thank-you Cex for everything!
Date published: 2014-12-23