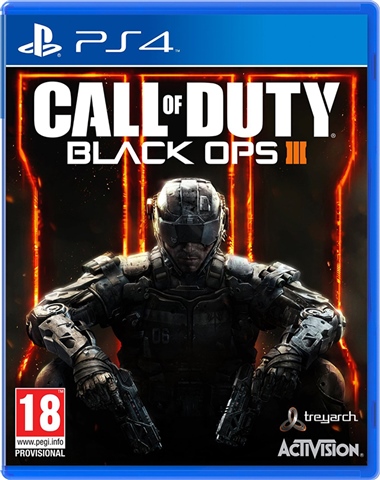 Call Of Duty Black Ops III

WeSell for
£12.00
WeBuy for cash

£3.00

WeBuy for voucher

£5.00

In stock online
Call Of Duty Black Ops III
Treyarch, developer of the two most-played games in Call of Duty history, returns with Call of Duty: Black Ops III. For the first time with three years of development, the revered, award-winning studio has created its first title for next-gen hardware in the critically acclaimed Black Ops series.
Welcome to Call of Duty: Black Ops III, a dark, twisted future where a new breed of Black Ops soldier emerges and the lines are blurred between our own humanity and the technology we created to stay ahead, in a world where cutting-edge military robotics define warfare.
Call of Duty: Black Ops III combines three unique game modes: Campaign, Multiplayer and Zombies, providing fans with the deepest and most ambitious Call of Duty ever. The Campaign has been designed as a co-op game that can be played with up to four players online, or as a solo cinematic thrill-ride. Multiplayer will be the franchise's deepest, most rewarding and most engaging to date, with new ways to rank up, customise, and gear up for battle. Zombies delivers an all-new mind-blowing experience with its own dedicated narrative.
Black Ops III can be played entirely online, and for the first time each of the offerings has its own unique player XP and progression systems. The title ushers in an unprecedented level of innovation, including jaw-dropping environments, never before experienced weaponry and abilities, and the introduction of a new, improved fluid movement system. All of this is brought to life by advanced technology custom crafted for this title, including new AI and animation systems, and graphics that redefine the standards fans have come to expect from the series, with cutting edge lighting systems and visual effects.
Introducing a new era of Black Ops
Call of Duty: Black Ops III deploys its players into a future where bio-technology has enabled a new breed of Black Ops soldier. Players are now always on and always connected to the intelligence grid and their fellow operatives during battle.
In a world more divided than ever, this elite squad consists of men and women who have enhanced their combat capabilities to fight faster, stronger, and smarter. Every soldier has to make difficult decisions and visit dark places in this engaging, gritty narrative.
New Movement System
Treyarch elevates the Call of Duty social gaming experience by delivering a campaign with the ability to play cooperatively with up to four players online, using the same battle-tested network infrastructure and social systems that support its world-class Multiplayer and Zombies game modes.
Designed for co-op and re-playability, players encounter all the epic cinematic gameplay moments Call of Duty is known for delivering, as well as new open-area arena-style gameplay elements designed to allow players to approach the game with a different strategy each time they play. And now, every player is completely customisable: from weapons and loadouts, to abilities and outfits, all with full progression systems and a personalised armory to show off accomplishments, providing a constantly-evolving campaign experience.
Prepare for a levelled-up multiplayer
With Black Ops III, Treyarch premieres a new momentum-based chained-movement system, allowing players to fluidly move through the environment with finesse, using controlled thrust jumps, slides, and mantling abilities in a multitude of combinations, all while maintaining complete control over your weapon at all times. Maps are designed from the ground-up for the new movement system, allowing players to be successful with traditional movement, as well as advanced tactics and manoeuvres.
Black Ops III multiplayer also introduces the new Specialist character system, which allows players to rank up and master each specific character's battle-hardened capabilities and weapons. With this addition to Traditional and Weapons XP progressions systems, Black Ops III multiplayer gives players three different ways to rank up.
Fight the undead in an all-new horror story
No Treyarch title would be complete without its signature Zombies offering – a full-game experience with its own distinct storyline right out of the box.
Black Ops III Zombies is the most immersive and ambitious Call of Duty Zombies to date, with a full XP-based progression system for players that adds depth and re-playability to the engaging gameplay Zombies fans have come to expect.
---
Notes About Additional Content
Our products may not include additional material like Digital Copies, Online Passes or promotional downloadable content (DLC).
Call Of Duty Black Ops III
is rated out of
5
by
77
.
Rated

4

out of

5
by
Templar
from
Feels different from other cods
Good game. Multiplayer and zombies are fun. However you are only given one map for zombies, so season pass would be needed
Date published: 2015-11-29
Rated

5

out of

5
by
watson
from
Black ops 3
I bought black ops 3 a few weeks ago. The graphics and gameplay is ureal I recommend for any shoot'em'up fans out there.
Date published: 2015-12-02
Rated

4

out of

5
by
Nixey98
from
decent
It's fun but I still suck at it! Some issues with servers but all in all a good game
Date published: 2015-12-29
Rated

4

out of

5
by
lewis01
from
addictive game but cant rely on servers
I bought this game and I've played it loads though servers can be so busy online
Date published: 2015-12-13
Rated

4

out of

5
by
Miss Angel
from
It takes getting used to
Like all CoD games, the initial start of a multiplayer game is different to the others we've gotten used to. Once you get used to the mechanics, it's quite easy to get the hang of it and start enjoying it and less raging. The focus is no longer on the exo abilities but now on your Specialist who comes with 2 abilities (choose one). The multiplayer maps are not as huge as they used to be (but likely to be a DLC that will include at least one large map) but neither are they too small (respawn distances are still a slight issue in spawning nearby an enemy but at least not in their full view). Perks have been modified and are far better than they have been (awareness actually works now and doesn't require you to concentrate to sound too much). Also you can swim! Great fun jumping out of the water to snap at an unsuspecting victim like a crocodile! Story mode is the standard "government does this, now we're back stabbing everyone" as is the usual. Zombies - well.... that's a whole new story altogether! A complete revamp and not a complete failure as Extinction was. However with little tutorial or as much as a letter of instruction, it's best to go in alone and explore the different advancements than head into a public game and be told you're a novice and "I can't believe you don't know what you're doing, rage rage rage" when you're just a level 1 (we all start somewhere). This isn't the type of game you can play for 4 hours and decide you've seen everything it has to offer. And as always, the DLC is likely to provide even more challenges as well as Zombie maps. It's mostly down to how much time you'd like to spend on it as to whether you should buy it or not.
Date published: 2015-11-16
Rated

4

out of

5
by
Jleek92xx
from
Good Game. Boring Campaign Though.
I Payed £46.00 For This I Would Say It's A Good Game But Really Boring Campaign Though. To Be Honest I Expected A Better Quality Of Gameplay.
Date published: 2015-12-08
Rated

5

out of

5
by
Samhual
from
It is beast
I love it. The best cod game by far the graphics are brilliant and zombies is super good
Date published: 2015-11-14
Rated

5

out of

5
by
Saima
from
Best place ever to get this game!
I bought this 2 months ago and have loved it ever since I play it on hours on hours everyday and no issued problems have concerned me. I always go CeX and buy one of their lovely products because I trust them and they are absolutely amazing If you want a game get it from CeX it's cheap and its local Black is III is the best game ever!
Date published: 2016-01-11
Rated

1

out of

5
by
kloud
from
Dont bother
multiplayer is the worst ever and campaign is just like a different multiplayer mode. no real story and its very short. I bought this at the midnight launch and it is now 04:12am and I'm lvl10 online and completed the campaign on hardened difficulty. I will be trading it in later today
Date published: 2015-11-06
Rated

4

out of

5
by
apollo_rize
from
Top game
This game definitely lived up to the hype that the Call of Duty games always gets, the campaign is great, the zombies is brilliant and the multiplayer is amazing. Anyone can tell that Treyarch worked hard to make this game the best it could be for the players, I'd recommend it to anyone that loves a classic FPS.
Date published: 2015-11-29
Rated

5

out of

5
by
Ivan123
from
Fast paced game
I bought this item as my friends recommended me that I would love this call of duty as I have been a previous fan of call of dutys and have played since call of duty 4. My first game I played, I was clueless as I saw people running on walls as well as sliding with thrusters as this was all new to me. However, over time I begun to get used to the controls and found this game very fun and entertaining. I also love the delivery speed that CEX offered me as it had came within 2 days which I was very happy with. I have been a customer of CEX for a very long time and I have never encountered a problem with their service so far. I highly recommend this product to anyone interested in fast paced action packed gameplay as well as CEX itself as they never fail to bring a high quality standard service to their customers. Definitely will return again.
Date published: 2016-02-08
Rated

3

out of

5
by
jimangi
from
Better than the last effort.
I bought this as I have to try all cod games. The last effort was so bad I would have advised people to sell up and buy an xbox with halo as that was much better. This one however is pleasing me quite allot. I still would prefer not to be jumping everywhere like an idiot. Why cant call of duty return to its roots.I want 2nd world war with genuine weapons etc. Forget the stupid campaigns and charge less for just a multiplayer version.
Date published: 2015-11-12
Rated

2

out of

5
by
John Nettles
from
Not bad but nothing amazing
Same good old call of duty! Bad lag compensation and errors after a week of being out, start shooting at someone get a few hit markers and boom your dead
Date published: 2015-11-15
Rated

5

out of

5
by
Mrajnq
from
Good buy
Bought a game and love it.. also bought some albums which I love too, very affordable and can find things I can't find anywhere else
Date published: 2015-12-28
Rated

5

out of

5
by
boss21
from
love the zombies and the multiplayer
i brought this game afew months ago but I love the game maybe not the campaign,is not good as aw but zombies and multiplayer is so good
Date published: 2016-05-21
Rated

4

out of

5
by
Alex3012
from
Addictive Gameplay
Bought a copy of this game for myself and another for a friend as a Christmas gift - this is a great game to play with friends given the co-op campaign, zombies mode, and the fact that the multiplayer is always more enjoyable when teaming up with friends. As with any Call of Duty, the multiplayer mode is tense and often frustrating when a match does not go your way, but this contributes to the addictive quality - you'll always want to turn it around with another match.
Date published: 2016-12-28
Rated

5

out of

5
by
Dredd
from
Great game
I purchased this game just Iver a month ago and thoroughly enjoy it
Date published: 2015-11-28
Rated

2

out of

5
by
jimmed_toby123
from
its a little tobied
its about as good as adnans passport. helfy 30fps and bad graphics
Date published: 2016-01-27
Rated

5

out of

5
by
Ms93
from
Great game
worth the money gameplay is actually good this time
Date published: 2015-11-20
Rated

1

out of

5
by
Jamie Gardiner
from
Worse Call Of Duty
This is the worse Call Of Duty i played the story mode and the story is so rubbish it doesn't make much sense at all lol multiplayer is really boring too on level 32 then decided to sell it which is a first for me to sell such a game please people think long and hard if you want to buy this or not
Date published: 2015-11-09
Rated

4

out of

5
by
BillyBeanhead
from
Bought again, happy with the purchase
I bought the game again after previously losing my original copy in flooding damage and I'm so happy I did, the game is fun and even though it is easy to learn it is definitely hard to master and rewards smart players even with the new movement system, only criticism is the supply drops and some of the DLC weapons feel too strong as you have to open supply drops to acquire​ them but overall another great game by treyarch
Date published: 2017-06-15
Rated

1

out of

5
by
Chrisiebud
from
Do not buy
Ive had nothing but problems with the game the survers are really bad especially hardcore mode 5 bullets to kill somebody but if thay have better Internet connection thay will win the gun fight every time and if you go to custom mode and set the score multiply to 5x it will make your ps4 consel crash or need repairing so beware
Date published: 2016-05-08
Rated

5

out of

5
by
Jxmesrob
from
Great fun
I bought this game for my new ps4 that I also bought from cex. It was great fun playing it with my mates all round. There are many game modes to choose from so endless hours of fun. Black ops III zombies is different every time so also many hours of fun. Overall treyarch's best game yet!
Date published: 2017-07-25
Rated

1

out of

5
by
Trollerret234
from
Absolutely trash
Ian the biggest call of duty fan, it is the worst out of them all- I would rather play halo2
Date published: 2015-11-11
Rated

1

out of

5
by
COD Guy
from
Ruined after a week
Bought it and loved it for a week once they started to add supply drops and things similar a somewhat lacking experience became worse, really got boring repetitive and some things they promised like cosmetic supply drops didn't happen (Yes I'm looking at you Banshii) Was 4 stars now 1
Date published: 2016-07-01
Rated

5

out of

5
by
HowlingWolf
from
Brilliant Game!
I bought this game so that I may play with my friends and it was recommended A LOT and I'm so glad to have purchased this product from CeX. It may have been costly but the price is absolutely worth it. Great product and condition.
Date published: 2017-07-27
Rated

5

out of

5
by
Cleggo
from
Black opps 3
I bought this game a few weeks ago and was thrilled when it arrived.To say I love this game is an understatement I can't stop playing it and the online content is superb would highly recommend this game to anyone.
Date published: 2016-04-05
Rated

5

out of

5
by
Blazefyre16
from
To fun !
The best call of duty ive played much improved gameplay great abilities gives replay ability and so many different custom options and the campain is one of the most engaging since modern warfare very happy gamer
Date published: 2016-12-29
Rated

5

out of

5
by
Harrybhi
from
Good online servers
I brought this game only to find out that I had just made the best deal of my life with over 1000's of people online really dragged me in to the game which has lead to me becoming the best player in my family.
Date published: 2017-01-26
Rated

1

out of

5
by
Atrulyepicname
from
Black ops + +
I brought black ops with no hope for it what so ever, it turns out I was correct in my assumption, yes what I had purchased was a reskined version of blacks ops 2 with some extra padding features thrown in the same way bullets are thrown into an already dead pheasant. the only thing enjoyable were the zombies and you can't still play a better version with the predecessor WAW . The campaign was generic s.g.w.w (zero punctuation if your not following) enough said about that. The multiplayer is the same right down to the 7 year olds ,with parents who don't care enough to look at the pegi rating, shouting down the mic and threatening to hack accounts if they lose. However there is a certain almost (it would let me use o.r.g.a.s.m.i.c here) feeling when you kill the whiny *ahem* children. You can create a character..... Well paint a character you chose with a specific power move but it's a selling point that gets worn out quickly and you'll find it just easier to shoot the thing running at you. (may be some missing punctuation or words but you get the idea)but hey no-ones perfect.
Date published: 2016-05-03