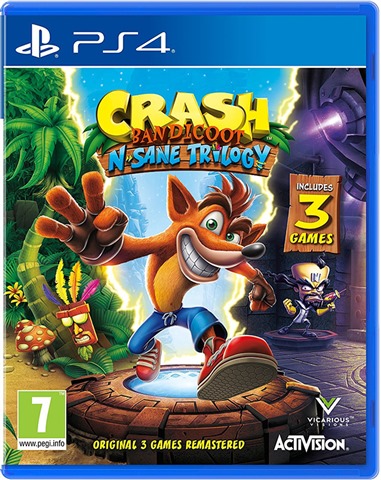 Crash Bandicoot N. Sane

Trilogy

WeSell for
£32.00
WeBuy for cash

£15.00

WeBuy for voucher

£21.00

In stock online
Crash Bandicoot N. Sane Trilogy
Wumpa Island like you've never seen it before
Re-join your favourite marsupial, Crash Bandicoot, as he spins his way along with his three most memorable adventures, newly recreated for the current generation.
Including Crash Bandicoot, Crash Bandicoot 2: Cortex Strikes Back and Crash Bandicoot 3: Warped, the N. Sane Trilogy has been lovingly built from the ground-up with brand new visiuals and audio to deliver the serie's classic gameplay to a whole new generation.
Playing as either Crash or his baby sister Coco, bound, spin and even motorcycle your way through three mad-cap adventures, tackling everything from talking clocks to white-water rapids, all in ab id to save the world from the forces of evil.
Play as Coco
For the first time ever, play through all three classic adventures as Crash Bandicoot's smart and spirited younger sister, Coco Bandicoot. Updated with a fresh new look and her own set of 'N-Sane Attacks', she's not just the smaller sibling - she's a force to be reckoned with!
Three full games, one great package
The brainchild of veteran developer Naughty Dog (Uncharted, The Last of Us), you can play through all three of Crash's iconic aventures in one complete collection.
Features:
Crash Bandicoot - In the break-out title that started it all, Crash must save Wumpa Island - and the world - from Dr. Neo Cortex's nefarious plans to raise an army of genetically-engineered animals.
Crash Bandicoot 2: Cortex Strikes Back - Unite with old nemesis Dr. Neo Cortex as a new calamity threatens to engulf the world once more - the only question is, can you really trust him?
Crash Bandicoot 3: Warped - Tear through time on motor bikes, aeroplanes and even your very own baby T-Rex, as the adventure ratchets up a notch in the trilogy's larger-than-life finale.
---
Notes About Additional Content
Our products may not include additional material like Digital Copies, Online Passes or promotional downloadable content (DLC).
Crash Bandicoot N. Sane Trilogy
is rated out of
5
by
24
.
Rated

5

out of

5
by
Thom Gardner
from
Absolute Nostalgia
This remaster is absolutely fantastic. 3 full crash bandicoot games with amazing graphics, what more could you want?
Date published: 2017-06-30
Rated

3

out of

5
by
Samagram
from
OK game. Hard as S**T and very simple but fun.
I bought this game not that long ago and i am now considering selling it as it is very simple life based checkpoint game-play. Plus it has at times made my blood boil high due to the EXTREME difficulty. Never had a ps1 so no nostalgia here. The game is slightly fun and enjoyable but the real fun for me sometimes comes from satisfaction of beating one of the painfully unforgiving levels. I was taken back by the high difficulty in all honesty, plus the fact that the style (Lives, checkpoints and corridor based levels) unfortunately isn't my type of game. Some fun to be had but overall very simple, unnecessarily difficult and quite disappointing.
Date published: 2017-08-04
Rated

5

out of

5
by
CrashBandicootFan
from
Fantastic Remaster
Remaster of the first 3 crash bandicoot games from PS1. Great fun and brings back memories, graphics, sounds and gameplay is all good. Tho it is a little harder than I remembered just to throw that in there. All together is rate this game a 9/10 remaster. Graphics 9/10 Gameplay 10/10 Sounds 9/10 Would highly recommend this to anyone who liked the original games. Unsure about people that have never played the original as it's very simplistic compared to newer games.
Date published: 2017-07-05
Rated

5

out of

5
by
PS4Jake
from
Fast delivery, great customer service, great game.
I sold some games to the CEX store and when I was unable to buy Crash in-store, I was directed to the website where I could seamlessly use my voucher. I went home and immediately bought the game and it turned up a few days later. Overall a great experience, and a great game! I'm so happy I can relive my childhood playing this game! I completed the first game in less than a week (and managed to maintain a job, too!)
Date published: 2017-08-07
Rated

5

out of

5
by
Vickles93
from
Perfect remaster
Don't know what people are complaining about with the controller, it's exactly as it used to be, people are just forgetting it controls like a PS1 does! The only annoying feature to this game is that that have made it harder by adding time trials to a game which didn't previously have them and by making an opening screen that doesn't have the option to skip which does get tedious.
Date published: 2017-08-12
Rated

5

out of

5
by
lozzy2k
from
Great re-make of an old favourite!
This was bought as a present for my husband and we both played the original games as children, so playing it has brought back a lot of memories. I don't remember the games being quite so hard, especially Crash 1, but it's definitely a challenge, and nice to see that most of the game still resembles the original! Fab purchase, would recommend.
Date published: 2017-08-17
Rated

5

out of

5
by
muhamad_jk
from
amazing
it is so mad fam trust me it gives memories to other people
Date published: 2017-07-01
Rated

4

out of

5
by
Supa
from
I bought this game on day realease very good game
Good game harder than ps1 games Version but still a good Challenge for all ages
Date published: 2017-07-21