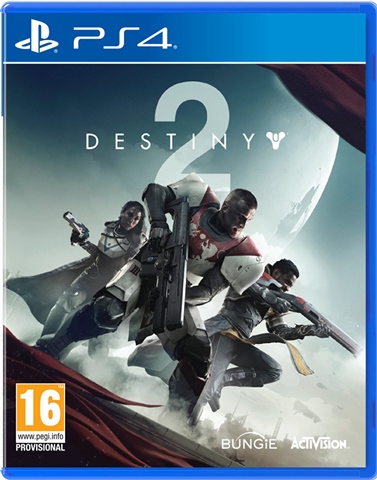 WeSell for
£15.00
WeBuy for cash

£7.00

WeBuy for voucher

£10.00

In stock online
Destiny 2 (No DLC)
Join the fight
Humanity's last safe city has fallen. The brutal commander of the Red Legion, Ghaul, has led an overwhelming force to victory, stripping the city's Guardians of their power.
As one of the remaining survivors, you must venture to mysterious, unexplored worlds of our solar system to discover an arsenal of weapons and devastating new combat abilities. It's up to you to lead the fightback, Guardian - don't let us down…
---
Notes About Additional Content
Our products may not include additional material like Digital Copies, Online Passes or promotional downloadable content (DLC).
Destiny 2 (No DLC)
is rated out of
5
by
14
.
Rated

5

out of

5
by
Ziggy33
from
Completely addicted
Never played vanilla Destiny but thought I'd jump into Destiny 2 with all the hype following it around. I was not disappointed. From the beginning I was totally hooked on the story and visuals and know that clang of a loot drop or engram keep me coming back for more everyday. I could not recommend this game anymore!
Date published: 2017-10-08
Rated

5

out of

5
by
iSmurphyy
from
Amazing game!
I don't play games very often but when i do destiny 2 defonetally is satisfying to play. Graphics are amazing. So much fun!
Date published: 2017-09-28
Rated

5

out of

5
by
Oldster99
from
Great Game
I wasn't sure about this as I didn't have a great time with the original, persuaded by a friend I decided to give it a go. Good decision! Great game for solo, co op and PvP although the latter isn't really my bag. Some of the things you may set out to achieve are rather obscure so a bit of internet consultation is required. But its well worth your hard earned dosh.
Date published: 2017-11-13
Rated

4

out of

5
by
MstrPepper
from
Great and improved ganeplay.
Destiny 2 improves on everything that the previouse destiny did. It has a consistent story with amazing cutscenes that give you a context for what you're doing. The story may not be the mosy original but it's still very good. Regarding the gameplay Destiny 2 is fast, caotic, though. But above all that it's fun and enjoyable. Having a wave of enemies coming to kill you can be scary but at the end you really feel like a Guardian. The game can feel a bit repetitive specialy if you are playing by your self. The story helps to break the repetitiveness but the side missions can get boaring after a bit. You need to grind a lot to get the gear that you need just to feel that you have a chance in competitive mode but in general they do a good job balancing the teams. Overall Destiny 2 is a great improvement on the first one and it is amazing when playing with friends. If you loved the first one you will love this and if you didn't just give it a try. It may surprise you.
Date published: 2017-09-26
Rated

2

out of

5
by
Rrylia
from
Destiny 1.5
I played a reasonable amount of Destiny 1, including buying all of the DLC/expansions. I was really hoping for Destiny 2 to move forward / in a different direction to Destiny 1, but sadly it felt more like Destiny 1.5 to me. The tree unlocks, skills, "main characters", were pretty much all recycled from Destiny 1. I don't really enjoy the "roll the dice for drops" gear grind, but after maybe 10-12 hours, that's what Destiny 2 had become already. I finished the campaign (which elsewhere I've seen mega write ups for, but honestly, it's pretty mediocre in terms of story / development) in about 7 hours and played PvP for a bit (which is identical to Destiny 1...), did a couple of raids, got bored, decided to sell it. Only made a £6 loss for effectively "hiring" it for a week so no big deal but I'm afraid I can't really recommend it.
Date published: 2017-10-27
Rated

3

out of

5
by
Jor3dan26
from
Great
I'm so glad I bought this game great for all destiny fans
Date published: 2018-02-15
Rated

5

out of

5
by
Freshmint
from
Great game
I've currently completed the story mode and am enjoying the end game content. I havent played the first one but have had no trouble picking it up. My copy actually included an unused DLC code so that was a bonus!
Date published: 2017-10-02
Rated

5

out of

5
by
Rmatlockos
from
Really good game
No doubt need to buy, hours of fun, even after you complete it, there's still so much to do. Would recommend to any one who likes first person shooters. One of the best of the year
Date published: 2017-10-02