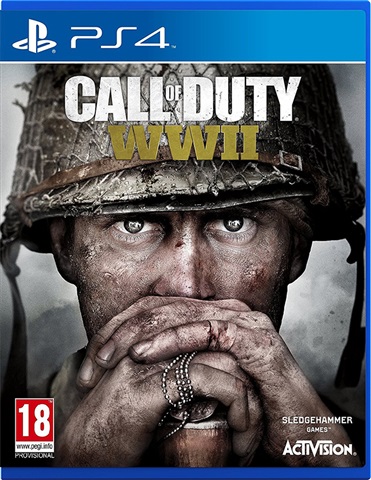 Call of Duty: WWII (No DLC)

WeSell for
£38.00
WeBuy for cash

£17.00

WeBuy for voucher

£25.00

In stock online
Call of Duty: WWII (No DLC)
Fight through WWII's most iconic battlegrounds
Return to the 20th century's most iconic armed conflict and the dramatic backdrop which first inspired the hugely-popular Call of Duty series - now redefined for a new gaming generation.
Embark on an intense journey across Europe's vast theatre of war as part of a brotherhood of ordinary fighting men, struggling to preserve freedom as the world teeters on the brink of tyranny. Also team-up with friends online and experience a separate, story-driven cooperative campaign.
A New Kind of Soldier - Nazi Zombies
Embark on a chilling, dark and mysterious journey through a snowy Bavarian village in Mittelburg, Germany, as you attempt to recover priceless works of art stolen by the Axis powers - beware though, this village holds a shadowy secret and the key to an unimaginable power.
Fast-paced, grounded action
Experience the all-new War Mode where players must work as a team to defeat the enemy. This narrative-driven Multiplayer experience immerses players in a series of iconic World War II battles where Allied and Axis forces clash in team-driven assault and defend missions.
Divisions, meanwhile, fundamentally redefine how you invest in your Multiplayer career. Choose from five iconic World War II divisions, each with specific training and weapon skills and reinforce your individual play style while dominating the enemy.
Social Space
Headquarters is an all-new, off-the-frontlines experience for Call of Duty: WWII. Here, you'll compete, earn rewards, show off your accomplishments, and connect with friends. Unlike anything you've encountered before in Call of Duty, Headquarters transforms the serie's much-loved multiplayer, altering how you engage with the game and each other.
Warm up in the Firing Range, prove you're the best in the 1-v-1 Pit, watch Call of Duty esports matches live in the Theatre, man the AA guns and more in a dedicated social space.
---
Notes About Additional Content
Our products may not include additional material like Digital Copies, Online Passes or promotional downloadable content (DLC).
Call of Duty: WWII (No DLC)
is rated out of
5
by
27
.
Rated

1

out of

5
by
jabawokie
from
Not for me thanks...
Bought it hoping that it was a return to form for COD but the game is just bad. World at war will remain my favourite COD game and is probably the reason I like fps to date. COD tried the future stuff but TitanFall 2 does it way better and makes it feel natural instead of tacked on. Also, the tactics they're using to get you to purchase micro-transactions are just ridiculous. I hate saying this but... If you're young you'll probably enjoy this but if you've been playing games for a while and miss the good ole days of COD WAW, MW3 & BO2 you won't get your nostalgia fix here. DO NOT BUY! Also, remember when the standard edition of new games used to be £40.00 or £42.00 max! lol we're slowly approaching that £50 mark lads. Always buy physical! At least then you can trade in rubbish like this.
Date published: 2017-11-09
Rated

5

out of

5
by
sduncan0312
from
Better than expected.
Bought it about a month / two months ago. Hadn't high hopes due to the recent abomination's of ghosts, advanced warfare and infinite warfare. Was pleasantly surprised wth this. Well built, compelling story. Beautiful graphics and runs well. Multiplayer is pretty decent also, few servers issues, though I've experienced nothing major myself but have see reports of some players experiencing issues. Yet to try zombies but seems a promising addition by sledgehammer. Only time will tell.
Date published: 2017-12-10
Rated

4

out of

5
by
Markwood78
from
3 games in one.
The COD franchise has gone back in time again. It's about time after the jet pack , wall walking stuff from before. It's back to boots on the ground goodness. The campaign is brilliant, graphically beautiful on a Pro and 4K tv. The multiplayer is as good as ever, with a new "war" game which adds a new dimension and is really good fun. And Zombies which is more off a separate campaign now. This is COD back to how they used to be. I'm enjoying it! You will too!
Date published: 2017-11-26
Rated

4

out of

5
by
Jack 19
from
Smooth gameplay with lots of options
The main thing I notice about this cod compared to others is that the gameplay is really smooth, for example jumping over obstacles and leaping behind cover feels realistic as opposed to a set manoeuvre. There are loads of game modes which keeps it interesting however I'm not a fan of most of the online maps, they generally seem too open, too small and too similar which is a shame as the online play is the main selling point.
Date published: 2017-11-28
Rated

5

out of

5
by
Tdw01
from
Great game
COD listened to its gamers and gone back to the core game without the flying and climbing on walls. Really good game to get straight into multiplayer mode without needing hours of practice to be half decent.
Date published: 2017-12-04
Rated

4

out of

5
by
Thomas Sim
from
World War 2 - The indirect sequel to World at War.
This game is what you'd expect, in all honesty. It has the elements that craft a COD game and the elements that we've seen before in the past games from over 10 years ago. The single player feels fleshed out enough to have a decently compelling story and has the over the top and dramatic set pieces the franchise is known for. The multiplayer has hours upon hours of gameplay for you to delve into as you fight in historical locations inside of interesting maps. The guns feel good to use, and there has been some balancing made to certain weapon types such as the SMG's which now deal damage according to their range unlike other COD games. The zombies mode is a step up from infinite warfare's rendition as we are thrown into a completely horror and gore infested map. The map feels nice to play on, the zombies have a presence and make you think of your next moves in the map due to the multiple types introduced. The overall feel is quite dark and is extremely different to what we've seen before in past zombie modes. It certainly has its downsides and upsides, but if you're expecting a Treyarch level of zombies design, you may be disappointed in that regard. Despite the actual gameplay, there is talk of the lootbox system which is a popular topic within the gaming community as of now. Right now, the lootboxes are earned by completing challenges and orders given in a new area named "The Headquarters" which is effectively Call of Duty's version of the Tower from Destiny. There are no ways of buying cod points as of now, but it has been announced that this will be added shortly for people who wish to spend money on the skins and cosmetics that are in the lootboxes. There are no unique weapons in them as of yet, but as the game grows we can only assume they will add weapons that can only be earned through opening lootboxes which irritates a large poriton of the community. Overall, I feel like Sledgehammer games has done a great job of bringing call of duty back to its roots, and I hope that the DLC for the game will only add to the overall greatness of the game. My personal rating for the gaming is 8.5/10.
Date published: 2017-11-09
Rated

5

out of

5
by
IndigoStickman
from
Back to basics and back to its best
So don't believe the reviews moaning that this game is bad, and full of yet more in app purchases... I've played every COD game since the original on the PC, and this game takes us back to the glory days before "Call of Duty meets Halo" and all the other ridiculous futuristic versions. The campaign is longer than you'd expect, moving in parts, full of action and on veteran difficulty is an absolute nightmare. The multiplayer follows the vein of World at War, with War mode making a return, proper weapons, no gimmicks, realistic perks and a sensible class system that mirrors divisional training such as breath control for snipers only etc. Zombies is still there, but has a little more to grab the attention of sceptics like me. IAP is still there, but everything can be bought by in game credits instead and as IAP is only for skins, it isn't pay2win. If you remember the good old days of COD on the PC and early consoles, get ready for a warm, rewarding feeling inside...
Date published: 2017-11-11
Rated

4

out of

5
by
John1
from
Enjoyable game.
I bought this game as I had played all the other COD games. I found it good that I could think my way around the game without having to follow the team. I would recommend everyone to try it if they have not played COD before. The only thing disappointing is that it is not long enough.
Date published: 2017-11-28