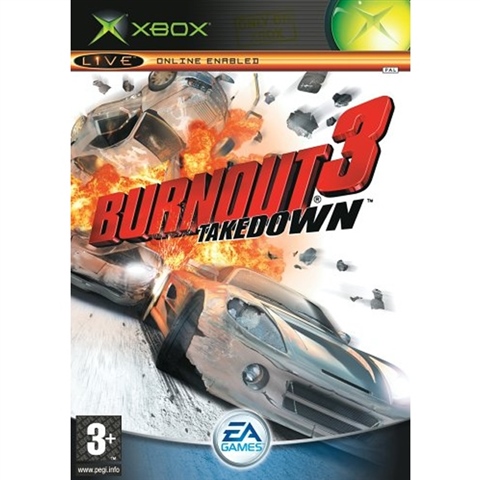 WeSell for
£2.50
WeBuy for cash

£0.20

WeBuy for voucher

£0.50

In stock online
Burnout 3: Takedown
Burnout 3: Takedown rewrites the rules of the road and is now driven by a new mantra: Aggressive Racing Required. Racing gamers and adrenaline junkies are invited to get behind the wheel and experience unprecedented speed and action. Use your car as a weapon and battle your way to the front of the pack by taking down rivals and causing spectacular crashes. Vie for first place or indulge your thirst for twisted metal and breathtaking crashes. Live dangerously with a dedicated crash mode that rewards you for creating the most massive pile-ups ever seen in a videogame. With category defining visuals, addictive multiplayer gameplay, and over 100 events spanning 40 tracks, Burnout 3 is a breakneck, adrenaline-fuelled, awe-inspiring racing experience.
Risk & Reward: Earn boost by taking risks and battling with your competitors - through oncoming traffic, near-misses, tail-gating, getting air and drifting. Grow your boost bar by taking down your competitors-put them in a wall, into traffic, or pile them into the back of an 18 wheel semi truck.
Crash Mode: Cause wanton destruction in a game mode dedicated to crashing. Gamers are challenged to crash into (and through) busy intersections, creating carnage, and as much damage as possible, unlocking new rewards and more features.
Race Modes: Featuring 9 different race modes including: Single Race, Tournament, Lap Eliminator, Burning Lap, Road Rage and more.
Multiplayer Modes and NetPlay: Race off modes including: Quick-line in 8 multiplayer race, Battle Race, Road Rage, and Party Crash, where 2 to 16 players participate in a pass-the-game-controller match up.
Vehicles: Over 70 cars from 12 different classes are available. Choose from European exotics, American muscle cars, mid-size sports sedans, sports cars, compacts, buses, semi trucks, and more.
Locations: With more than 40 different tracks spanning three continents, players can battle and takedown opponents across a broad range of conditions and environments, as well as experiencing dozens of unique crash junctions.
Spectacular crash technology: Burnout 3 features highly sophisticated crash technology that recreates high speed crashes with extreme detail and allows the player to use their car as a weapon and take-out rivals, controlling the car even after crashing.
---
Notes About Additional Content
Our products may not include additional material like Digital Copies, Online Passes or promotional downloadable content (DLC).
Burnout 3: Takedown
is rated out of
5
by
5
.
Rated

5

out of

5
by
Tuttage
from
Old one but a good one!
It might be an older game but it is still good fun. Cheap and cheerful.
Date published: 2015-05-10
Rated

5

out of

5
by
mojoking86
from
Great multiplayer racing fun, crashes, CRASHES!!!!
This games has always been and always will be amazing, I fired up the original Xbox ( The only the original should be played) and as soon as this game started I had a smile from cheek to cheek and have been having gaming nights with friends and easy to say this get played a lot, thanks to cex for fast delivery and lovely customer service top class
Date published: 2015-12-11
Rated

4

out of

5
by
TomMooreTBH
from
My Favourite Racing Game
I recently bought this game because I had it years ago and had lost it. It's my favourite car racing game because of the takedown feature. Not many other car games have this, if any and it's my favourite part of the game. The soundtrack is also very good and despite the age of the game, it still stands the test of time.
Date published: 2016-01-05
Rated

5

out of

5
by
thomase31
from
Burnout 3 - awesome classic
I remember d.j atomica and the game play was awesome then and great game still. If you want a classic game that still can keep up with the best of them this game is it. It is not like other racers, it's a racer but it doesn't take itself too serious and another plus point is that it's good fun.
Date published: 2014-12-23
Rated

5

out of

5
by
Bergelin616
from
Nostalgiasm
Always remember this game being amazing when I was a kid. It didn't disappoint ten years later either, fantastic game to play when you just want to chill or just want to cause carnage for innocent drivers. Service was great also, easy to order and two day wait for delivery.
Date published: 2017-01-11