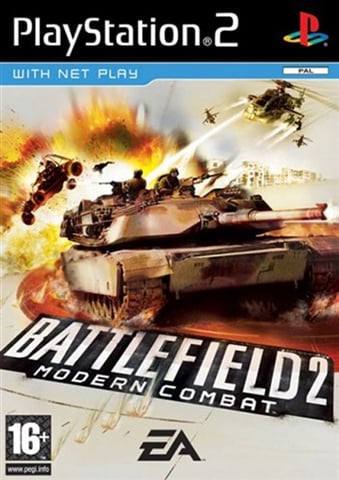 Battlefield 2 - Modern Combat

WeSell for
£0.50
WeBuy for cash

£0.01

WeBuy for voucher

£0.10

In stock online
Battlefield 2 - Modern Combat
The award-winning Battlefield franchise explodes onto the PlayStation 2 and Xbox, dropping players into the heat of battle with Battlefield 2: Modern Combat. The game brings the over-the-top action and excitement of the Battlefield series into the modern era with a bleeding-edge arsenal of vehicles and weaponry allowing for the most extreme "Battlefield Moments" yet. Battlefield 2: Modern Combat features a propaganda-fuelled single player campaign where gamers play both sides of a conflict in one of the most treacherous regions in the world Kazakhstan. Gamers will plunge headlong into the fog of war and must ultimately choose sides in a furious showdown where nothing is as it seems.
Armed with the latest modern weaponry, players can take control of over 30 vehicles and over 50 state of the art weapons to engage in major conflicts with up to 24 players in immense online battles.
---
Notes About Additional Content
Our products may not include additional material like Digital Copies, Online Passes or promotional downloadable content (DLC).