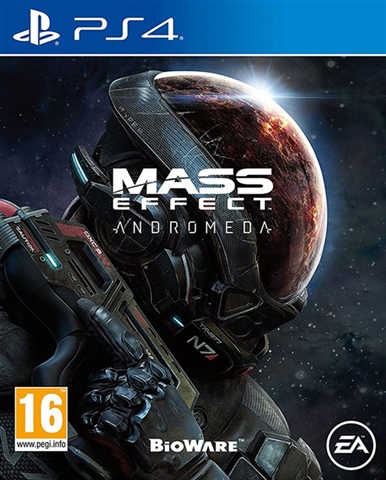 Mass Effect: Andromeda (No

DLC)

WeSell for
£15.00
WeBuy for cash

£3.00

WeBuy for voucher

£6.00

In stock online
Mass Effect: Andromeda (No DLC)
Lead our fight for a new home
Mass Effect: Andromeda takes players to the Andromeda galaxy, far beyond the Milky Way. There, players will lead our fight for a new home in hostile territory as the Pathfinder - a leader of military-trained explorers. This is the story of humanity's next chapter, and player choices throughout the game will ultimately determine our survival.
Be the Pathfinder
Chart Your Own Course in a Dangerous New Galaxy. Unravel the mysteries of the Andromeda galaxy as you discover rich, alien worlds in the search for humanity's new home.
The Mass Effect Universe you Love
Lead the First Humans in Andromeda on a Desperate Search for our New Home. In this new chapter of Mass Effect, meet and recruit all-new, interesting characters caught up in an epic space saga filled with mystery and galactic conflict.
Battle Like Never Before
Fight with your Pathfinder Team In Battle Against Terrifying Enemies and Creatures. New additions like destructible environments, boosted jumps for added verticality, and all-new weapons and Biotics make combat more thrilling than ever.
Play Your Way
Build a Formidable Hero With Amazing Weapons, Powers and Tech. With a much more flexible skill and weapon progression tree, you can replicate your play style to make you unstoppable against new, powerful alien enemies.
Multiplayer - Welcome to the APEX Forces
Multiplayer in Mass Effect Andromeda places you into a class-based, 4-player co-op fire-team experience. Join up to 3 of your friends to take on the enemy threat where the Pathfinder can't be and protect the interests of the Andromeda Initiative.
Test your skills in the all-new mission system. Complete challenges and objectives as you head to key locations to recover critical intel, and eliminate high value enemy targets. Gain shared experience and resources to customise and upgrade a wide range of character kits to your style.
Whether you're at home or on the go, you can jump into the new optional Strike Teams feature allowing you to continue to earn progress and rewards for your single player campaign or multiplayer inventory.
---
Notes About Additional Content
Our products may not include additional material like Digital Copies, Online Passes or promotional downloadable content (DLC).
Mass Effect: Andromeda (No DLC)
is rated out of
5
by
12
.
Rated

5

out of

5
by
Betty10
from
Huge, dynamic and fun!
Love this game! If you can get past the slightly odd facial animation you will love the open worlds, freedom for choice and cool buggy silliness (have driven off several high mountains just because i can). Definitely has a classic Mass Effect feel about it, only had this for a few weeks and can't put it down. Nice mix of action and completing side quests, you gain points from this but not always essential. Trying to scan a 3 ton armour plated beast before it smashes you 200 feet across the sand is always worth a challenge! Enjoy!
Date published: 2017-04-15
Rated

4

out of

5
by
Suz3
from
Arrived on release day
I was pleasantly surprised that this arrived on the release day, I mean how does that work - it's a second hand shop?! No problems with the game or disc, have been enjoying ever since. Not as good as ME2, though.
Date published: 2017-04-23
Rated

4

out of

5
by
Fraser098
from
More enjoyable that it's given credit for!
Everyone looking to buy this game know the story by now, It's the reason why I only recently picked it up myself. Now it does have it's downfalls and doesn't live up to the rest of the trilogy. However, After the number of updates that improved and fixed a lot of problems with the game, you can really get invested in the game like any other from bioware. If this had released as a new IP starting off Mass Effect it would have been given a lot of praise with some complaints but this wasn't the case cause it was living under the huge shadow that was the original trilogy. Ultimately I recommend this to anyone who loves Mass Effect and RPG's, it's main downfall was fans over expectations of what it would be.
Date published: 2017-11-17
Rated

3

out of

5
by
AmbigousBarrel
from
Pretty good game, bad performance.
Pretty good game, wouldn't recommend it on this system though as the frame rate dips and makes the game feel slow. It's not all the time, and I'm not trying to say it's the Playstation 4's fault, but the game does slow down noticeably. I have a friend that has it on PC and it does not slow down on his PC so if you want the best experience I would suggest that version over this. I can't say for the Xbox One version as I do not own a Xbox One. If you can handle the frame rate dips then this game might be of interest to you. The story is pretty good, although I preferred the old dialogue system personally from the other games and the whole "Pathfinder" thing starts to wear a bit thin after a while but pretty enjoyable overall in my opinion. Can't imagine playing it twice to be honest, so maybe this game would be a good rental game rather than purchase but again depends on the person.
Date published: 2017-07-21
Rated

4

out of

5
by
fredo
from
awesome
i bought this game around a month ago, game filled with action guns, space, really good game!
Date published: 2017-04-24
Rated

4

out of

5
by
TomoGotcha
from
Great game... most of the time
This is a great game and will keep you sucked in for many hours. The only real issue is the facial animations (although these have been improved in a recent update) and the main enemy lacks depth. The story is great though and as long as you aren't in this for the facial animations you will really enjoy it :)
Date published: 2017-04-24
Rated

5

out of

5
by
AustInw91
from
Waited so long!
It's a great way to move on from the previous trilogy and changes the tone completely, now you are an explorer in a completely new setting, if you miss mass effect this is the way back!
Date published: 2017-04-22
Rated

4

out of

5
by
Pezza500
from
good rpg
just as good as the other mass effect titles, doesnt dissapoint although would have liked new species of aliens but you cant have everything!
Date published: 2017-07-13