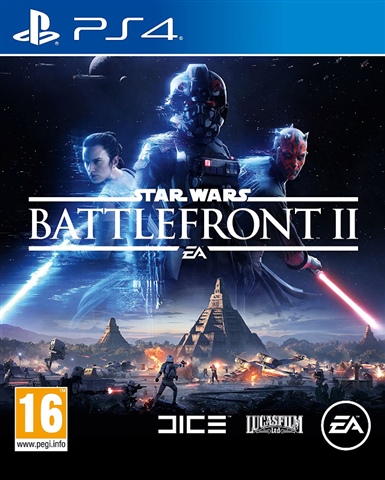 Star Wars Battlefront II (No

DLC)

WeSell for
£35.00
WeBuy for cash

£16.00

WeBuy for voucher

£23.00

In stock online
Star Wars Battlefront II (No DLC)
Forge a path as an elite special forces soldier
Embark on an endless Star Wars action experience from the bestselling Star Wars HD videogame franchise of all time.
Rush through enemies on Starkiller Base with your lightsaber in hand, traverse the jungle canopy on Yavin 4, or attack a First Order Star Destroyer with your X-wing squadron. Or rise as a new Star Wars hero - Iden, in a gripping single-player story.
Customize and upgrade your heroes, starfighters and troopers, each with unique abilities to exploit in battle. Ride tauntauns or take control of tanks and speeders, down Star Destroyers the size of cities and use the Force to prove your worth against iconic characters such as Kylo Ren, Darth Maul, or Han Solo.
The untold story of an Imperial soldier
Forge a new path as Iden Versio, commander of Inferno Squad - an Imperial special forces unit equally lethal on the ground and in space. Encounter many of Star Wars' greatest characters in a story of revenge, betrayal, and redemption that spans 30 years.
24-PLAYER ONLINE BATTLES
Control your speed, pitch, roll, and weapons as you pilot an assortment of lovingly-recreated Star Wars fighters. It's an entirely different experience than what you've played in the original Star Wars Battlefront's starfighter duels, whether you're rolling away from blaster fire in Darth Maul's Scimitar fighter or blasting an enemy ARC-170 out of the sky.
---
Notes About Additional Content
Our products may not include additional material like Digital Copies, Online Passes or promotional downloadable content (DLC).
Star Wars Battlefront II (No DLC)
is rated out of
5
by
9
.
Rated

4

out of

5
by
nhurst845
from
Great game. Much better than the first.
I pre-ordered this game and it was definitely worth it. Unlike the first game, we have a very compelling story with likeable characters and the chance to play some of your favourite Star Wars heroes. The online game modes are better handled in this game. The Star Wars dogfights taking place in space have a lot more depth to them. And, of course, the graphics for this game are phenomenal. The story mode helps show you what it can look like
Date published: 2018-01-09
Rated

4

out of

5
by
Chuckles25
from
Great Star Wars game despite the controversy
Been playing for quite some time, looks and sounds great and is a lot of fun to play as a Star Wars fan. Since the updates levelling and credit collection is much better and Star Cards really aren't game breaking as most will make out. Great DICE game despite EAs efforts to ruin it
Date published: 2017-12-11
Rated

4

out of

5
by
N8dog
from
I like its got more to it
I like it's got more to it and it's good fun to play but for a film franchise with so much deth it feels a bit sad to see a arcade'y (if that's a word) kind of route but i do enjoy playing it and i am a true star wars fan and if you are then buy it its fun
Date published: 2018-01-19
Rated

5

out of

5
by
RKNet
from
Star Wars is back!
Star Wars is back with a blast! Arrived early so plenty of fun to have ahead of the real pros ruining it!
Date published: 2017-12-13
Rated

4

out of

5
by
Axerav
from
So much potential
Short and mediocre single player campaign and multiplayer that would be just pure gold if not for the loot box chaos and the fact that whole progression system is based on random/craftable parts. Gameplay is awesome and every aspect is polished.
Date published: 2017-12-21
Rated

5

out of

5
by
Georgie03
from
Great game
I bought this ages ago and I never regret a penny of my purchase. It's incredible!
Date published: 2017-12-15
Rated

1

out of

5
by
Tomchee
from
For star wars fans only
Its realy bad for a shooter game. I recommend only, if you buy it cuz it is a star wars game with good graphics. Otherwise you will be disappointed
Date published: 2018-02-07
Rated

4

out of

5
by
Arnie84
from
Better then the first, great story mode
Bought this as Xmas present for my son and had to have a go before wrapping it ended up doing the whole story mode, great game
Date published: 2017-12-22