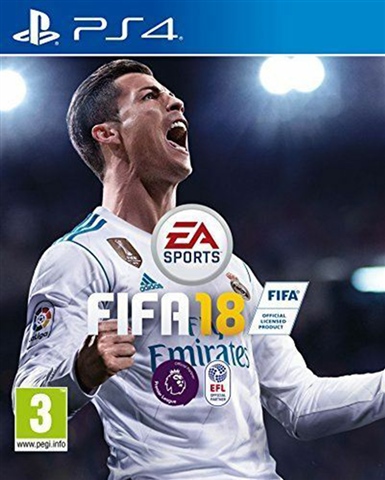 WeSell for
£40.00
WeBuy for cash

£18.00

WeBuy for voucher

£26.00

In stock online
FIFA 18
EXPERIENCE THE EMOTION
Powered by the Frostbite engine, EA SPORTS FIFA 18 blurs the line between the virtual and real worlds, bringing to life the players, teams and atmospheres of the sport.
With the motion capture of Cristiano Ronaldo - the reigning FIFA Men's Best Player, back-to-back European Champion and global ambassador for FIFA 18 - the Real Madrid superstar helps deliver even more fluidity, player responsiveness and other incredible gameplay elements.
---
Notes About Additional Content
Our products may not include additional material like Digital Copies, Online Passes or promotional downloadable content (DLC).
FIFA 18
is rated out of
5
by
29
.
Rated

2

out of

5
by
Tom35
from
Don't get suckered in
Yes the graphics are alright and they did somewhat fix the passing mechanic, but every other gameplay element is either as bad or worse than Fifa 17. In terms of gameplay, the referees are a joke, goalkeepers are like bin-bags hanging from the crossbar, dribbling is pointless, defending is non-existent, strength doesn't matter but neither does pace. Regarding game modes, career mode and pro clubs have barely been touched, ultimate team is exactly the same as the last 3 years - micro transactions for fifa points rule the market and those people with the best players dominate games purely from having access to their parents' credit cards. However the journey has been improved, with an already interesting story becoming more developed and actually quite enjoyable to follow. It's only ruined by the bits in the middle where you actually have to play the game. Let's just say the best bits of the journey this year can be watched on YouTube. As the years have gone by I find myself continuously bewildered at my inherent need to buy Fifa upon release, and trust me when I say it this time - it's the last time that I do.
Date published: 2017-10-10
Rated

5

out of

5
by
Sheiky
from
It's been a long time
FIFA this year has impressed with actual new features . Squad battling is great . Youll enjoy this FIFA . Would recommend
Date published: 2017-11-05
Rated

5

out of

5
by
Amk908
from
Journey
The career and journey modes are spectacular for this game.
Date published: 2017-10-04
Rated

5

out of

5
by
Jperezd
from
Squad Battles ar a pleasant addition
As good as ever. There are still certain elements of gameplay that abide by a strange 'FIFA logic' I.e. unlucky rebounded tackles or strange keeper behaviour. However these are noticeably less than previous games. The ultimate team returns, with the squad battles being a nice way to incentivise and reward 4 games a day. Otherwise the journey is also back with a second part - not as engaging as the first but still fun nonetheless. Would recommend!
Date published: 2017-11-06
Rated

5

out of

5
by
Emmie 04
from
Fifa 18
I like this game a lot more than fifa 17 it was very good
Date published: 2017-11-05
Rated

3

out of

5
by
AmatuerReviews54
from
Disappointing
The negative's are far more than the positive's, stick with Fifa 17 until it lower's in price
Date published: 2017-10-24
Rated

4

out of

5
by
Joe Champion
from
Amazing Gameplay
I bought this when it came out and I've been very impressed so far, the gameplay is fast, the game modes and features are brilliant. Ultimate team is great this year as the players you can buy are all usable.
Date published: 2017-12-09
Rated

5

out of

5
by
kavan_williams1
from
Fifa 17 naa, FIFA 18 YESSSS
Probably the best Fifa yet with loads of new features in ultimate team and career mode and The Journey Part 2! So happy I bought this
Date published: 2017-11-04