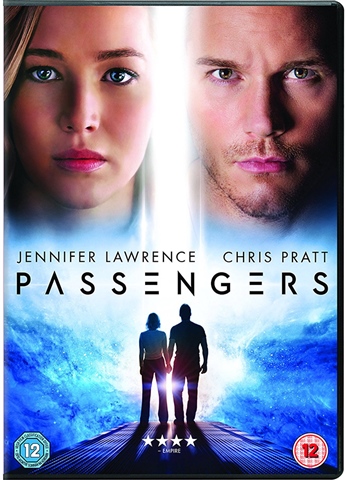 WeSell for
£3.00
WeBuy for cash

£0.70

WeBuy for voucher

£1.20

In stock online
Passengers (12) 2016
Jennifer Lawrence and Chris Pratt star in a high-stakes adventure about two passengers, Aurora and Jim, onboard a spaceship transporting them to a new life on another planet. The trip takes a deadly turn when their hibernation pods mysteriously wake them 90 years before they reach their destination. As they try to unravel the mystery behind the malfunction, they discover that the ship itself is in grave danger. With the lives of 5,000 sleeping passengers at stake, only Jim and Aurora can save them all.
Features:
On The Set with Chris Pratt featurette
Casting The Passengers featurette
Creating The Avalon featurette
Outtakes From The Set
Book Your Passage - Looking for a new life? Learn more about the Homestead Company. See what awaits you.
---
Notes About Additional Content
Our products may not include additional material like Digital Copies, Online Passes or promotional downloadable content (DLC).
Passengers (12) 2016
is rated out of
5
by
4
.
Rated

4

out of

5
by
Kevv
from
Well worth watching with an open mind
I believe that if I'd watched this with preconceived ideas about a sci-fi thriller then I would have been a little disappointed. Its high tech, futuristic setting and its sci-fi storyline backdrop are excellent and hold up under forgiving scrutiny. But it is as a human drama that it makes its best effect and therein lies the problem for the makers. If they had marketed it as a love story or anything similar, they may have driven much of their potential audience away. But the shame of it is, if they had managed to grab that alternative audience they may have converted a few to the cause. What is the cause? That story is king and always will be. And Passengers has at its core a solid story. There are some flaws and enough to make some people be a little cynical but mainly about the human values and emotions rather than the science. Watch it with an open mind and as a film fan rather than a specific type of film fan and you'll have an enjoyable time.
Date published: 2017-08-24
Rated

5

out of

5
by
Kayleigh1718
from
Passengers
I was going to go to the cinema to see Passengers but never did. I'm so glad that I bought it at CEX for £5 as it's now one of my favourite films. I love it! Brilliant story, brilliant parts taken by Jennifer Lawrence and Chris Pratt. It's nice to watch a film which is unusual.
Date published: 2017-09-05
Rated

4

out of

5
by
stevecooke
from
Good film
Typical sci fi disaster movie with a fair story line running throughout. Special effects were very good. The film showed to great effect the greedy, selfish side to human beings.
Date published: 2017-07-22
Rated

4

out of

5
by
Sagi
from
Great film, loved it
I do love a film, wether it be Sci fi, thriller or a horror. CEX never fail...
Date published: 2017-07-21