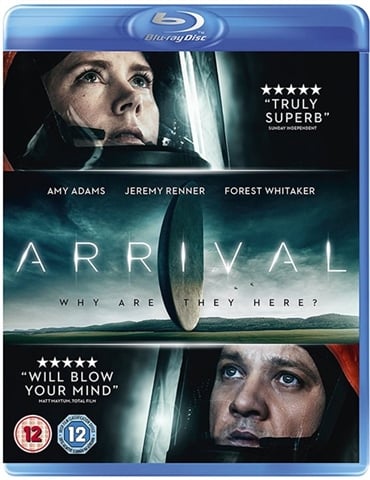 WeSell for
£8.00
WeBuy for cash

£3.00

WeBuy for voucher

£5.00

In stock online
Arrival (12) 2016
Amy Adams, Jeremy Renner and Forest Whitaker star in this sci-fi drama directed by Denis Villeneuve. After mysterious alien spacecraft land on Earth, American linguistics professor Dr Louise Banks (Adams) finds herself working with the army to decode the aliens' communications. Under the command of Colonel Weber (Whitaker), Louise and military scientist Ian Donnelly (Renner) try to learn more about the aliens' language so they can communicate with them and discover why they have come to Earth, before someone else across the globe decides to attack first. But with the CIA and global leaders monitoring their interactions, will they be able to make their breakthrough without any unwanted interference? The film was nominated for nine BAFTAs, including Best Film, Best Adapted Screenplay and Best Leading Actress (Adams), and two Golden Globe Awards for Best Performance By an Actress in a Motion Picture - Drama (Adams) and Best Original Score - Motion Picture (Jóhann Jóhannsson).
---
Notes About Additional Content
Our products may not include additional material like Digital Copies, Online Passes or promotional downloadable content (DLC).