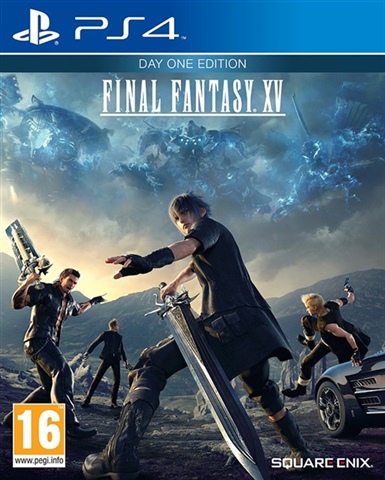 WeSell for
£22.00
WeBuy for cash

£10.00

WeBuy for voucher

£14.00

In stock online
Final Fantasy XV
Enroute to wed his fiancee Luna on a roadtrip with his best friends, Prince Noctis is advised by news reports that his homeland has been invaded and taken over under the false pretence of a peace treaty - and that he, his loved one and his father King Regis, have been slain at the hands of the enemy.
To gather the strength needed to uncover the truth and reclaim his homeland, Noctis and his loyal companions must overcome a series of challenges in a spectacular open world - that is filled with larger-than-life creatures, amazing wonders, diverse cultures and treacherous foes.
---
Notes About Additional Content
Our products may not include additional material like Digital Copies, Online Passes or promotional downloadable content (DLC).
Final Fantasy XV
is rated out of
5
by
12
.
Rated

5

out of

5
by
maniamario
from
Best action rpg ever.
This game just blew me away right fromortgage the moment it began. To be honest after final fantasy 7 my interest in the final fantasy games just began to weighn. I was just gaetting sick and tired of the sane old turn based attack system. I mean who stands there and takes a hit. So when I heard that for the 1st time they changed it to an action rpg that you fully control I was in heaven and it doesn't disappointed at all. This has to be the grandest rpg ever. It plays so beautifully on the ps4 . This is a must have for any fan and also a must have for new adventurers. Happy gaming . It's so beautiful it will make your eyes water Happy gaming.
Date published: 2016-11-29
Rated

5

out of

5
by
Dragoonpump
from
Final Fantasy XV
I love this game, the story, the graphics, the characters, the scenery. The story is amazing, it really is interesting, each character has a story and you get to know each and everyone as you progress further into the game. You get options and choices, each choice has a consequence so you have to pay attention and becareful with each choice you make.The graphics are superb, it looks incrediably real. The lighting, the shadows, vibrant color and the monsters look so real! I can not take my eyes away from the screen, I am hooked like a fish on a fishing line!
Date published: 2016-12-24
Rated

5

out of

5
by
SP123
from
Excellent Game!
I'm having so much fun playing this game. On the last chapter now and the story has been great. Really plays with the emotions. Only issue I have with the game is that you have to refer back to the Kingsglave movie to actually understand the story. Which in my opinion isn't great because we have been waiting a decade for this game and still it doesn't fully explain the story. Other than this it's great!
Date published: 2016-12-24
Rated

5

out of

5
by
Connorgreggs2011
from
Final fantasy XV
I first bought this game with the intention of it being like the other final fantasy's in terms of story (which is the best part of the series) and it was, the only difference was the battle system had changed to make it an easier game I think. I would definitely recommend this product as it's very enjoyable and reasonably long as I completed the story in 26 hours not including the side quests which could take much much longer to complete.
Date published: 2016-12-21
Rated

5

out of

5
by
mysteryt0ur
from
Steelbook at no extra cost!
Ordered final fantasy on ps4 for my boyfriend for christmas and it came super quick, was also the steel book version of the game which is super cool considering I didn't have to pay anything extra! Disc looked like it hadn't even been used, thank you!
Date published: 2017-01-03
Rated

3

out of

5
by
dors
from
Very pretty
As someone who has never played a final fantasy game before i was very impresed with look and feel of game and overall atmosphere the graphics were amazing and you can spend upwards of 100 plus hours playing, would recommend. But as not a fan of JRPG'S this game was not for me but i still think it is worth trying as i might convert some.
Date published: 2017-03-20
Rated

5

out of

5
by
Schmoot
from
Awesome
Great game. Big FF fan, this one ranks up with the top few.
Date published: 2017-01-08
Rated

5

out of

5
by
TomB1993
from
Loads of Great Content
My first foray into Final Fantasy since trying the dreadful xiii, and this game is excellent, beautiful open world and loads of content (currently over 100 hours in and still more to do) Would reccomend for people who, like myself, haven't really played the other games in the series as this is really different
Date published: 2017-01-05