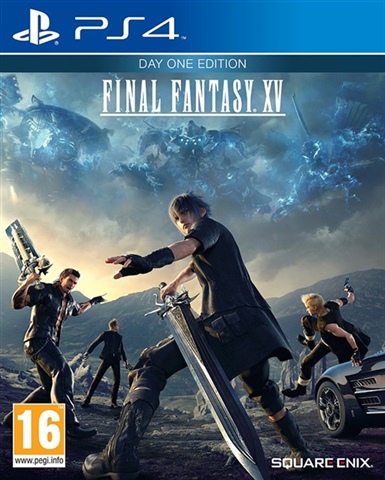 WeSell for
£18.00
WeBuy for cash

£8.00

WeBuy for voucher

£12.00

In stock online
Final Fantasy XV
Enroute to wed his fiancee Luna on a roadtrip with his best friends, Prince Noctis is advised by news reports that his homeland has been invaded and taken over under the false pretence of a peace treaty - and that he, his loved one and his father King Regis, have been slain at the hands of the enemy.
To gather the strength needed to uncover the truth and reclaim his homeland, Noctis and his loyal companions must overcome a series of challenges in a spectacular open world - that is filled with larger-than-life creatures, amazing wonders, diverse cultures and treacherous foes.
---
Notes About Additional Content
Our products may not include additional material like Digital Copies, Online Passes or promotional downloadable content (DLC).
Final Fantasy XV
is rated out of
5
by
19
.
Rated

5

out of

5
by
TomB1993
from
Loads of Great Content
My first foray into Final Fantasy since trying the dreadful xiii, and this game is excellent, beautiful open world and loads of content (currently over 100 hours in and still more to do) Would reccomend for people who, like myself, haven't really played the other games in the series as this is really different
Date published: 2017-01-05
Rated

5

out of

5
by
terminator6855
from
what a game
Got ffxv what a fantastic game couldn't put it down wife not very happy thanks cex
Date published: 2017-01-02
Rated

5

out of

5
by
Schmoot
from
Awesome
Great game. Big FF fan, this one ranks up with the top few.
Date published: 2017-01-08
Rated

4

out of

5
by
Mtmamtma
from
Good game - massive
This game is v good on the whole. Some epic battles.
Date published: 2017-03-25
Rated

3

out of

5
by
dors
from
Very pretty
As someone who has never played a final fantasy game before i was very impresed with look and feel of game and overall atmosphere the graphics were amazing and you can spend upwards of 100 plus hours playing, would recommend. But as not a fan of JRPG'S this game was not for me but i still think it is worth trying as i might convert some.
Date published: 2017-03-20
Rated

5

out of

5
by
Deck628
from
Great game
Bought this game for my girlfriend and she adores it. She wouldn't put it down, I've played it myself and I have over 50hours in it already. I highly recommend this game
Date published: 2017-06-06
Rated

5

out of

5
by
partybeast198
from
Great game
Played this for 100 hours so far and still going Definatly recommended for all
Date published: 2017-06-05
Rated

4

out of

5
by
Sandy87
from
Great throwback
A bit repetitive but visually stunning and a great throwback to FF7
Date published: 2017-06-03
Rated

5

out of

5
by
ChristinaM
from
Great Visual Quality
Graphics in game are amazing and play is awesome well worth getting
Date published: 2017-06-13
Rated

5

out of

5
by
Ricky wong
from
Great features
Bought this game two months ago- Very impressed. Amazing graphic!
Date published: 2017-04-20
Rated

2

out of

5
by
Dasiquan1
from
Cack Fantasy
The game itself is technically playable if you have nothing better to do. I got up to the very last level and just stopped playing because I literally couldn't be bothered to spend another hour finishing the game. I think I lost motivation at that point because I realised that I'd seen enough and the feeling that the game must get better which had kept me playing up to that point gave way to the realisation that the game is just really bad. This was quite disappointing as some of the other entries in the series have set a particularly high bar in terms of story telling in games. The positives of Final Fantasy 15 are: 1) Some beautiful and striking landscapes 2) Some nice creature designs The negatives are: 1) Boring/mindless battling which makes up majority of the game. 2) Nonsensical and shallow story. The script has got to be one of the worst of all time for an rpg production of this budget. They should have got one of the many brilliant anime/manga writers to handle the script instead of whatever hack produced this shart. 3) Boring generic characters and laughably bad supporting characters. There was one pairing (a woman with grey hair and some man) that would show up every few hours and do nothing but were somehow presented to be significant. They were the worst, but they were so non-descript I can't remember the names. The main characters are garbage. 4) Feels like (and is) an attempt by aging old men who have lost their creative spark trying to connect with the modern suburban youths. 5) World feels empty and without substantial history/culture/characters. I really wanted to like this game having been playing this series for about 15 years. The other games in the series have all the things this one doesn't: Quirky cast with interesting backstory and relationships, anime-style storytelling and melodramatic moments, addictive jrpg gameplay, memorable places to explore and investigate. This one in contrast had none of these things and instead felt like an over-the-hill stroll through a JRPG Truman show.
Date published: 2017-04-24