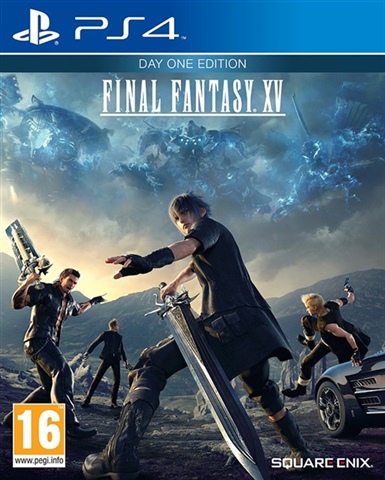 WeSell for
£22.00
WeBuy for cash

£10.00

WeBuy for voucher

£14.00

In stock online
Final Fantasy XV
Enroute to wed his fiancee Luna on a roadtrip with his best friends, Prince Noctis is advised by news reports that his homeland has been invaded and taken over under the false pretence of a peace treaty - and that he, his loved one and his father King Regis, have been slain at the hands of the enemy.
To gather the strength needed to uncover the truth and reclaim his homeland, Noctis and his loyal companions must overcome a series of challenges in a spectacular open world - that is filled with larger-than-life creatures, amazing wonders, diverse cultures and treacherous foes.
---
Notes About Additional Content
Our products may not include additional material like Digital Copies, Online Passes or promotional downloadable content (DLC).
Final Fantasy XV
is rated out of
5
by
13
.
Rated

4

out of

5
by
Mtmamtma
from
Good game - massive
This game is v good on the whole. Some epic battles.
Date published: 2017-03-25
Rated

4

out of

5
by
ya boi
from
great game!
I recently bought final fantasy XV and i am enjoying every bit of it so far, the execution of the final game is great and there is so much to do
Date published: 2017-01-09
Rated

3

out of

5
by
Dan S
from
6.75/10 - slight above average
Graphics - 9/10 excellent art direction and lighting, only faulted by the odd performance issues. Gameplay - 5/10 combat was quite good, took a bit of getting used to, camera could be frustrating at times. Lack of side mission variety, things to do lacked any sort of interest or depth and magic being awfully represented was what brings this score down. Audio - 9/10 great music and sound effects as to be expected from a final fantasy game. Voice acting at times can be on the line between over the top and bad. Story - 4/10 this is where the game falters bad. I had a bit of an understanding of the story somewhat having watched Kingsglaive but the story flat out felt rushed. Storytelling was terrible, pacing was terrible, I didn't particularly care about any of the characters outside the main 4. For me the only thing that saved this story was some of the set pieces were good. Oh and don't get me started on chapter 13. Overall - 6.75/10 although this iteration is leagues above the abomination that was 13 there are things which ultimately bring this game down to a slightly above average experience. Note: I've recommended this game but with caution and only for the right price.
Date published: 2017-02-23
Rated

5

out of

5
by
terminator6855
from
what a game
Got ffxv what a fantastic game couldn't put it down wife not very happy thanks cex
Date published: 2017-01-02
Rated

1

out of

5
by
Vickles93
from
Don't waste your time.
If you're a fan of Final Fantasy then this isn't the game for you, don't be fooled by it actually being called Final Fantasy. To say people have waited so long for this game it's a complete let down, there's few elements of fantasy, the character ignis will drive you up the wall, and can I say.... Where are the female characters. Terrible, terrible game.
Date published: 2017-01-01