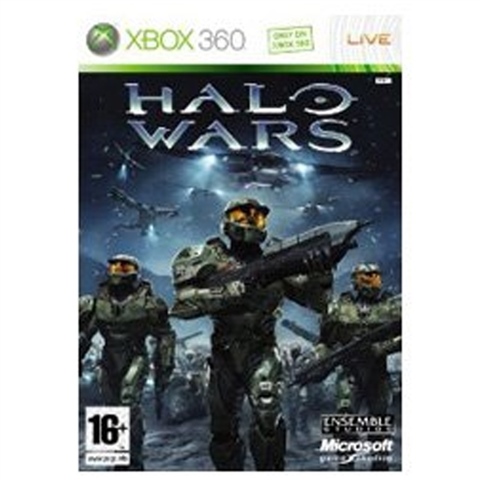 WeSell for
£2.00
WeBuy for cash

£0.30

WeBuy for voucher

£0.60

In stock online
Halo Wars
Halo Wars on Xbox 360 is a strategy game based on the legendary Halo universe. In campaign mode, Halo Wars players will command the armies of the UNSC warship Spirit of Fire, consisting of familiar and new UNSC units in its initial encounters against the Covenant, an alien coalition threatening to obliterate mankind. Halo Wars for Xbox 360 will immerse gamers in an early period of the storied Halo universe, allowing them to experience events leading up to the first Halo title for Xbox.
With the guidance of Serina, a spirited artificial intelligence (AI) persona, Halo Wars players will direct legions of UNSC soldiers, Warthogs, Scorpions and more, each group having its own strengths and uses in battle. Adventurous Halo Wars commanders can also call upon ancient Forerunner technology, if they are fortunate enough to find it hidden throughout the battlefield.
Covenant forces are also waiting for Halo Wars players to lead them into battle in multiplayer skirmishes via the New Xbox Experience. Call upon an arsenal of new and familiar Covenant units such as Grunts, Elites, Ghosts and even Scarabs to defeat foes on the battlefield. In Halo Wars for Xbox 360, strategic-minded players who react well under pressure will emerge victorious.
Features:
A new take on a legendary world: Set in the iconic Halo universe, Halo Wars on xbox 360 predates the original first-person shooter Halo by 20 years. Halo Wars players will have the opportunity to experience the early battles between the UNSC and Covenant, the far-reaching conflict that has been diligently followed by the masses in the blockbuster Halo series. Halo Wars players join the crew onboard the Spirit of Fire, a Phoenix-class colony ship converted for UNSC military use and guided by the AI persona Serina. In Halo Wars for Xbox 360, the storyline follows the Spirit of Fire's discovery of an ancient artifact on the planet Harvest, the first world to be attacked by the Covenant.
Strategic command of armies in large-scale combat: Halo Wars on Xbox 360 puts gamers in command of the battlefield over an arsenal of UNSC units and vehicles as they engage Covenant forces. Halo Wars players can counter and crush their opponent by tactically fielding the superior army. In Halo Wars on Xbox 360, players can also choose among Leaders that possess elite skills which can turn the tides of battle. Using various combinations of Leaders and units, Halo Wars players can create countless strategies tailored to their preferred playing styles and personalised strategies.
Challenge friends to skirmishes using the New Xbox Experience: See who the superior commander is through multiplayer online skirmishes supporting up to 6 players with the New Xbox Experience. Players can choose to command either unique civilization, UNSC or Covenant, each with unique attributes and strategic characteristics. Ancient Forerunner technology can also be found to create unique units to gain an upper hand in battle.
Groundbreaking strategy game for the Xbox 360: Halo Wars on Xbox 360 is explicitly designed to cater to console gamers and bring to the Xbox 360 a genre that has typically been played on the PC. Halo Wars gamers can easily command and manage powerful armies, effortlessly control troops and incredible machines, engage in epic battles and expand their empire using an intuitive user interface for the Xbox 360. Exclusive to 360, Halo Wars represents the true next-generation strategic experience, combining a masterful control scheme using the Xbox 360 controller with the award-winning strategic gameplay of Ensemble Studios.
---
Notes About Additional Content
Our products may not include additional material like Digital Copies, Online Passes or promotional downloadable content (DLC).
Halo Wars
is rated out of
5
by
14
.
Rated

5

out of

5
by
BlackAdderGoesForth
from
The console RTS that nailed it!
I've recently re-bought this due to a mishap involving my previous disk and a puppy! It's a brilliant game that still has quite a decent following, you get a game instantly on Xbox Live and 3 v 3 is always a blast. The PC community may look down on a console RTS but they nailed it with this game (Controls are flawless), I'd recommend playing the story too as it's a good introduction to mechanics and a nice chunk of halo lore! Works perfectly in backwards compatibility on the Xbox One too!
Date published: 2016-07-01
Rated

4

out of

5
by
Kellett
from
Overall pretty awesome!
The reason why I've only given 4 stars is because it is still quite limited for an RTS game. The gameplay is pretty good, just what you'd expect from an RTS game. Gameplay a side, it's worth purchasing this game just for the story line and cut scenes. A must purchase game, especially if your a fan of the Halo franchise!
Date published: 2016-06-06
Rated

4

out of

5
by
Jonny834
from
Great Game
I purchased the game many years ago and loved it. I fell out of love with gaming all together but recently fell back in love with the game and gaming too due to CEX's cheap and reliable products allowing me to get back in to gaming.
Date published: 2017-09-18
Rated

5

out of

5
by
Jack__1990
from
Use to love it, still do!
I used own this game on 360, now it's on Xbox one and I decided to re-buy it and it's still as great as it used to be! If you are into halo or strategy games I would recommend
Date published: 2016-07-06
Rated

4

out of

5
by
Ben White
from
A lot of fun
I bought this game about two weeks ago and me and my mates have been messing around on it so much. It's worth having a go at as isn't that expensive.
Date published: 2016-05-31
Rated

5

out of

5
by
zerosmg
from
Halo Wars
I bought this a few ago, I absolutely love it. Personally i think this the best halo made so far, can't wait to play HALO WARS 2
Date published: 2017-02-11
Rated

5

out of

5
by
peter117
from
fast quick great
This game was delivered fast in good quality and for a bang on price . Amazing game im going buy my games here more often
Date published: 2015-08-29
Rated

5

out of

5
by
Acb360
from
Great game must buy if you love halo or strategy
Great game must buy if you love halo or strategy I bought this to play on my Xbox one and it hadn't let me down
Date published: 2016-05-09