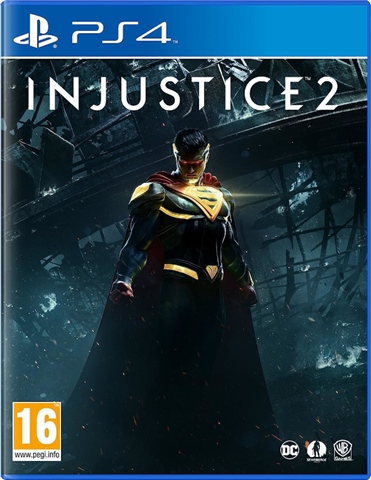 WeSell for
£25.00
WeBuy for cash

£11.00

WeBuy for voucher

£16.00

In stock online
Injustice 2 (No DLC)
Injustice 2 continues the epic cinematic story introduced in Injustice : Gods Among Us as Batman and his allies work towards putting the pieces of society back together while struggling against those who want to restore Superman's regime. In the midst of the chaos, a new threat appears that will put Earth's existence at risk. Players can play from the biggest DC roster ever offered in a fighting game, from classic fan favourites such as Batman, Superman, Supergirl and Aquaman, to astonishing new villains like Atrocitus and Gorilla Grodd. Battles will take place across arenas that have evolved in scale and span across iconic locations such as Metropolis, Gotham City and Atlantis.
---
Notes About Additional Content
Our products may not include additional material like Digital Copies, Online Passes or promotional downloadable content (DLC).
Injustice 2 (No DLC)
is rated out of
5
by
8
.
Rated

4

out of

5
by
Kai De Avalon
from
Much better than Injustice: Gods Among Us
The game works exactly as advertised, the controls are much easier or more responsive than the previous version.
Date published: 2018-01-14
Rated

5

out of

5
by
brownwolf2k11
from
Awesome game with lots of modes
Very good game with lots of modes, I have played all of Netherealm studios previous fighting games so this one was a no brainer purchase. While I do play online I am not into the competitive scene, so I prefer the robust single player modes including the epic story mode and the Multiverse mode. Oh and the loot system is amazing, if you like games like Diablo and Destiny, I2 includes a gear (loot) system so for every fight you do in whatever mode, you unlock loot for the many characters available. You can level each character up to level 20 and the best type of gear at the moment (unless they increase the level cap in the future) is Epic level 20 gear (kinda like legendary/exotics from Destiny).
Date published: 2017-07-12
Rated

3

out of

5
by
crazysammons
from
Great fun to start with then lost interest
Don't get me wrong the header may not seem great but this game is really good. When I first got it I enjoyed the story which is much more interesting than the first Injustice. I liked Mortal Kombat and the system is pretty much the same. The only reason I gave it a lower rating is due to losing interest after a few weeks. There is only so much fighting you can do before it gets repetitive and a bit boring The game is a must for everyone if you a fan of MK, street fighter etc...... you'll enjoy this for months!!!!!!
Date published: 2017-11-12
Rated

4

out of

5
by
Theblackfrenchboy
from
Great game
I really enjoyed the game, it has great mechanics but I prefer tekken 7
Date published: 2017-06-24
Rated

5

out of

5
by
Holmsie23
from
Great follow up game
This game was a great follow up from the first injustice the story ties in very well, and the new gameplay and graphics it looks and feels amazing on the next gen consoles. This game is a great reason to invest in a gen console.
Date published: 2017-06-10
Rated

5

out of

5
by
Jav22
from
Can't go wrong with this one.
This game is a step up from almost every feature from the first injustice. I will say however, I felt the first injustice may have still had the better story. The gear system adds a level of customisation which is awesome.
Date published: 2017-07-25
Rated

5

out of

5
by
Steven183
from
Good features
Very good game good service would defo suggest buying it
Date published: 2017-06-21
Rated

5

out of

5
by
Mandavo0810
from
Amzing game with little issues!
I bought the game a while ago and have played it quite alot, I believe it was alot better than the first one and had alot more of an interesting story although it carried on from the first game. The character design is jaw-droppingly gorgeous and has better character animations than before. The gear feature in the game with mother boxes is a really nice touch and has improved the game from a close 7/10 to a solid 10/10. However, it is quite infuriating when you have someone against you on the online vs where they dont do anything but input a certain button combonation that makes their character constantly continue the same move that doesnt allow you to fight back unless timed perfectly. In my opinion this is the only flaw/drawback to the game which could possibly make it a 9/10 but if you dont pay attention to that flaw then your gaming experience will be extraordinary. Finally, the DLC lineup so far is incredible! And the communtiy for this game is great - We are a close community that talks about problems we would like fixed (not that there is any) and we also mention to each other different theories for the game etc. Overrall the game is great and a solid 10/10 that I would, along with many of my friends, recommend to anyone. I am very pleased with how this game has come out and I hope it never ends!
Date published: 2017-06-23