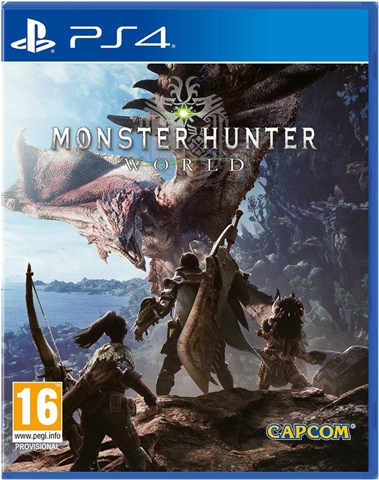 WeSell for
£45.00
WeBuy for cash

£32.00

WeBuy for voucher

£36.00

In stock online
Monster Hunter: World
Become the ultimate monster hunter
Take on colossal beasts in a living, breathing environment.
Hunt, craft, track and survive
Embark on a perilous hunting expedition into a newly discovered continent known only as 'The New World' and prowl its uncharted wilds in search of the land's most ferocious beasts in Monster Hunter: World.
Each new foe you discover will pose a unique challenge, demanding careful planning and a hunter's instinct to bring it down. Use any number of a vast array of traps. lures and weapons as well as the living ecosystem around you to overcome your quarry.
Carcasses can be harvested for materials to upgrade and augment your arsenal while the environment itself can tip the battle in your favour, providing cover and vantage or even allowing you to pit monsters against one another.
This world is yours to explore as you choose, either as a lone warrior on the path to glory or with up to three other players online in drop-in, drop-out cooperative play.
---
Notes About Additional Content
Our products may not include additional material like Digital Copies, Online Passes or promotional downloadable content (DLC).
Monster Hunter: World
is rated out of
5
by
5
.
Rated

5

out of

5
by
neffix
from
variety
5/5 the variety of each individual monster is outstanding. the devs clearly put a lot of effort into the game and this is my favourite one by far (ive played all of them)
Date published: 2018-02-19
Rated

5

out of

5
by
Random Guy number 13
from
Monster hunter world
A really fun and challenging game definitely worth checking out
Date published: 2018-02-19
Rated

5

out of

5
by
Internalclock
from
I might be bias
Ive played every main series Monster Hunter bar the one on the PS2 and I feel like this is the best one by a country mile. The gameplay is just as solid, the graphics beautiful. Each zone feels alive. It has everything you wanted carried forward in a more player friendly package. Finally it is so so easy to team up with other hunters which has been a challenge in the past. If you liked any of the other MonHun games I'd say it's a must play.
Date published: 2018-02-17
Rated

5

out of

5
by
JackoPacko
from
Best game so far
This game is amazing. Great condition! Best game on PS4 so far
Date published: 2018-02-16
Rated

5

out of

5
by
Blueblaze
from
The best monster hunter
This is the best monster hunter game in the series. In past games you had zones on each map you had to go to but in this game capcom has really opened up the world of monster to the player. My hunter rank is 15 and I still have a long ways to go before I can tackle elder dragons without any help from other. Another thing that I really like is that monster hunter world will continuously have FREE DLC, in this day and age where companies install microstransactions that affect your gameplay or just cut big portions of their games and give to you later in dlc this is a big relief.(bungie & EA) I am looking forward to what fighting devijho which the monster that is coming in spring as the first dlc I also can't wait for what other monsters they are going to add into the game. If I had to nitpick I would point out that the upgrade tree for weapons is a little bit confusing at first and your going to have to grind for while if you want one of the best armours form a monster in the game. Form personal experience I spend 2 days fighting vaal hazak trying to get the parts I need to craft it's armour. I really hope this gets nominated for game of the year
Date published: 2018-02-16