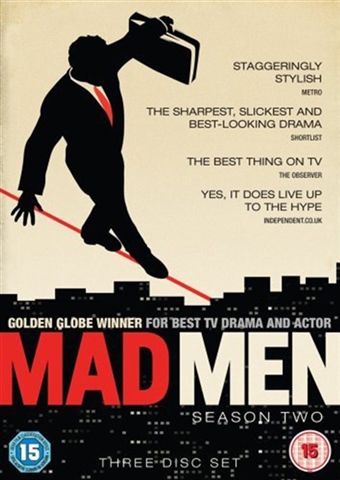 WeSell for
£0.50
WeBuy for cash

£0.01

WeBuy for voucher

£0.01

In stock online
Mad Men, Season 2 (15)
The complete second season of the Golden Globe-winning drama set in a prestigious advertising agency in early 1960s New York, where sexism is a way of life and everyone smokes like a chimney. In this highly competitive, all white, male-dominated environment, the indefatigable Don Draper (Jon Hamm) is the top ad executive, but there are plenty of young guns eager to topple him from his perch.
Features:
For Those Who Think Young
Flight 1
The Benefactor
Three Sundays
The New Girl
Maidenform
The Gold Violin
A Night to Remember
Six Month Leave
The Inheritance
The Jet Set
The Mountain King
Meditations in an Emergency
---
Notes About Additional Content
Our products may not include additional material like Digital Copies, Online Passes or promotional downloadable content (DLC).