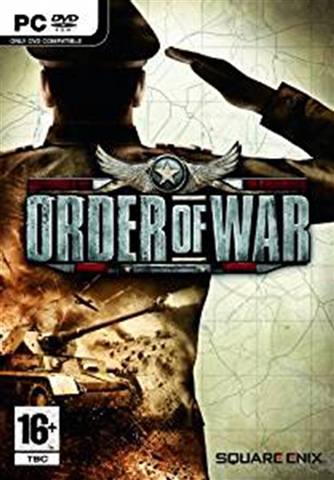 WeSell for
£0.75
WeBuy for cash

£0.01

WeBuy for voucher

£0.01

In stock online:
Only 2 Left!
Order Of War (S)
In the summer of 1944, the Second World War entered its end-game when the Allies launched two major operations that would drive back German forces on both the Western and Eastern Fronts at once.
In the ultimate test of military strategy, Order of War will challenge you not only to lead America's finest to victory in the west, but also place you in command of German forces charged with repelling American forces in the west and the Red Army's seemingly unstoppable offensive in the East.
Even the keenest military minds will find that it's one thing to make history, but quite another to change it. Do you have what it takes to command?
Players will experience WWII warfare on an epic, cinematic stage that truly captures the intensity and scale of the battlefield. They will take command of an entire armoured force consisting of up to 1,000 soldiers, tank divisions, armoured vehicles, artillery and air force.
Players can choose between two different campaign modes - American versus German forces on the western front and German versus Russian and American forces - offering completely different storylines, missions, objectives and environments. Complementing the two different game modes are multi-player options that include deathmatch and skirmish.
Experience the unique dynamic camera that allows players to command troops over huge geographical scale whilst delivering movie-like vistas and impressive detail.
---
Notes About Additional Content
Our products may not include additional material like Digital Copies, Online Passes or promotional downloadable content (DLC).