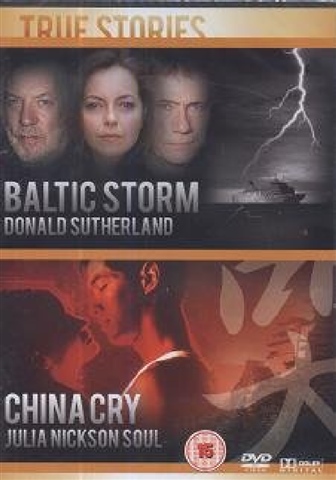 WeSell for
£0.50
WeBuy for cash

£0.01

WeBuy for voucher

£0.01

In stock online:
Only 3 Left!
Baltic Storm / China Cry
Baltic Storm
A journalist from Berlin, Germany, and a Swedish lawyer discover the truth behind the sinking of the "MS Estonia" in 1994, where more than 850 people drowned.
China Cry
Julia Nickson (then billed as Julia Nickson-Soul) stars as Nora Lamm, whose childhood was rent asunder when the Japanese invaded Shanghai at the outset of World War II. Recalling these horrific times, Nora remembers the cloistered pre-invasion existence she enjoyed thanks to the prominence of her physician father (played by James Shigeta). The deprivations she experienced at the hands of the invaders are compounded when postwar China is taken over by the Communists. In the early 1960s, Nora escapes to Hong Kong, where she works tirelessly on behalf of basic human rights for those still trapped on the Mainland.
---
Notes About Additional Content
Our products may not include additional material like Digital Copies, Online Passes or promotional downloadable content (DLC).