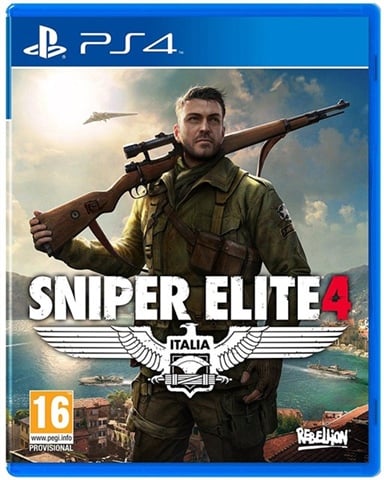 WeSell for
£25.00
WeBuy for cash

£11.00

WeBuy for voucher

£16.00

In stock online
Sniper Elite 4
Continuing the series World War Two heritage, Sniper Elite 4 delivers critically acclaimed gunplay across the striking landscapes of wartime Italy, from sun-drenched Mediterranean coastal towns to giddying mountain monasteries and more.
Sniper Elite 4 combines genre-defining ballistics, breathless emergent stealth and gripping third-person action. Experience unrivalled freedom across levels many times more the size of Sniper Elite 3. Exploit the environment, carve your own approach, manipulate the battlefield and hunt your enemies.
Discover unrivalled sniping freedom in the largest and most advanced World War 2 shooter ever built. Experience tactical third-person combat, gameplay choice and epic longshots across gigantic levels as you liberate wartime Italy from the grip of Fascism.
Set in the aftermath of its award-winning predecessor, Sniper Elite 4 transports players across the beautiful Italian peninsula, from sun-drenched Mediterranean coastal towns, to ancient forests, mountain valleys and colossal Nazi megastructures.
Covert agent and elite marksman Karl Fairburne must fight alongside the brave men and women of the Italian Resistance and defeat a terrifying new threat with the potential to halt the Allied fightback in Europe before it's even begun.
---
Notes About Additional Content
Our products may not include additional material like Digital Copies, Online Passes or promotional downloadable content (DLC).
Sniper Elite 4
is rated out of
5
by
9
.
Rated

5

out of

5
by
GamingGuy217
from
Amazing Game
This is the best game of the series. Interesting plot and bullet time better than ever! 10/10 Would recommend! ;-)
Date published: 2017-02-16
Rated

3

out of

5
by
atomicwaffle1609
from
BOARING AND REPETITIVE
I had bought sniper elite 4 over a month ago. And its "boarding and repetitive". Its a good game but is just the same old
Date published: 2017-03-23
Rated

5

out of

5
by
Scott247
from
Great,much better that sniper elite 3
Maps are much bigger that sniper elite 3, also graphic look so much better.
Date published: 2017-03-14
Rated

5

out of

5
by
TimDear
from
A Really Absorbing Game
Sniper Elite 4 is a deep and engaging game which I think allows a beginner, intermediate and even highly experienced experienced user to feel well satisfied. The graphics are definitely heading in the right direction (not as believable as Battlefield 1) and occasionally feel a little odd in terms of lighting and world-scale.This is perhaps due to the depth of field and focus effects. Also the lighting is a little burnt and washed out here and there. Overall though, the graphic & atmospheric quality never falls lower than 'good' and more often sits in the 'very good' column!. The game characters(enemy soldiers etc) are not that great or believable (wigs on everyone) but genuinely the satisfying gameplay and a tonne of technical/absorbing game-play skills to learn & enjoy make it an absolute ''must have game'' if you like this genre. I'm really really enjoying this game and will certainly buy the next and the next and the next !
Date published: 2017-04-30
Rated

4

out of

5
by
TomTom101
from
Straight shooter!
I bought and completed this game in just over a month. I have always been a huge fan of anything sniper based and this didn't let me down. It was fun, concise, well made and played well throughout. The multiplayer was a great addition to an expansive single player campaign! Would play through again and that is saying something!
Date published: 2017-03-21
Rated

4

out of

5
by
Taz218
from
Beautiful graphics, familiar play, tad repetitive.
Visually impressive, for die hard sniper elite fans this latest version will hold no new surprises with regards to gameplay. single player campaign can feel repetitive at times but players who are playing sniper elite for the first time should not be too phased by this, the campaign story is compellingly coherent, entertaining but a little repetitive as the missions unfold but the different environments of each mission offer plenty of challenges. The strategy and stealth mechanics are much improved from previous renditions making that stealthy use of cover and shadow for sneaking up on your quarry for that single shot or melee kill all the more rewarding, although don't be expecting metal gear solid type mechanics, but it's still an improvement from no.3. The online multiplayer is a novel way to kill a few hours perhaps but if you really want co-op online play look at battlefield or call of duty rather than here. On the whole, an entertaining, well crafted game with a decent single player campaign that shouldn't disappoint but will hold few surprises for faithful sniper elite fans.
Date published: 2017-05-30
Rated

5

out of

5
by
97ahsan
from
Intresting campaign
I've only really played the campaign but it's very enjoyable. The missions are quite long which I enjoy as they require you to think and take your time with every kill.
Date published: 2017-06-10
Rated

5

out of

5
by
didaz
from
Great Game
Do not play on cadet, it will spoil the experience and it is way to easy, So many different ways you can play this with lots of choices,
Date published: 2017-03-08