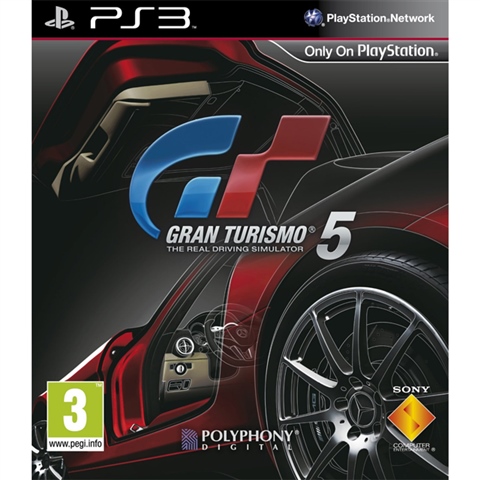 WeSell for
£3.50
WeBuy for cash

£0.90

WeBuy for voucher

£1.40

In stock online
Gran Turismo 5
This is no demo or spin-off, this is the game every car enthusiast has been waiting for as the legendary real driving simulator finally rolls off the production line. The result of four years work by a team of hundreds, this is the game the PlayStation 3 was made for.
It goes without saying that the new game looks astonishing - far better even than Gran Turismo 5 Prologue - but as ever the beauty of Gran Turismo is that it drives as realistically as it looks. With the 950 different cars modelled to a higher degree of accuracy than ever before this also features more manufacturers than any other game - including, for the first time ever, Lamborghini and Bugatti.
Other fan demands that have finally been met too, including fully realistic damage-modelling, a 16-player online mode, dynamic weather changes and night racing. Any more realistic than this and you'd be knocked out by the petrol fumes.
Features:
Real simulator - The definitive version of the most realistic driving game ever finally hits the PlayStation 3 with more cars, tracks and features than ever before.
Virtual showroom - Photorealistic graphics simulate hundreds of cars in exacting detail - from the smallest nuts and bolts to the unique handling of every model.
Stig friendly - New official licenses include Ferrari, WRC and NASCAR - as well as the test track from the BBC's Top Gear show.
Damage control - For the first time new damage modelling lets you see the damage your car - and your opponents' - endures throughout the race.
Gran Turismo Live - Race online with fans around the world in the brand new 16-player multiplayer mode.
---
Notes About Additional Content
Our products may not include additional material like Digital Copies, Online Passes or promotional downloadable content (DLC).
Gran Turismo 5
is rated out of
5
by
8
.
Rated

5

out of

5
by
bukkaran
from
Gran turismo 5
Fantastic game - loads of different modes , keep you entartain for hours
Date published: 2015-04-22
Rated

4

out of

5
by
seanto
from
Does what it says on the tin
Bought this one month ago, been a while since I bought in the series and I'm glad I did as they are continually improving the series
Date published: 2014-12-23
Rated

5

out of

5
by
ryansmi
from
Excellent racing SIM
Still an excellent racing title after all these years, loads of different challenges and endless cars to keep you playing. Doesn't have the same depth of car performance modification as forza but it makes up for that with the depth everywhere else.
Date published: 2017-11-07
Rated

5

out of

5
by
Josh Brittain
from
Gran Turismo keeps on gettint better.
I had the prologue and I thought that was pretty good. So I bought GT5 and I was blown away. The graphics are brilliant, home screen layout is easy to use and looks good. Choice of cars and tracks is excellent.
Date published: 2017-01-31
Rated

5

out of

5
by
Susztika11
from
Gran turismo 5
I have bought a lot of games from you. Gran turismo 5 is beautiful. I was little child when I played gran turismo 2 on my ps1 I loved it. It was my favourite game now is 5. Thank you webuy!
Date published: 2017-03-31
Rated

5

out of

5
by
JakR
from
Excellent condition
I brought it a couple of weeks ago and I Was so happy with it and I raced my brother and we were so happy with it
Date published: 2017-08-15
Rated

5

out of

5
by
beefy40
from
Great game
Played this for hours and hours and was still enjoying it upto trading it in with cex
Date published: 2016-03-15
Rated

5

out of

5
by
pesko
from
great fun.
Good game for pass times , exelent value for money.
Date published: 2016-01-18