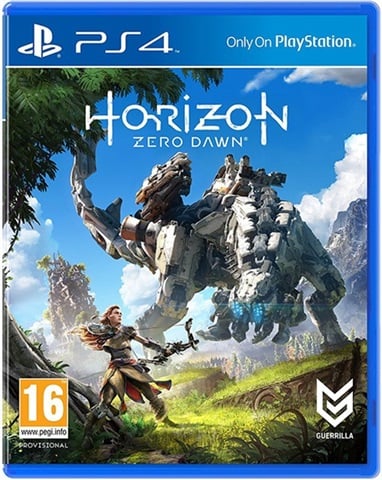 WeSell for
£30.00
WeBuy for cash

£14.00

WeBuy for voucher

£20.00

In stock online
Horizon: Zero Dawn
The next era of mankind
In a lush, post-apocalyptic world where nature has reclaimed the ruins of a forgotten civilization, pockets of humanity live on in primitive hunter-gatherer tribes. Their dominion over the new wilderness has been usurped by the Machines - fearsome mechanical creatures of unknown origin.
An outcast looking to belong
Play as Aloy, a young hunter on a quest to discover her destiny among the remnants of the ancient past. Shunned by her own tribe since birth, Aloy has learned to harness her agility, cunning, and deadly aim to hunt the Machines, defend against rival tribes, and survive in the unforgiving wilds.
Mysteries of the Old Ones
Journey through a world filled with strange artefacts and crumbling ruins to unlock its deepest mysteries. How did the Machines come to dominate this world, and what happened to the civilization that came before? The answers may determine Aloy's fate - and that of humanity itself.
Against overwhelming odds
Engage in a deep, rewarding role-playing experience that involves highly varied tactical combat. Fuse primitive gear with advanced technology to craft devices that turn predators to prey. Develop unique strategies to take down different Machines, and hack trapped specimens to do your bidding.
Cutting edge open world technology
Explore a vibrant landscape rich with the beauty of nature. Travel through stunningly detailed forests, imposing mountains and the atmospheric ruins of a bygone civilization, all brought together in a world that is alive with changing weather systems and a full day/night cycle.
---
Notes About Additional Content
Our products may not include additional material like Digital Copies, Online Passes or promotional downloadable content (DLC).
Horizon: Zero Dawn
is rated out of
5
by
63
.
Rated

5

out of

5
by
johannavgg
from
What an openworld game should be
First off, this game is visually stunning, on par with the likes of uncharted 4 (though less cinematic) in its own graphic style with rich colourful environments. Secondly, gameplay delivers on the promise of all openworld games with rich maps with gameplay mechanics both challenging and rewarding (with a few of the ever original fetch quests). Finally, despite being an openworld game it gives a lot of importance to the story, with a well written and interesting story and dialogue. I would therefore definitely recommend this game to pretty much anyone looking for a fun experience. PS: This game somehow made unlocking towers enjoyable! Ubisoft must be jealous right about now.
Date published: 2017-05-31
Rated

5

out of

5
by
Insideexplosion
from
Beautiful game.
The environments are beautifully designed, the controls flow really well to create a mix between the combat and stealth. There's a crafting element, so you can put some effort in. It kind of feels like a futuristic Tomb Raider. I've been waiting for this game since it was announced and I am not disappointed.
Date published: 2017-03-01
Rated

4

out of

5
by
Elliott00
from
Great graphics. Story tiny but weak
So I bought this product about a month ago and I've been playing it ever since! The graphics are the best I've seen in a long time. And the game play is incredible. The only problem I have (which isnt really a problem but oh well) is that the story is a bit weak. I understand that it is an open world game and I assure you that I know that the story isn't always the best in open world games but this one just seems to be a little weaker than other titles (this game being compared to titles such as the elder scrolls series, the fallout series and destiny). But apart from that. It is honestly one of the best games of the 2010,s that I have ever played.
Date published: 2017-04-04
Rated

5

out of

5
by
LaurenCooper
from
A captivating story with beautiful scenery
I bought HZD a day after it released and i'll have to say its one of the best games to date that i have ever played. I suggest to any Playstation owner to pick it up and give it a try, not many games come up like this very often. The game itself is a 10/10 for me with only a few talking animation glitches but it doesnt ruin it in my opinion also with an additional photo mode which can capture some of the best moments in game. With sceneries like this can you really ignore it?
Date published: 2017-03-22
Rated

5

out of

5
by
hotshot75
from
Great graphics, great story - GREAT GAME
Day 1 purchase for me and THE GAME to show off your PS4. An amazing RPG with a fantastic open world environment. A Post-apocalyptic world that will provide months and months of enjoyment. The Dino robots help to keep the world alive from one challenge to the next and it's a great satisfaction when you take them down. In summary, a great game that I can't put down. Recommended 5 out of 5.
Date published: 2017-03-22
Rated

5

out of

5
by
JCD9988
from
Best game played in long time
What can i say except a fantastic game, must have!!!
Date published: 2017-03-02
Rated

5

out of

5
by
Clfirth
from
Must Buy for PS4 Players
Best Game i've ever played, ist only Singleplayer but its worth buying, the graphics are stunning even on an Original PS4 (Not Pro) that means that the graphics are even better on a PS4 Pro!
Date published: 2017-08-20
Rated

4

out of

5
by
DarthPlagueisTheWise
from
It's ok
I've not played much of it so I don't know if it gets better as it goes but the bow feels good...at least whem the game agrees that, yes that arrow did hit the enemies head not just go through it leaving him unphased. Outfits seem pretty useless, I mean sure they boost resistance to certain things but even the best ones you can get don't boost it by much so what's the point. Should just be cosmetic. I'll say this though it's got an excellent photo mode. The graphics are stellar which makes taking stunning screenshots so much easier.
Date published: 2018-01-18