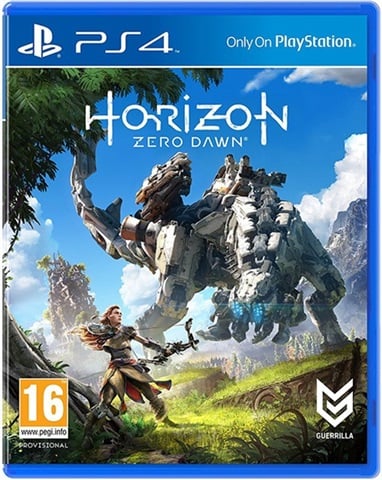 WeSell for
£45.00
WeBuy for cash

£29.00

WeBuy for voucher

£33.00

In stock online
Horizon: Zero Dawn
The next era of mankind
In a lush, post-apocalyptic world where nature has reclaimed the ruins of a forgotten civilization, pockets of humanity live on in primitive hunter-gatherer tribes. Their dominion over the new wilderness has been usurped by the Machines - fearsome mechanical creatures of unknown origin.
An outcast looking to belong
Play as Aloy, a young hunter on a quest to discover her destiny among the remnants of the ancient past. Shunned by her own tribe since birth, Aloy has learned to harness her agility, cunning, and deadly aim to hunt the Machines, defend against rival tribes, and survive in the unforgiving wilds.
Mysteries of the Old Ones
Journey through a world filled with strange artefacts and crumbling ruins to unlock its deepest mysteries. How did the Machines come to dominate this world, and what happened to the civilization that came before? The answers may determine Aloy's fate - and that of humanity itself.
Against overwhelming odds
Engage in a deep, rewarding role-playing experience that involves highly varied tactical combat. Fuse primitive gear with advanced technology to craft devices that turn predators to prey. Develop unique strategies to take down different Machines, and hack trapped specimens to do your bidding.
Cutting edge open world technology
Explore a vibrant landscape rich with the beauty of nature. Travel through stunningly detailed forests, imposing mountains and the atmospheric ruins of a bygone civilization, all brought together in a world that is alive with changing weather systems and a full day/night cycle.
---
Notes About Additional Content
Our products may not include additional material like Digital Copies, Online Passes or promotional downloadable content (DLC).
Horizon: Zero Dawn
is rated out of
5
by
18
.
Rated

5

out of

5
by
John1872
from
Great game
Buying this game is one of the best decisions i ever made everything in it is amazing the gameplay is simple enough the real challenge is finding ways to take out the robots which look great the world its set in is beautiful to look at this game is just the overall package and recommend it if you are looking for a game you can play for weeks without even starting to get bored of
Date published: 2017-03-23
Rated

5

out of

5
by
maniamario
from
Amazing ps4 quality
I bought this game in cex first thing this morning. I've been playing for some time now and I am lost for words. It's just amazing in every way I can think of. I wasn't a fan of the studios previous game killzone it was a generic 1st person shooter but horizon zero dawn is on another level. It is the must have title. I've even put breath of the wild on the back burner just to play this. It truly is a splendour to behold. Cex price as always best for a brand new title. This game will sell ps4 by he bucket load. If you don't have a ps4 get one just to play this and uncharted 4. Ps4 has provided gaming nirvana.
Date published: 2017-03-01
Rated

5

out of

5
by
Farrer76
from
Great Gameplay & gripping story
I've had this game a few weeks now, I only play a few hours a week so it takes a long time and I sometimes lose interest. Not with Horizon Zero Dawn, it's got me. Brilliant game play and strategic combat and a gripping, interesting story will keep me playing. Fantastic. Bought from CEX the week it came out for a great price!
Date published: 2017-03-23
Rated

5

out of

5
by
Dutron86
from
Love it
I love this game, spend hours just roaming the amazing landscapes. Must have 30 hours and I'm sure I've only scratched the surface.
Date published: 2017-03-23
Rated

5

out of

5
by
mountaingoat
from
awesome
lots of pleasant surprises, the combat is very enjoyable
Date published: 2017-03-23
Rated

4

out of

5
by
Smitdog
from
Top notch title
From the moment I first saw the trailer I was hooked and I needed this game. As soon as it became available I grabbed a copy, I am so glad I did. At first it feels a bit like a game from the Far Cry series especially Primal, and you can definitely see the similarities, which is by no means a bad thing. The differences come from the robotic creatures inhabiting Aloy's world, from the fast and nimble Watchers to the huge dreadnought Thunderjaws, each enemy has it's own strengths and weaknesses and it is a pleasure deciding the best course of approach for each one. Depending on your preferred style, game play can be slow and stealthy or fast paced and action focused, care should be taken with the latter however, as even the most humble of robot can tear Aloy apart with grim efficiency. The map is huge but once you've opened up some fast travel points and got yourself a trusty steed travel becomes much easier, I would urge you to use a mount rather than fast travel though because you can miss out on some of the prettiest graphics that I've seen since Bloodborne. Throw caution to the wind and play on hard or higher, the mechanical denizens feel much to simple to overcome on anything easier and fighting a flying fortress armed with plasma cannons should not an easy task be. The story is very good and kept me guessing the reasons for the current state of the earth for a while. The platinum was very easy to attain yet the game still has lots to offer.
Date published: 2017-03-23
Rated

5

out of

5
by
Insideexplosion
from
Beautiful game.
The environments are beautifully designed, the controls flow really well to create a mix between the combat and stealth. There's a crafting element, so you can put some effort in. It kind of feels like a futuristic Tomb Raider. I've been waiting for this game since it was announced and I am not disappointed.
Date published: 2017-03-01
Rated

5

out of

5
by
LaurenCooper
from
A captivating story with beautiful scenery
I bought HZD a day after it released and i'll have to say its one of the best games to date that i have ever played. I suggest to any Playstation owner to pick it up and give it a try, not many games come up like this very often. The game itself is a 10/10 for me with only a few talking animation glitches but it doesnt ruin it in my opinion also with an additional photo mode which can capture some of the best moments in game. With sceneries like this can you really ignore it?
Date published: 2017-03-22