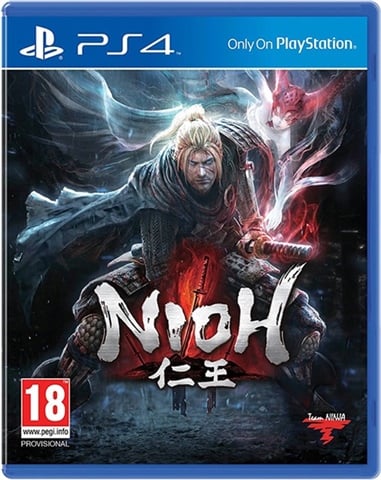 WeSell for
£28.00
WeBuy for cash

£13.00

WeBuy for voucher

£18.00

In stock online
Nioh
Ancient demons; feudal lands
Take up your sword and travel to Japan's blood-bathed Sengoku period - an era ravaged by warring states and dark, malevolent forces - and cut a violent path through the land as the masterless samurai, William.
Cross blades in brutal hand-to-hand combat, wielding swords, axes, spears and even war hammers against foes both human and demon. Endure the vicious encounters and learn from your mistakes: each death will bring you resurrection and each resurrection a greater resolve to overcome your foes.
Taking inspiration from the Ninja Gaiden and Dark Souls series of games, Nioh invites you to muster the resilience of a true samurai: the skills and patience to overcome even the deadliest enemies and the courage to remain steadfast even in the face of death.
The art of kenjutsu... and more
Master every fighting style - learn the flow of combat, and move with deadly precision. Unleash a stunning combination of attacks specific to a range of authentic samurai weapons, including polearms, katanas and axes.
A dangerous dynasty
Explore a fantastical and dark vision of 16th century Japan - fight alongside legendary heroes and against horrific villains of the Warring States period.
Monstrous myths and frightening fables
Face brutal and grotesque enemies - do you have the courage to stand alone against skilled samurai, vile beasts and demons known as the Yokai?
Fear the Yokai
When a human is transformed into a demon by the power of Amrita, the result is a Yoki - an extremely aggressive creature possessing a large, monstrous body.
---
Notes About Additional Content
Our products may not include additional material like Digital Copies, Online Passes or promotional downloadable content (DLC).
Nioh
is rated out of
5
by
14
.
Rated

5

out of

5
by
Gronklespronkle
from
Nioh: Japanese Souls like with fantastic combat
As a big fan of Dark Souls I knew I'd like Nioh. I didn't know I'd love it. It's an action adventure game, a cross between Dark Souls and Ninja Gaiden, a great world with varied enemies and a deep and robust combat system. It's also really long, I've put more than 50 hours in and am not even halfway through the game. The story could use some work, it's a bit disjointed and hard to grasp, but the gameplay starts off well and continues to be stellar throughout. If you like tough games that reward skill, patience and perseverance, Nioh is well worth your time.
Date published: 2017-03-14
Rated

5

out of

5
by
inFAMOU52
from
DarkSouls fans will Love this Game
if you like games like Dark Souls or Bloodborne then this is a game for you
Date published: 2017-02-12
Rated

4

out of

5
by
Phillyc
from
Dark Souls and Onimusha Had a Baby
This is a great game for any fan of Onimusha on the Playstation 2 Darksouls/Bloodborne on Playstation 4. This game has fun fast combat with great storyline and environments, this is a good example of a strong Sony exclusive
Date published: 2017-03-22
Rated

4

out of

5
by
Milesrah
from
Do you like dark souls + random loot drops?
As someone with over 1000 hours across soulsborne I can say that Nioh is just a slightly worse version of dark souls. The creatures are repetitive, and most things 2 shot you, unless you're well over levelled. Don't believe the hype it's not a 9.7/10 like IGN said its more like 7/10 (still good not perfect)
Date published: 2017-03-14
Rated

5

out of

5
by
lawrencer5
from
Great alternative to dark souls
Just as good as dark souls with enough changed to make it worthwhile! Prefer the mission based system to an open map also (which is unusual for me as I love open worlds) definitely recommend to anyone that loves Japanese culture and real challenge!
Date published: 2017-04-02
Rated

5

out of

5
by
Lahugh01
from
Difficult, fun, challenging, rewarding
If you're a fan of soulsborne difficulty, this is the game for you. With its dungeon crawler style loot system, and in depth weapons / character customisation, there's hours and hours of gameplay in it. Challenging at times, but very rewarding.
Date published: 2017-03-13
Rated

4

out of

5
by
Nulf
from
A Great Game I Can't Get Into
This is objectively a really good game, however while I like game in the same vein such as Dark Souls I just can't seem to get into Nioh. However give it a try if you like that kind of thing as it may click for you.
Date published: 2017-05-26
Rated

3

out of

5
by
Revcrams
from
Didn't grab me
TBH bought and played this after completing Horizon Zero Dawn which cast a huge shadow over this, so I just couldn't get into it.
Date published: 2017-04-03