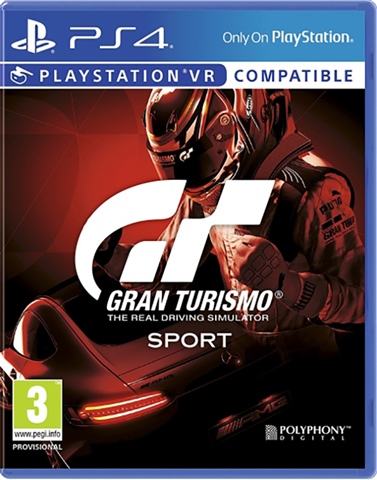 Gran Turismo Sport (No DLC)

WeSell for
£25.00
WeBuy for cash

£11.00

WeBuy for voucher

£16.00

In stock online
Gran Turismo Sport (No DLC)
HISTORY IN THE MAKING
Discover the full throttle future of racing.
REDISCOVER THE THRILL OF MOTORSPORT
The award-winning Real Driving Simulator series speeds for the first time, putting you on course for high octane thrills to truly get your pulse racing.
Sharing the wheel with FIA (Federation Internationale de l'Automobile), Polyphony Digital has engineered a finely tuned and accessible game that everyone from casual drivers to petrol heads can enjoy.
Buckle up for two online championships - represent your country in the Nations Cup, and drive on behalf of your favourite car maker in the Manufacturer's Cup.
Can you claim a historic victory in the first video game to be officially recognized as part of the real motoring world?
THE WORLD'S GREATEST ROAD VEHICLES
Every vehicle has been digitially recreated in remarkable detail. From the internal structure of the headlights to the stitching of the seats, the team at Polyphony Digital Inc. have set out to infuse every vehicle with same passion that drove its original designers.
The full lineup consists of 140 vehicles, including both competition and production vehicles that deliver a mix that caters to all driving enthusiasts.
A TOUCH OF FANTASY
Vision Gran Turismo allowed the world's auto makers to design fantasy road cars and bring them to life in the virtual world of Gran Turismo 6. This project will continue in Gran Turismo Sport.
REALISTIC, NOT DIFFICULT
In the same way you drive a real car, you will be able to control the vehicle represented in the game with increased depth to the controls. While it's based on the principles of the very first Gran Turismo, the new physics engine has evolved significantly, making it suited for beginners and experts alike.
From basic skills such as hitting the brakes and how to turn into a corner, fundamentals can be learned from the bottom up, which will prove invaluable for newcomers to driving games.
REAL-WORLD LOCATIONS
Building on the popularity of the many racetracks featured in previous Gran Turismo titles, including the Nürburgring Nordschleife (North Loop), there will be a number of new tracks in Gran Turismo Sport appearing in the series for the first time ever. These include the legendary "Tokyo Expressway" and the half-mile oval dubbed the "Northern Isle Speedway."
A total of 19 tracks with 27 layouts will feature in Gran Turismo Sport, taking drivers everywhere from the Japanese metropolis to the Mexican-American border.
---
Notes About Additional Content
Our products may not include additional material like Digital Copies, Online Passes or promotional downloadable content (DLC).
Gran Turismo Sport (No DLC)
is rated out of
5
by
6
.
Rated

2

out of

5
by
Rckj00
from
Not That Good, Missed Opportunity
Ive owned GT Sport since release and it's not as good as I had hoped. Graphics are good but not great (I'm using a PS4 Pro and 49" 4K HDR tv). Game Modes are very limited offline and even then the online isn't the best, Campaign mode is more like constantly obtaining licences. If you want to buy this game because you like GT5 and GT6 don't bother. This game could have been great, but it feels like their is so much content missing (Cars,Tracks, Events etc...) Stick with Project Cars 2 or Forza 7 (if you own an Xbox One)
Date published: 2017-12-14
Rated

5

out of

5
by
GuitarMangler
from
Feels like you're there
Seems very accurate simulation, not that I've had any experience of this but also great fun. Excellent graphics give it a real feel
Date published: 2017-11-23
Rated

4

out of

5
by
rikardo14
from
Gran Turismo Sport
Amazing game, loads of car options and tracks as well. Amazing graphics!
Date published: 2017-11-23
Rated

4

out of

5
by
Robk
from
GT Sport
Great visuals (especially enjoy the replays) and solid driving model - somewhere between sim and arcade. Limited cars and tracks but I'd rather good ones than lots.
Date published: 2017-11-20
Rated

3

out of

5
by
Jony five
from
Used to love granturismo
Only had this game as it was free with a playstation vr bundle. I traded it in as some reviews didnt rave about the game and only certain tracks were in vr. I prefer fun racing games rather than simulated driving. If the reviews were better or it was more vr focused I may of kept it. Granturismo used to be a must have car game but theres so many other good racers to compete with and serious car racing is not for me.
Date published: 2017-12-18
Rated

4

out of

5
by
Rick F
from
Bit dissapointed
When I first started playing I was very impressed but as I got further into the game I realised that racing was online only and I'm not into playing online. However if you are into online play this is worth getting. The way the game is structured is superb and the graphics and gameplay are excellent.
Date published: 2018-02-09