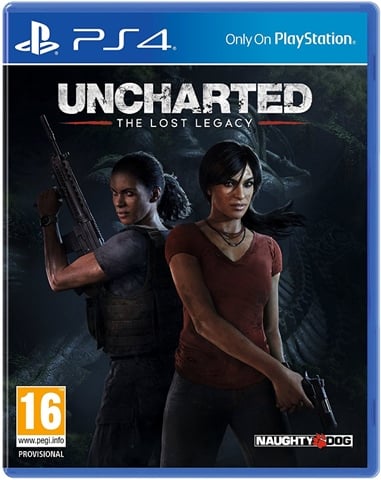 Uncharted: The Lost Legacy (No

DLC)

WeSell for
£28.00
WeBuy for cash

£16.00

WeBuy for voucher

£19.00

In stock online
Uncharted: The Lost Legacy (No DLC)
A stunning standalone adventure
From the critically acclaimed developer behind hits such as The Last of Us and Uncharted 4: A Thief's End, comes a thrilling new voyage of high-octane action and pulse-pounding peril.
In order to recover a fabled ancient Indian artefact and keep it out of the hands of a ruthless war profiteer, Chloe Frazer must enlist the aid of renowned mercenary Nadine Ross - last seen in Uncharted 4: A Thief's End.
Together, they'll venture deep into the mountains of India, learn to work together to unearth the mystery of the artefact, fight their way through fierce opposition and prevent the region from falling into chaos…
---
Notes About Additional Content
Our products may not include additional material like Digital Copies, Online Passes or promotional downloadable content (DLC).
Uncharted: The Lost Legacy (No DLC)
is rated out of
5
by
9
.
Rated

5

out of

5
by
tony121
from
amazing gameplay, graphics and story
Great game really recommend it however if you haven't played uncharted 4 buy that before this! Although this game is shorter than uncharted 4 its still amazing to play through and I enjoyed it every bit defiantly recommend you buy this NOW!
Date published: 2017-08-20
Rated

5

out of

5
by
SuperGamer78
from
Fantastic addition to the Uncharted francise
I was expecting this Uncharted branch-off to be a disappointment, but I was surprised how good it was. Took me about ten hours to complete, which doesn't make this game too short. There is the arrival of a familiar character in the last two hours...but I won't spoil it for people who haven't played it yet. Excellent action, and some of the environments are truly enormous. This is a worthy addition to the Uncharted collection...
Date published: 2017-09-01
Rated

4

out of

5
by
Redrose20
from
Great game
Really enjoyed all of the puzzles in the game! Enjoyed the action scenes. Fairly easy game for me as I'm not a huge gamer!
Date published: 2017-09-19
Rated

5

out of

5
by
Laverticus
from
Like a warm blanket
I have been an avid fan of the uncharted series and this doesn't disappoint. By bringing two supporting characters to the front I get to see the uncharted world from a different point of view while also feeling very familiar. It looks great and the gameplay is as good as ever. Even though it's dlc, it feels like a stand alone game.
Date published: 2017-09-17
Rated

5

out of

5
by
derv44
from
Nice
I have been waiting for a decent game to come out, and I am not disappointed, having completed all the Uncharted games, this is not letting me down.
Date published: 2017-09-17
Rated

4

out of

5
by
sniperbabs
from
Great game but too short
I know this isn't a full blown title but still, 4 sessions playing and I'd finished it. Cracking game as always but I wanted more!
Date published: 2017-09-16
Rated

5

out of

5
by
Davros876
from
Good game
Bought plenty of times from CEX and never had a problem. Uncharted is good and it was a good price. Arrived quickly.
Date published: 2017-09-17
Rated

4

out of

5
by
johnboylan
from
More of the same
More of the same, but not necessarily a bad thing.
Date published: 2017-09-17