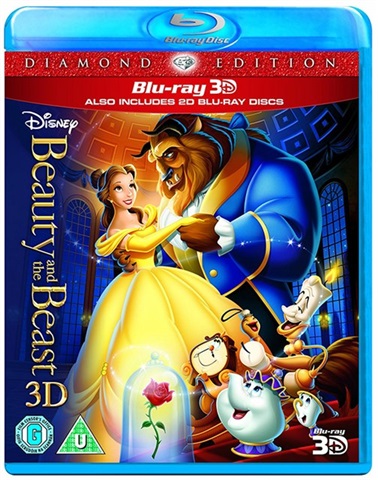 Beauty & The Beast (U) 1991

+3D

WeSell for
£10.00
WeBuy for cash

£4.00

WeBuy for voucher

£6.00

In stock online
Beauty & The Beast (U) 1991 +3D
Acclaimed and treasured like no other, Disney's beloved modern classic, the first animated feature film in the history of the Oscars® nominated for Best Picture (1991), is brilliantly transformed to a new level of entertainment through the magic of 3D Blu-ray™ High Definition. The music you'll never forget, the characters who will fill your heart and the magical adventure about finding beauty within all come to spectacular life in 3D Blu-ray. Plus, all-new, immersive bonus features will transport you even further into Belle's enchanted world. So be our guest and join the beloved, independent Belle and the Beast with the soul of a prince as they cast an enchanting spell like never before.
Three versions of the film
Backstage Disney: Diamond Edition Composing a Classic: A musicial Conversation with Alan Menken, Don Hahn & Richard Kraft
Deleted Scenes
Family Play
Music and More
---
Notes About Additional Content
Our products may not include additional material like Digital Copies, Online Passes or promotional downloadable content (DLC).