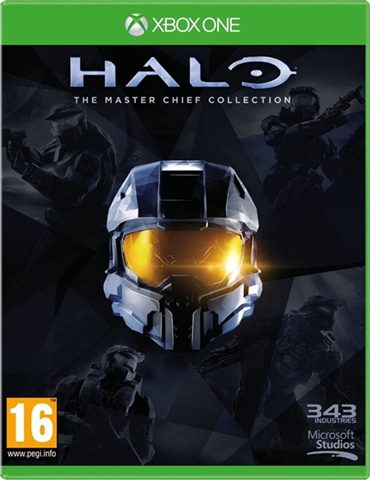 Halo: Master Chief Collection

WeSell for
£20.00
WeBuy for cash

£5.00

WeBuy for voucher

£9.00

In stock online
Halo: Master Chief Collection
The Complete Master Chief Story
Honoring the iconic hero and his epic journey, The Master Chief's entire story is brought together as The Master Chief Collection. Halo: Combat Evolved Anniversary, Halo 2: Anniversary, Halo 3, and Halo 4.
Halo 2: Anniversary
Celebrating the 10 year Anniversary, the iconic fan favorite returns. Featuring a fully re-mastered campaign with "Classic Mode" allowing you to instantly switch between the re-mastered game and the original game from 2004. Uncover new Halo 5: Guardians story elements in hidden terminal videos and utilize all new skulls to experience the campaign in a whole new way. Including 23 original multiplayer maps just as fans remember them, plus 6 completely re-imagined maps. Play the game that defined online multiplayer on consoles and get ready for the next Halo chapter.
Master Menu
Seamlessly navigate The Master Chief's story using the all-new Master Menu. Play all four completely unlocked campaigns, beginning to end, or jump around as you choose. Enjoy cross title themed campaign playlists created by the games' designers for new fun and challenging experiences. Easily find and play your favorite multiplayer game types from over 100 multiplayer and Spartan Ops maps. It's everything Halo, on your terms, simplified.
New Halo: Nightfall Live Action Digital Series
A strange and treacherous world exposes elite UNSC operatives to a much deeper danger in this live action series from 343 Industries and Scott Free Productions. Executive-produced by Ridley Scott and Scott Free TV President, David Zucker and directed by Sergio Mimica-Gezzan ("Battlestar Galactica" "Pillars of the Earth," "Heroes"), Halo: Nightfall is an exciting new story for Halo fans and fresh audiences alike.
---
Notes About Additional Content
Our products may not include additional material like Digital Copies, Online Passes or promotional downloadable content (DLC).
Halo: Master Chief Collection
is rated out of
5
by
40
.
Rated

5

out of

5
by
ChrisBl92
from
A masterpiece in every sense of the word
I played through the original Halo games back in the day, but having them all in one place is a thing of utter beauty. From start to finish, playing through the campaigns was an absolute joy (although at times certain levels can feel like they last a little too long during a casual playthrough). There is something very pure about Halo's FPS mechanics that tends to be muddied in other more contemporary shooters. Add that to a bunch of reasons to replay each level, including other difficulties, collectibles, a wealth of achievements, couch co-op, the list goes on. In my opinion, there is no better reason to own an Xbox One than to play these games in their remastered glory.
Date published: 2017-10-07
Rated

5

out of

5
by
Niall rusty Mitchell
from
New meaning to remastered
I bought this game at the beginning of the month and it is a truly ground breaking creation it is a perfect example of how a game can change given time to grow the graphics are unrecognisable from the original the smoothness of how it runs and interchanges between each separate game is unprecedented and in general the hours of high quality ofgameplay compared to cost is exceptional at worst it other games from outdated systems could reemerge at half the success then they too would be incomparable to some Games born of the new generation
Date published: 2015-11-24
Rated

4

out of

5
by
Sargent B
from
Putting the Master in Remastered.
I bought this game on release date and was really happy with my purchase. Halo: MCC is a remastered version of the four center games in the Halo franchise. The thing with this game is it uses nostalgia to really reel you into this title. Just by remembering how much fun you had with the original Halo games makes it so easy to pick up where you left off with this great game. You can really tell from the minute you play the game how much time and effort has been spent to properly polish this game and bring it to the current generation of gaming. With the use of a single button you can switch from original to polished graphics seamlessly in real time and see just how much has been improved. There have been an overabundance of "remastered" games being announced or released and none have really gave that truly upgraded feeling like Halo: MCC. The cutscenes have also had a remake and look stunning. Unfortunately the problems that have been happening with the online functionality caused some what an issue with the overall enjoyment of this product. Nether the less when I was able to find a game it felt just as smooth and well built as Halo always does online. And I soon found myself playing countless hours of Team Slayer till early hours of most mornings. For the price this game has an extremely great value for money and is a definite buy for all fans of Halo and perfect for those who want to get themselves into a long and fulfilling storyline.
Date published: 2015-01-03
Rated

3

out of

5
by
jack the bean
from
the game was good but it lacked a lot
when I got the game I was so happy all my best halo game on one disk. when I was playing the story the game ran smoothly with the premastered graphics and the fact you can change from old graphics to new graphics at the click of a button but the multiplayer was lacking a lot with the network problems sometimes I could fined a game really fast but sometimes it took ages to fine just a single game. sometimes when I fined a game I cant walk 10 meters with out being disconnected from the game. forge was very good they pushed the limits way over the boundary in a good way it felt like you could make anything also with the new scripting system it puts you in the shoes of the programmer if your making a E.M.P. bomb or making a helipad or even a garage door scraping was a huge part of that sadly I took the game back because it weren't what I wanted to be.
Date published: 2015-03-25
Rated

5

out of

5
by
bus0606
from
master chief
Top game, top price and top service, delivery quick, well packaged
Date published: 2015-05-01
Rated

5

out of

5
by
michael9420
from
great qaulity game for good price
I bought this game a month ago and I have not been disappointed in the quality of the game and the condition I would recommend this game to a friend
Date published: 2015-06-07
Rated

5

out of

5
by
jenhal
from
Great game
Great game. Brilliant to play from start to finish
Date published: 2015-03-03
Rated

5

out of

5
by
r3trogamer
from
Finally get to play all the Halo games i missed!
I played Halo back when it first came out to PC since i never owned an original Xbox. This beauty has the first Halo all the way to Halo 4, this also includes every map from each of the four titles so PLENTY of multiplayer gaming with lots of game types to play. Highly recommended as i can finally get to enjoy the rest of the series before playing Halo 5 which is sitting infront of me xD
Date published: 2016-01-12