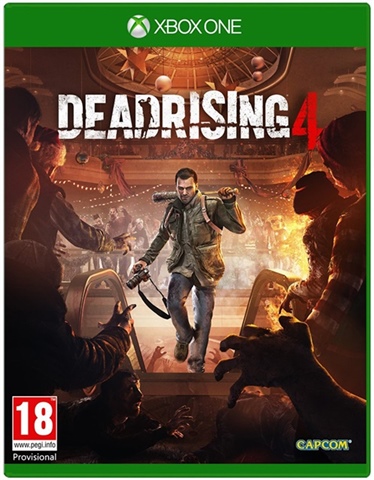 WeSell for
£12.00
WeBuy for cash

£3.00

WeBuy for voucher

£5.00

In stock online
Dead Rising 4
A Hero Returns
Frank West returns in an all-new chapter of one of the most popular zombie game franchises of all time.
Anything and everything is a weapon
Featuring an all-new collection of weapons and vehicles with the freedom for players to craft their own tools of zombie destruction.
Two all-new classes of zombies
Players will explore and scavenge the open world sandbox of Willamette, Colorado while facing off against newly zombified enemies and agile zombies that can attack you from above.
EXO Suit
EXO Suits give players a super-powered weapon with incredible firepower to take on the zombie horde.
---
Notes About Additional Content
Our products may not include additional material like Digital Copies, Online Passes or promotional downloadable content (DLC).
Dead Rising 4
is rated out of
5
by
8
.
Rated

1

out of

5
by
joshcollins055
from
My favourite game series - Butchered and broken.
I bought this game as I have done all the others, by pre-order as I expect every game to play the same, be as good in quality and have the unique gameplay type that I enjoy the games for. However, when I recieved this game on Launch Day, being the 6th of December, I was vastly dissapointed. The gameplay has been dumbed down to just hacking and slashing, there is no picking up and throwing objects - that's just one example. The potential of the game engine is there as it is just Dead Rising 3 but all Dead Rising mechanics have scrapped from it. Another thing to note is that the multiplayer on this game is just the recycled DLC from Dead Rising 3 but with different characters, that is why it is 4 player - because it has been done before.
Date published: 2017-01-20
Rated

5

out of

5
by
marq1983
from
dead rising 4
great service from cex came next day , the game its self is above average just made more of a arcade style and i fear will be in bargain bins sooner then later
Date published: 2016-12-27
Rated

5

out of

5
by
anabolic_ad
from
It's the epitome of the franchise!
Havin played all the titles in the series, it's great to be back as Frank West. The original protagonist, it's got all his dark humour and love of a quip in glorious next gen graphics/gameplay. Captor have also done away with the annoying timer on missions, it's now a free roaming massive map and all the better for it! As well as some lovely homages to other capon games like a Vincent Vegas claw that deals some serious damage!
Date published: 2016-12-27
Rated

4

out of

5
by
MDav
from
Good game
I heard this installment isn't as good as the others and it is true a lot of things are missed out but it seems to take a slightly more serious story driven turn I enjoyed it and it is a good game just newer odd changes. Haven't tried Multiplayer yet but in the menu it looks more like an mission based episodic installment. it is August and I can't get Christmas songs out of my head 7/10
Date published: 2017-08-31
Rated

5

out of

5
by
Harrycave
from
Amazing
Great game i think everyone should get it so much fun
Date published: 2017-01-31
Rated

5

out of

5
by
DA PIE SAYS HI
from
Best dead rising to date
Bought this a month ago, compared to the other dead risings is my personal favourite. The map is huge, loads of tiny detail. Weapons are way over the top extreme fun ways to slaughter the zombie hordes. A great game for mindless murder and quite a decent storyline too.
Date published: 2017-08-03
Rated

4

out of

5
by
Tanith1st
from
Zombie slaying
Slaying zombies with weird weapons and running them down in a car that sucks them up like a hoover .....need i say more
Date published: 2017-05-08
Rated

5

out of

5
by
Jennings
from
Great and fun game
Great and fun zombie game and good deal. Love the game would recommend
Date published: 2017-04-30